Latest Publication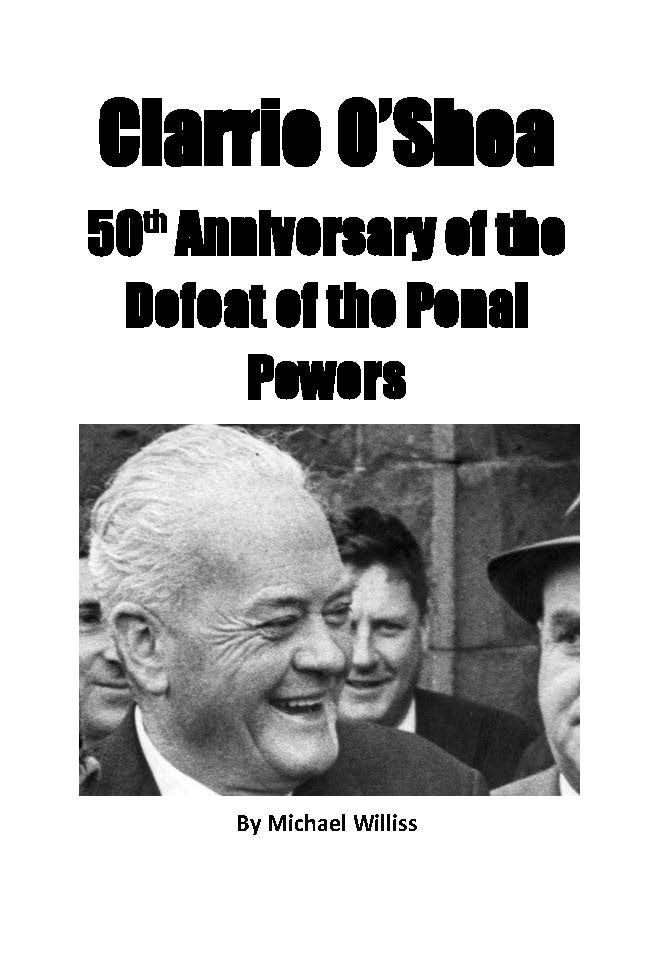 50th Anniversary of the Penal Powers struggle
Announcements & Events
Want to comment on or share something you have just read here? Go to our Vanguard - CPAML Facebook page where we will add our most recently posted articles.
_______________


"They are killing us"
- 2019 Jul 21

Call to support Sydney rally on August 3
Colombians and supporters in Australia

It is with great sadness, indignation and powerlessness that we receive each day the terrible news regarding the ongoing assassination of our social leaders while the government remains silent.
CPA (M-L)'s 15th Congress successfully concluded
- 2019 Jun 24

24 June 2019
The 15th Congress of the Communist Party of Australia (Marxist-Leninist) was recently concluded. The Congress began with the circulation of documents to all members and some close supporters.
For a militant, fighting New Year
- 2019 Jan 01

Greetings to all for 2019 - a year of expanding class struggle and political advances for the revolutionary working class.
Latest Posts
US fears Solomon Islands may switch to Beijing

(Contributed) 15 September 2019

The announcement by Prime Minister Manasseh Sogavare of the Solomon Islands that his government was seriously considering switching diplomatic allegiance from Taiwan to China, has far-reaching implications for Australia and US-led regional military and ...


more...

- Posted on 2019 Sep 15



---
Free West Papua!

Statement of the Central Committee of the Communist Party of Australia (Marxist-Leninist) 15 September 2019

The Communist Party of Australia (Marxist-Leninist) expresses its utmost support and solidarity with the people of West Papua in their struggle for self-determination and independence, and their fight against ...


more...

- Posted on 2019 Sep 15



---
US imperialism's plans to incorporate Pacific Islanders in the ADF

(Contributed) 9 September 2019

A report from the Australian Strategic Policy Institute (ASPI) has revealed some important changes are being considered by US imperialism in using Australia as a southern hub for the military ...


more...

- Posted on 2019 Sep 09



---
Nation-wide rallies in support of West Papua

6 September 2019

Australia-wide rallies in support of West Papuan freedom and independence are to be held in the coming week.
At a time when there is intensified Indonesia repression of West Papuan activists, Australians must stand with their West Papuan brothers and sisters.


more...

- Posted on 2019 Sep 06



---
Notes from the MLKP Alişer Deniz Regiment

| | |
| --- | --- |
| | (The following report is from the August 2019 International Bulletin of the Marxist-Leninist Communist Party Turkey/Kurdistan. It explains some of the political and ideological measures taken by the MLKP and the Kurdish Women's Protection Units (YPJ) to educate Communist male fighters on issues associated with the women's revolution in Kurdish ... |


more...

- Posted on 2019 Aug 29



---
US imperialism losing control of Japan-ROK relations

(Contributed) 28 August 2019

The escalation of diplomatic tensions between Japan and the Republic of Korea (ROK) has revealed the rapid transition from the sphere of US-led trade war with China into ...


more...

- Posted on 2019 Aug 28



---
An answer to fascism from the mouths of children

Louisa L 26 August 2019

Last Tuesday night anti-abortion activists outside NSW State Parliament were elated at a series of wins – a month's delay, plus a premier on the ropes offering concessions on two different amendments. ...


more...

- Posted on 2019 Aug 26



---
A Cluttered Australia: Hosting US Military Facilities

(Contributed) 24 August 2019

A number of media releases from the Defence Department have revealed a chilling picture of a future Australia hosting endless US military and ...


more...

- Posted on 2019 Aug 24



---
Turkey plays the Russia card to force US imperialism to drop the Kurds

| | |
| --- | --- |
| | (The following article is from the International Bulletin of August 2019 published by the Marxist-Leninist Communist Party Turkey/Kurdistan. We have made some minor stylistic changes. The article explores the apparent contradictions between the fascist Turkish state and US imperialism over the former's purchase of Russian S-400 missiles.) |


more...

- Posted on 2019 Aug 23



---
Workers step up industrial action against US multinational O-I Glass

Danny O. 23 August 2019

Ever drank beer from a stubbie? Poured a glass of wine? How about made vegemite on toast? Well if you've ever ...


more...

- Posted on 2019 Aug 23



---
Truth discarded and NSW MPs targeted in anti-abortion media rants

Louisa L 22 August 2019

Abortion became a crime in NSW in 1900. Murdoch's Daily Telegraph is cynically spearheading media ...


more...

- Posted on 2019 Aug 21



---
Abortion rights and a corporate bonfire

Louisa L 21 August, 2019

The hard right is using the Reproductive Healthcare Reform Bill to undermine MPs who don't fall in line with their authoritarian, patriarchal model. They are particularly targeting NSW Premier Gladys Berejiklian.
They ...


more...

- Posted on 2019 Aug 21



---
Free Comrade Théo!

Scott C. 20 August 2019

"Freedom for Théo: Théo El Ghozzi, worker militant, imprisoned for his ideas. On hunger strike since July 22 to demand ...


more...

- Posted on 2019 Aug 20



---
Moves to the right underpin NSW abortion struggle.

Louisa L 20 August 2019

Easy access to free, safe abortion is the right of every woman.
NSW is the last Australian state where abortion ...


more...

- Posted on 2019 Aug 20



---
Hong Kong – what is going on?

Nick G. 18 August 2019

Developments in Hong Kong call for close and careful analysis.
What are the contradictions that have prompted the ten-week disturbance? Where does responsibility ...


more...

- Posted on 2019 Aug 18



---
Project Greyfin: reshaping the Australian military for greater US interoperability

(Contributed) 17 August, 2019

Military planning by the Morrison Coalition government in Canberra, to implement Project Greyfin, has provided a graphic example of Australia being dragged into US-led regional foreign policy objectives. ...


more...

- Posted on 2019 Aug 17



---
Nepal: Crackdown on revolutionaries won't solve the country's problems

Danny O. 12 August 2019

On March 12, 2019 the government of Nepal declared the Communist Party of Nepal (CPN) led by Netra Bikram Chand (aka "Biplav") to be ...


more...

- Posted on 2019 Aug 12



---
Hidden hands behind Japan-South Korea conflict?

(Contributed) 11 August 2019

States foreign policy and military planning for the Asia-Pacific region has been thrown into turmoil with a major diplomatic stand-off between Japan and South Korea (ROK).
Both countries, historically, were ...


more...

- Posted on 2019 Aug 11



---
Silencing Voices of Dissent: Australia and the Repression of Whistle-Blowers.

Scott C. 11 August 2019

As the Fascist Portuguese Empire collapsed due to anti-colonial rebellions in Africa and growing dissent at home, the people of Timor-Leste sought to win ...


more...

- Posted on 2019 Aug 11



---
Port in a storm? Power to the people!

Finn G. 9 August 2019

Labor backbencher Nick Champion has stated that the Chinese lease on Darwin Port should be discontinued and placed in Government hands.
His proposal is related to the ...


more...

- Posted on 2019 Aug 09



---