Latest Publication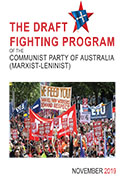 _______________



Discussion & Response

Readers are invited to submit questions for discussion. We will endeavour to provide a timely response.
_______________



Announcements & Events

Want to comment on or share something you have just read here? Go to our Vanguard - CPAML Facebook page where we will add our most recently posted articles.
_______________



CPA (M-L) affiliates to ICOR
- 2019 Nov 09


The Communist Party of Australia (Marxist-Leninist) has officially affiliated to the International Coordination of Revolutionary Parties and Organisations (ICOR). The decision to affiliate was debated and approved by the 15th National Party Congress held in June earlier this year.

CPA (M-L)'s 15th Congress successfully concluded
- 2019 Jun 24


24 June 2019

The 15th Congress of the Communist Party of Australia (Marxist-Leninist) was recently concluded. The Congress began with the circulation of documents to all members and some close supporters.

For a militant, fighting New Year
- 2019 Jan 01


Greetings to all for 2019 - a year of expanding class struggle and political advances for the revolutionary working class.
Latest Posts
Big multinationals still dodging tax

| | |
| --- | --- |
| | Latest figures from the Australian Tax Office (ATO) show that big multinational corporations are continuing to evade their obligations to pay tax on their Australian earnings. They have been doing this for many years, but the ATO has only made data available since the 2013-14 financial year. |


more...

- Posted on 2019 Dec 13



---
Papua New Guinea assessing options as regional tensions grow

An increased aid budget from Canberra to PNG together with a further loan, has highlighted the continued importance of the South Pacific country for Australia.
In recent years, however, the neo-colonial relationship has become tense and problematic; Canberra can no longer take their hold over PNG for granted.


more...

- Posted on 2019 Dec 11



---
Study contradictions for coming struggles

The domestic situation in Australia is characterised by growing distrust of the main parliamentary parties, and by increasing repression and secrecy on the part of the Morrison government.
The economy is sluggish at best and increasing numbers of workers are faced by no wage growth and by long-term precarious employment. ...


more...

- Posted on 2019 Dec 10



---
China, the US, the S-W Pacific and "critical mineral" projects

It is always important to monitor how decision-makers in Canberra and the business classes think.

A recent briefing paper about the South-west Pacific, for example, followed an almost set pattern of pushing the US-led Cold War agenda by highlighting the rise of China and attempting to formulate superficial hypothetical military ...


more...

- Posted on 2019 Dec 07



---
Siemens told to withdraw from Adani project

Anti-Adani activists at a rally on Thursday night told representatives of German Siemens AG, the largest manufacturing company in Europe, not to facilitate the Adani coal mine project.

A large crowd carrying placards denouncing Siemens' involvement in the project gathered outside Luna Park in Sydney where delegates to a rail ...


more...

- Posted on 2019 Dec 07



---
Korea, Guam and Manus Island: US adjusts to manage its declining power

The speed by which the Pentagon demanded a major South Korean (Republic of Korea) media outlet retract a statement that the US was considering a troop withdrawal from the country has shown sensitivities surrounding issues on the Korean peninsula.

US imperialism has long had its troops stationed in the ROK ...


more...

- Posted on 2019 Dec 05



---
Crims in Suits: the apologists for wage-theft

Most organised workers do not need reminding about the levels of dishonesty within business circles, or how downright deceit and trickery can be accompanied with glib terminology about 'best business practice'.

A recent parliamentary submission by the Australian Industry Group (AIG), however, has revealed new levels of dishonesty, with the ...


more...

- Posted on 2019 Dec 04



---
Party's Draft Fighting Program released.

The CPA (M-L) has just published a booklet on our key tasks and demands for the immediate future.

It complements the Party Program adopted at the 15th Congress in June.


more...

- Posted on 2019 Nov 24



---
"Destined For War" - A Book Worth Reading

| | |
| --- | --- |
| | When the USSR collapsed in the late 1980s, there was one superpower remaining, the USA. Not for long though. Fast forward to 2019 and there are now two superpowers, the USA and China. One is in decline and one is rising. |


more...

- Posted on 2019 Nov 24



---
Solidarity with Gig Economy Workers!

| | |
| --- | --- |
| | Recently we published an article on the political economy of Uber and the gig economy by Marxist historian Humphrey McQueen. A couple of days ago, the Victorian/Tasmanian branch of the Transport Workers Union supported Uber Eats and Deliveroo drivers when they rallied outside Deliveroo HQ in Melbourne to demand the ... |


more...

- Posted on 2019 Nov 23



---
Climate Change? Change the System!


more...

- Posted on 2019 Nov 21



---
The Independent Fight of the Working Class

Urgent questions face the workers of Australia.
We have seen our defensive organisations, the unions, lose much of their freedom of action.
We have seen rising unemployment disguised as precarious work: work that is irregular, at the whim of the employer, and often coupled with spurious "self-contractor" arrangements that deprive ...


more...

- Posted on 2019 Nov 21



---
The Victoria Cross – what it really represents

| | |
| --- | --- |
| | The Victoria Cross (VC) has a long and bloody history. It was created by the British Monarch, Queen Victoria in 1856 and first awarded on 26 June 1857. The initial purpose was said to commemorate acts of bravery during the Crimean War, but it was primarily an act of propaganda. ... |


more...

- Posted on 2019 Nov 19



---
Condemn the so-called "Enhanced Defense Program"!

| | |
| --- | --- |
| | Recently, at the Association of Southeast Asian Nations Defense Ministers' Meeting-Plus in Bangkok, Thailand, which was held last week, Australian 'Defense' Minister Linda Reynolds met with her counterpart, Defense Secretary Delfin Lorenzana, and pledged to provide greater support for the Armed Forces of the Philippines (AFP), though the so-called "Enhanced ... |


more...

- Posted on 2019 Nov 19



---
We stand with Warlpiri. We stand with Yuendumu.

As protests against the police murder of young Warlpiri man, Kumanjayi Walker spread, Warlpiri Elders have reminded us all of three other mass violations of human rights inflicted on First Nations.

The first is the ongoing massacre of First Peoples, like Kumanjayi Walker, in custody. Whether by deliberate or casual ...


more...

- Posted on 2019 Nov 19



---
Warlpiri lead from strength in Country and culture after Kumanjayi Walker's murder

Over four hundred First Peoples have died in custody since the Royal Commission into Aboriginal Deaths in Custody. Every commission recommendation is routinely ignored.

Why then has the death of Warlpiri man Kumanjayi Walker ignited such a big response that a policeman has been charged with murder for the first ...


more...

- Posted on 2019 Nov 18



---
Communist women fight and die for Rojava

Organisations and parties active in the fight against fascist Turkey's invasion of northern Syria/Rojava have honoured two females comrades recently killed by the invaders.

The Marxist-Leninist Party of Turkey/Kurdistan wrote: Comrades Ceren Güneş of DKP (B) and Aynur Ada of DKP-BÖG fell martyr in the great resistance against the invasion ...


more...

- Posted on 2019 Nov 18



---
Protests erupt across the country over Kumanjayi Walker murder

Just days before 19-year-old Warlpiri man Kumanjayi Walker was murdered in Yuendumu, Kurnai, Gunditjmara, Wiradjuri, and Yorta Yorta writer Nayuka Gorrie spoke about deaths in custody on Q&A, "It's not just racism and white supremacy. It's wanting to disappear Indigenous people and for our sovereignty not to be upheld.

They ...


more...

- Posted on 2019 Nov 17



---
Bourgeoisie only has one answer to effective dissent: repression

We are witnessing an upsurge of popular action around the world.

In 2011, there were the massive actions of the Arab Spring. In the decade since, there have been the Occupy, Me Too and Black Lives Matter movements originating in the US. The French workers created the Yellow Vests ...


more...

- Posted on 2019 Nov 13



---
Oppose the US-backed coup in Bolivia!

The Communist Party of Australia (Marxist-Leninist) condemns the US-instigated coup that has forced the resignation of democratically-elected Indigenous Bolivian President Evo Morales.

Morales and other senior leaders of his government have been forced to flee the country. Mexico has provided them with asylum and protection.


more...

- Posted on 2019 Nov 12



---