Latest Publication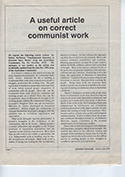 _______________



Discussion & Response

Readers are invited to submit questions for discussion. We will endeavour to provide a timely response.
_______________



Announcements & Events

Want to comment on or share something you have just read here? Go to our Vanguard - CPAML Facebook page where we will add our most recently posted articles.
_______________



"They are killing us"
- 2019 Jul 21


Call to support Sydney rally on August 3

Colombians and supporters in Australia


It is with great sadness, indignation and powerlessness that we receive each day the terrible news regarding the ongoing assassination of our social leaders while the government remains silent.

CPA (M-L)'s 15th Congress successfully concluded
- 2019 Jun 24


24 June 2019

The 15th Congress of the Communist Party of Australia (Marxist-Leninist) was recently concluded. The Congress began with the circulation of documents to all members and some close supporters.

For a militant, fighting New Year
- 2019 Jan 01


Greetings to all for 2019 - a year of expanding class struggle and political advances for the revolutionary working class.
Latest Posts
The Significance of Revisionism


more...

- Posted on



---
Leaked Document Offers No Surprises

Finn G. 15 October 2019

On Tuesday October 14 SBS reporter Brett Mason tweeted that the Governments talking points for the week were "inadvertently" sent to the press gallery. (1) ...


more...

- Posted on 2019 Oct 15



---
Class oppression and human rights

We reproduce a talk by Shirley Winton given at a forum on Human and Democratic Rights on 28 September

"Human rights do not stand above classes and class struggle. The violation of human and democratic rights arise from the exploitative system of capitalism"


more...

- Posted on



---
Tram and Train workers lead SA anti-privatisation campaign

Ned K. 13 October 2019

On the morning of Sunday 13 October, over 2,000 tram and train workers and supporters from all walks of life rallied at Parliament House steps in Adelaide as part ...


more...

- Posted on 2019 Oct 13



---
South America: New developments create headaches for US imperialism

Nick G. 13 October 2019

With events escalating in Syria/Rojava following the Turkish fascist regime's invasion of Kurdish liberated areas, attention should also be kept on events in South America.
After five years of negotiations between the Colombian FARC ...


more...

- Posted on 2019 Oct 13



---
Australian aid to PNG: neo-colonialism at the service of US imperialism

(Contributed) 12 October 2019

Demands have been made for Canberra to adopt a more formal neo-colonial approach in its aid program to Papua New Guinea.

US-led ...


more...

- Posted on 2019 Oct 12



---
Down with the Turkish fascists and their invasion of Northern Syria and Rojava!

Statement by the Communist Party of Australia (Marxist-Leninist) 11 October 2019

The Communist Party of Australia (Marxist-Leninist) condemns the fascist Turkish invasion of Northern Syria and Rojava and its attacks on the Kurdish people and their popular defense forces.


more...

- Posted on 2019 Oct 10



---
United Workers Union: Workers Vote for Strength in Numbers

Ned K. 7 October 2019

On 1 October 2019, the Fair Work Commission website posted its Decision to approve the amalgamation of two unions, United Voice and National Union of Workers. ...


more...

- Posted on



---
Silicosis - Killing is not murder when done for profit

Humphrey McQueen

This article is an excerpt from Humphrey McQueen's, Framework of Flesh; Builders Labourers battle for health and safety (Port Adelaide: Ginninderra Press, 2009), pp. 132-4 full text on surplusvalue.org.au/McQueen/ Health and safety in the workplace was a big motivator for workers to form unions to protect themselves. ...


more...

- Posted on 2019 Oct 03



---
Commemorate the 70th anniversary of the founding of the People's Republic of China

Statement by the Central Committee of the CPA (M-L) 1 October 2019

Today, October 1 2019, marks the 70th anniversary of the founding of the People's Republic of China.
Led by Chairman Mao Zedong and the Communist Party of ...


more...

- Posted on 2019 Sep 30



---
Many thousands more drawn into action on climate change

John B. 30 September 2019

On September 20, 2019, three days prior to the United Nations Climate Action Summit, over 4 million workers and students from across the world took part in a series of massive ...


more...

- Posted on 2019 Sep 30



---
Exploitation


more...

- Posted on 2019 Sep 28



---
South Pacific: Tide turns for Taiwan and US imperialism

(Contributed) 28 September 2019


The announcement that Kiribati was switching its diplomatic ties from Taiwan to China has sent alarm bells ringing in Canberra and Washington. Coming so soon after the Solomon Islands made a similar diplomatic move ...


more...

- Posted on 2019 Sep 28



---
Congratulations on 25th anniversary of the MLKP Turkey/Kurdistan

| | |
| --- | --- |
| | A statement on behalf of the Central Committee of the Communist Party of Australia (Marxist-Leninist) |


more...

- Posted on 2019 Sep 28



---
US fears Solomon Islands may switch to Beijing

(Contributed) 15 September 2019

The announcement by Prime Minister Manasseh Sogavare of the Solomon Islands that his government was seriously considering switching diplomatic allegiance from Taiwan to China, has far-reaching implications for Australia and US-led regional military and ...


more...

- Posted on 2019 Sep 15



---
Free West Papua!

Statement of the Central Committee of the Communist Party of Australia (Marxist-Leninist) 15 September 2019

The Communist Party of Australia (Marxist-Leninist) expresses its utmost support and solidarity with the people of West Papua in their struggle for self-determination and independence, and their fight against ...


more...

- Posted on 2019 Sep 15



---
US imperialism's plans to incorporate Pacific Islanders in the ADF

(Contributed) 9 September 2019

A report from the Australian Strategic Policy Institute (ASPI) has revealed some important changes are being considered by US imperialism in using Australia as a southern hub for the military ...


more...

- Posted on 2019 Sep 09



---
Nation-wide rallies in support of West Papua

6 September 2019

Australia-wide rallies in support of West Papuan freedom and independence are to be held in the coming week.
At a time when there is intensified Indonesia repression of West Papuan activists, Australians must stand with their West Papuan brothers and sisters.


more...

- Posted on 2019 Sep 06



---
Notes from the MLKP Alişer Deniz Regiment

| | |
| --- | --- |
| | (The following report is from the August 2019 International Bulletin of the Marxist-Leninist Communist Party Turkey/Kurdistan. It explains some of the political and ideological measures taken by the MLKP and the Kurdish Women's Protection Units (YPJ) to educate Communist male fighters on issues associated with the women's revolution in Kurdish ... |


more...

- Posted on 2019 Aug 29



---
US imperialism losing control of Japan-ROK relations

(Contributed) 28 August 2019

The escalation of diplomatic tensions between Japan and the Republic of Korea (ROK) has revealed the rapid transition from the sphere of US-led trade war with China into ...


more...

- Posted on 2019 Aug 28



---