Indigenous Australians lead water protest

Written by: Nick on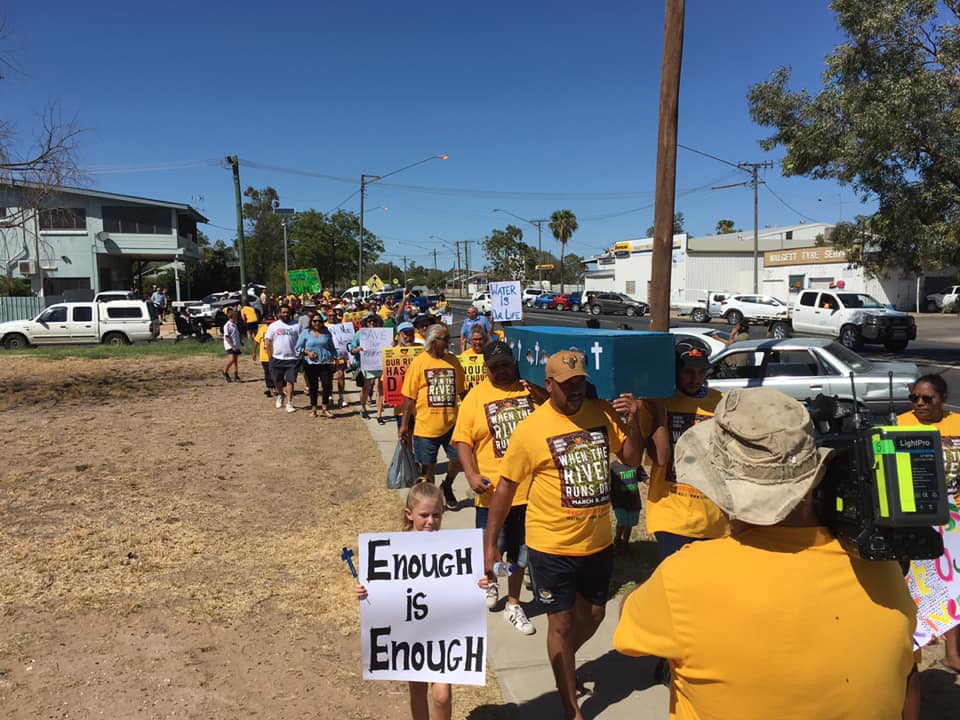 Nick G. 5 March 2019
Last Sunday, hundreds of people gathered in Walgett to mourn the death of the Namoi River.
It was one of a series of protests held that day under the auspices of the Northern Aboriginal Land Council (NALC). Hundreds more gathered in Menindee, Wilcannia, Bourke, Dareton, Dubbo, Tilpa, Brewarrina, and Wentworth, blocking bridges and marching down roads.
The Walgett protest was organized by the Walgett Local Aboriginal Land Council (WLALC) to advocate for change regarding the water situation in the western, north western and central regions of NSW.
Described as a "perennial river" on Wikipedia, the Namoi is in fact bone dry at Walgett. A memorial service for the river, with a eulogy delivered by Northern Aboriginal Land Council Chairperson Roy Ah-See, was held on the parched and cracked grey bed of the Namoi.
"This river was born in Creation…so it has sustained many many generations of our people," said Ah-See. "We celebrate the life of a river that has given us life, and should never have run dry."
George Fernando, a Walgett elder, criticized the big commercial cotton-growers around Wee Waa who take water from the river for their crops. "These cotton blokes," he said, referring to the water, "have got it up there. I don't know what they're gonna do with the water. The other water, from the mines they're sending down to us, it's no good. It's black water."
Anne Dennis, deputy chair of the NALC, blasted the "total mismanagement" of the water. "Local people need to be involved," she said, adding that the "Government must stop water trading."
Kelli Randell, CEO of the WALC, said "We have inherent rights, values and interests in water. The physical and spiritual health of our country, including water, reflects the spiritual and physical health of our people.
"Urgent action is demanded to address the current and unfolding crisis of water shortages in New South Wales.
"Our communities have run out of water. It is at critically low levels. Available water is putrid and unhealthy.
"The lack of access to clean water is leading to preventable diseases and a significant impact on mental health.
"Access to clean water is a basic human right….We need water!"
Randell was not exaggerating the desperate plight of people at Walgett. The north-west NSW town has been on level five water restrictions for months and suffered a blow mid-January when its bore water supply was knocked out of action for a day.
Orange resident Maree Glohe responded by collecting bottled water from Orange supermarkets – 500 slabs each containing 24 bottles – and drove to the Walgett township and the local mission and "reservation" delivering supplies.
It was a welcome gesture and a sign of how people support each other in tough times, but everyone knows that it cannot be a permanent solution.
The WLALC are demanding:
• The establishment of a Commonwealth Royal Commission into the management of the Murray Darling Basin
• A State Level inquiry to address the mismanagement of water and our river systems in NSW
• A suspension of trading in the Barwon Darling River System
• Aboriginal involvement, through the Land Council network, in all decisions about water management and planning.
Interestingly, a chant set up at the end of the Walgett memorial service, "What do we want? Royal Commission!" hadn't got very far before someone changed it to "What do we want? Barnaby Joyce in jail!" to great cheers and applause.
Indigenous Australians are quite rightfully leading the way in defence of Country and the environment.
Whether its to stop Adani, restore the Namoi, Barwon, Baarka and other rivers to health, prevent South Australia from becoming a nuclear waste dump or protecting the Great Barrier Reef and the Great Australian Bight – to name a few - Indigenous voices are providing leadership and guidance.
The common enemies of all Australians - the giant overseas and local corporations with the addiction to "growth" and profits – will not divert us from all standing united for the values we cherish.
People and their environment before profits!
Indigenous Australians lead water protest
Print Version - new window
Indigenous Australians lead water protest
Print Version - popup window
-----