Taiwan: US imperialism's excuse for war with China?
Written by: (Contributed) on 21 August 2020
The arrival of three US B-2 planes at Diego Garcia reveal a Trump administration preoccupation with Island Chain Theory (ICT) and Taiwan; they are desperate to reassert traditional regional hegemonic positions.
The development has also revealed the strategic importance of Australia for US regional foreign policy with sensitive intelligence facilities.
As diplomatic tensions between Washington and Beijing soar, Australia is locked into joint operations with US-led Pentagon planning for real-war scenarios.
In mid-August, an announcement that the US had placed three B-2 planes on Diego Garcia in the Indian Ocean revealed a further round of diplomatic tensions between the US and China.
The planes have a flight range of 11,000 kms and have operations linked to guidance provided by Global Positioning Systems (GPS); they form part of the 509th Bomb Wing which, in turn, is under the control of the Global Strike Command and can penetrate enemy defences without alerting usual radar facilities. (1)
The deployment of the three planes has also revealed the importance of Australia for US-led regional planning. Diego Garcia rests on an arc from Pine Gap, central Australia, which also swings through Guam, another sensitive US military and intelligence facility in Micronesia.
Both Diego Garcia and Guam have been developed as bomber bases for regional deployments.
The US-led GPS facilities are also linked to the National Geospatial Intelligence Agency, which is also linked to Australian-based facilities.
While the reason provided by the Pentagon for the deployment of the three planes was a military exercise by China around the Zhoushan islands, 550 kms north of Taiwan, US-led intelligence assessments also fear China may be planning to occupy the Pratas/Dongsha islands (above) which at present are administered by Taiwan but claimed to be under Guangdong Province's sovereignty by China. (2) The Pratas/Dongsha islands, strategically-placed 170 kms off the coast of Hong Kong and 400 kms south of Taiwan, are considered sensitive at the point linking the South China Seas with the wider Pacific, together with their close proximity to Hong Kong.
An added dimension to the development has been an announcement from Taiwan that President Tsai Ing-wen was considering leasing the Pratas/Dongsha islands to the US 'to deploy intelligence-gathering' facilities. (3) In recent times Taiwan has also sent two hundred marines to defend the islands which also have a large air-strip, for rapid deployment.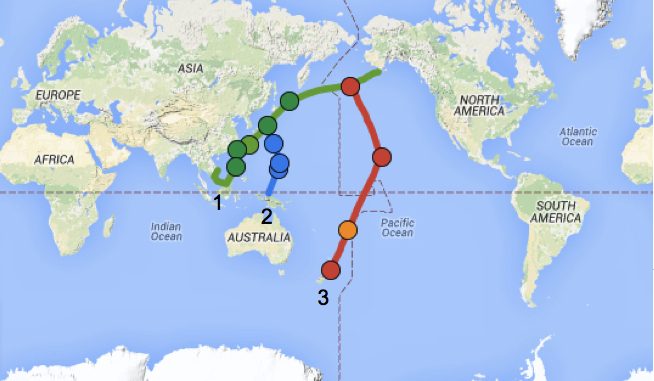 Moves in Taiwan have also coincided with the Trump administration re-using ICT as their main basis of demarcation within the region. Taiwan has central importance with the theory, of using control of islands to act as buffers, preventing China from ready access to areas of the region. The fact that Japan nationalised 280 island-masses on the basis of 'important national territories' is evidence the theory has also been previously regarded in Pentagon circles as important although not well publicised. (4)
While ICT was largely discredited during the previous Cold War it has served the Pentagon well with lines of defence and security and military planning when dealing with the rise of China. The US now has to deal with a competitor, which has been assessed as a major threat to traditional hegemonic positions as an adversary.
It is, therefore, no coincidence that the US has increased its unofficial support for Taiwan in recent times despite the US having switched diplomatic support to China in 1979 under the One China policy as ratified by the United Nations. They continued, however, to support Taiwan and in recent times the American Institute in Taipei, which functions in all but name as an official embassy, now has a staff of nearly five hundred US diplomats who are on temporary leave from the State Department. (5) It is also interesting to note recent moves to link Taiwan with Japan with 'maritime security, intelligence-sharing' facilities. (6)

An added dimension of Taiwan's strategic position for the US has included the New Southbound Policy of President Tsai Ing-wen, which has portrayed the country as a model for the Indo-Pacific region and functioned as an unofficial form of diplomacy to target countries with strong links with China.
It is, however, unofficial mechanisms and secretive networks used by the Taiwan which require greater scrutiny to establish their influence elsewhere: the so-called World League for Freedom and Democracy (WLFD), a far-right shadowy body is based in Taipei being a central feature of their unofficial diplomacy.
The WLFD was originally established as the World Anti-Communist League (WACL) by Taiwanese leader Chiang Kai-shek although following unfavourable publicity as a major player in the Iran-Contra scandal, underwent name change while retaining the same political and intelligence functions. (7) Direct involvement with sanctions-busting with Iran and arms sales linked to massive drug trafficking in Central America, the US and elsewhere, could hardly be regarded as favourable publicity in the eyes of world leaders and their compliant middle-classes.
The WLFD is also linked to the notorious Political Warfare Department which has promoted Taiwanese foreign policy. As countries switched allegiance to China in the 1970s and 1980s, the organisation, subsequently, became more important. Shadowy Taipei-based figures, for example, developed strong links with right-wing dictatorships in Central and Latin America and elsewhere; the Political Warfare Cadres Academy provided training in 'unconventional warfare' which included use of institutional political parties to promote US and Taiwanese interests and para-military type organisations for clandestine operations. (8)
WLFD involvement in the Philippines, historically, took place through established political organisations and far-right death squad-type activities. The main conduit for their operations was and remains the Marcos oligarchy, which is now vying once again for political power in forthcoming presidential elections in 2022. (9) Those associated with the Marcos dynasty are largely held responsible for the elimination of over a thousand trade-union and opposition figures in recent years. The large Philippine international diaspora has provided the WLFD with an additional network to promote their nefarious agendas elsewhere.
The WLFD also has strong Australian connections through established Liberal Party figures and far-right organisations. (10) They wield considerable influence in present-day Cold War Australia, while maintaining a low profile.
The deployment of three US B-2 planes on Diego Garcia is the logical outcome of an increasingly hawkish Cold War position by the Trump administration toward China. It has potentially dangerous, if not lethal, real-war scenarios as a main agenda item.
Australia has been drawn into this appalling diplomatic position through a series of sycophantic governments more inclined to kow-tow to 'US interests' and the so-called 'alliance' than the defence and security of our own interests:
We need an independent foreign policy!

1. Stealth bombers sent by US to Diego Garcia, Australian, 14 August 2020.
2. Ibid. See also "Pratas Island tensions. Could this be war?"
3. Taiwan sends marines, Taiwan English News, 24 June 2020.
4. Japan to nationalise 280 islands, The Age (Melbourne), 10 January 2014.
5. Beijing keeps a wary eye on new US Taipei outpost, Australian, 18 June 2018.
6. Ibid.
7. The Iran-Contra Scandal: The Declassified History, Peter Kornbluh and Malcolm Byrne, (New York, 1993), page xxx.
8. Inside the League, Scott Anderson and Jon Lee Anderson, (Boston, 1986), pp. 56-9.
9. Ibid., page 59, page 281.
10. Ibid., page 59, page 276; and, WACL website: 9 January 1990, which provided coverage of their 1989 conference in Brisbane, Australia attended by John Howard, later Prime Minister, among the 120 delegates representing fifty countries.
Print Version - new window Email article
-----
Go back