The re-militarisation of Japan and the likely implications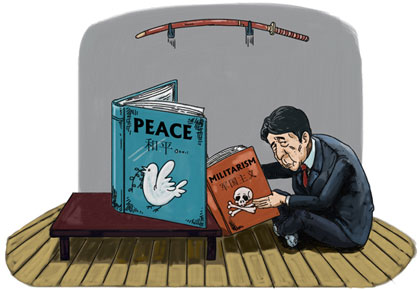 (Contributed)
An announcement by Japanese Prime Minister Shinzo Abe that an increase in the defence budget was taking place is a further step toward the re-militarisation of the country as a bulwark of US imperialist-led western military planning.
The positions taken by Abe have been coordinated through Australia as part of US-led regional defence and security provisions aimed at encircling and containing China.
The moves draw the Asia-Pacific region ever closer to diplomatic hostilities with the threat of war.
In October, Prime Minister Shinzo Abe won the required two-thirds majority in elections to revise Section 9 of the country's post-WW2 pacifist constitution, enabling the country to move away from a client-state of the US to a fully-fledged regional hub for 'US interests' in the Asia-Pacific region. (1) The military planning has formally linked Japan with Australia as the regional hub in the south. The tripartite relationship with the US has also included high-level diplomatic contact.
Shinzo Abe visited Australia last January following the presidential election victory of Donald Trump. The timing was not coincidental. It will soon be accompanied by a visit of Prime Minister Malcolm Turnbull to Tokyo early in 2018 'to facilitate joint military exercises'. (2) The diplomacy between Japan and Australia took place with President Trump approving the Abe government receiving 'massive amounts of the most sophisticated military equipment'. (3)
Japan had established a 'special strategic relationship' with Australia in 2014 which was elevated following the visit of Abe to Canberra. The two countries then signed a 'cross-servicing agreement to exchange support at various levels between their militaries'. (4)
The moves have also been accompanied by the Japanese government approving a record defence budget of 5.19 trillion yen ($59.61 bn). (5) The defence budget was the sixth consecutive increase under Abe. (6) In fact, the budget figures tend to be misleading taken out of context. Whereas most NATO countries allocate two per cent of their GDP to defence, Japan already spends more than four per cent. The latest increase also amounts to a further 2.5 per cent increase over the previous budget. (7) The developments leave little to the imagination about the role of Abe and his role in the rearmament of Japan. The country already has a defence force composed of 247,000 active military personnel. (8) It is set to expand still further.
The increased Japanese defence budget has also coincided with a proposed massive increase in US military spending. In November, Congress sent President Trump 'a sweeping defence policy bill authorising a $700 bn. budget for the military, including billions of dollars more for missile programs'. (9) The proposals are not required for standard defence provision but more in line with pursuing an aggressive foreign policy. Further information included in the statement, for example, specified 'the funding boost pays for more troops, jet fighters, ships and other weapons needed to halt an erosion of the military's combat readiness'. (10)
What is significant about the rearmament, however, is the inclusion of 'an aircraft carrier to provide the capability to strike enemy bases' together with the US deployment of sixteen F-35B stealth fighter planes. (11) The development has also coincided with Australia's new carrier HMAS Canberra which has been designed for 'combat missions'. (12) Official defence department media statements from Canberra have already stated that 'given the deepening defence ties between Japan and Australia, and also trilaterally with the US, the possibility of more integrated air-sea operations using the world's most advanced planes and ships is on the horizon'. (13)
The moves also include the US selling Japan land-based Aegis Ashore missile defence systems linked into bigger electronic warfare systems with real-time military planning provision with the Pentagon. (14) The likely scenario with the military planning is that the US will command hostilities from the Pentagon while allies will conduct battle-scenes.
There is also little ambiguity with the military planning despite it tending to be hidden within defence department media releases emphasising their role 'for humanitarian emergencies'. (15) It is aimed at China which has had a meteoric rise to prominence, presenting a credible challenge to the traditional hegemonic position of US imperialism. In a recent statement, Peter Varghese, former Secretary to the Department of Foreign Affairs and Trade (DFAT) said 'there is a real risk that South-east Asia is becoming a Chinese sphere of influence'. (16) Similar commentary has also included a statement from the Australian Strategic Policy Institute (ASPI) that, 'since last year's defence white paper, Australia's circumstances have deteriorated, with a continuing shift in the balance of power in the region in favour of China'. (17)
In the Asia-Pacific region an escalation of militarism has entered a dangerous phase. Western military strategists are planning for real-war scenarios. One military plan, which included a 'Pentagon strategy designed to knock out an enemy's long-range surveillance radar and precision missiles, followed by a blistering air and sea assault' would now appear to have become standard practice. (18) Defence Department sanctioned media releases about the planning also included the statement, the 'Air Sea Battle is unofficially acknowledged in Washington as the central tenet of US plans to deal with China' and 'the real target of the Air-Sea Battle is China'. (19)
What was not acknowledged was that while such real-war scenarios were planned by the US, they expected Japan and Australia to take a leading role in hostilities. Progressive-minded people across the region should take note of the problem before hostilities begin.
1. Abe aims at Kim after poll win, Australian, 24 October 2017.
2. Japan, Australia mull agreement on closer military ties, Australian, 27 December 2017.
3. Editorial, US backs Japanese rearmament, Australian, 8 November 2017.
4. Asia's New World Order, Australian, 24 October 2017.
5. Harder sanctions for N Korea, The Weekend Australian, 23-24 December 2017.
6. Japan Boosts Defence Budget, The Guardian (UK), 22 December 2017.
7. Website: cdr salamander, Welcome Re-militarisation of Japan, 26 December 2017.
8. Asia's New World Order, op.cit., 24 October 2017.
9. $924 bn defence bill sent to Trump, Australian, 18 November 2017.
10. Ibid.

11. Chinese alarm if Japan rearms, Australian, 28 December 2017.
12. Military build-up in the Asia-Pacific could be the key to diplomacy, Australian, 2 December 2014.
13. Ibid.
14. Japan boosts defence budget, op. cit., 22 December 2017.
15. Military build-up, op.cit., 2 December 2014.
16. China's rise poses growing threat, Australian, 15 November 2017.
17. Ibid.
The re-militarisation of Japan and the likely implications
Print Version - new window
The re-militarisation of Japan and the likely implications
Print Version - popup window
-----