Barunga Festival: Parliament's shame job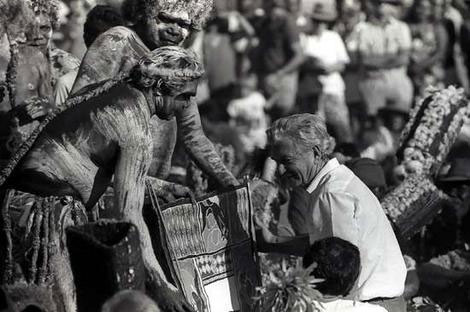 Nick G.
If ever there was a white-fella shame job, it is surely the failure, after 30 years, of the Australian Parliament to negotiate Treaty with Indigenous Australians.
Why 30 years? On 12 June 1988 at the Barunga (NT) sports and cultural festival, Aboriginal leaders Galarrwuy Yunupingu (Chairman of the Northern Land Council) and Wenten Rubuntja (Chairman of the Central Land Council) presented a bark statement calling for a Treaty to Prime Minister Bob Hawke. The Barunga Statement was a log of claims for improved conditions for Aboriginal and Torres Strait Islander Australians, written in consultation with the Sovereign Aboriginal Coalition in Alice Springs. Hawke declared that a Treaty would be signed within the term of his government. A draft was written but never signed.
Yothu Yindi wrote the worldwide hit song "Treaty" to commemorate the statement. Lead singer Mandawuy Yunupingu, with his older brother Galarrwuy, wanted to highlight the lack of progress on the treaty between Aboriginal peoples and the Federal Government. Mandawuy Yunupingu said:
"Bob Hawke visited the Territory. He went to this gathering in Barunga. And this is where he made a statement that there shall be a treaty between black and white Australia. Sitting around the camp fire, trying to work out a chord to the guitar, and around that camp fire, I said, "Well, I heard it on the radio. And I saw it on the television." That should be a catchphrase. And that's where 'Treaty' was born".
Prime Minister Paul Keating's Redfern Speech of December 10, 1992 made no reference to Treaty, but was significant for placing the responsibility for the starting point for a just and honest relationship between Indigenous and non-Indigenous Peoples of this continent on the latter:
"It begins, I think, with the act of recognition. Recognition that it was we who did the dispossessing. We took the traditional lands and smashed the traditional way of life. We brought the disasters. The alcohol. We committed the murders. We took the children from their mothers. We practised discrimination and exclusion."

Despite urgent and repeated calls by for Indigenous and non-Indigenous Peoples of this continent a just and equal Treaty, no government to date has enacted the people's demand.

Barunga 2018

Today, thousands of visitors will take the Central Arnhem Road after leaving Katherine, and drive the 80kms to Barunga. Somewhere along the way they will be stopped at a police roadblock where vehicles will be inspected for alcohol. Barunga is a dry community by decision of the community itself.

After selecting their campsites, visitors will wander among foodstalls and those set up by community organisations, and then have a choice of watching football and basketball matches. As evening descends, thousands of flying foxes will take to the air from trees around the community to form huge waves of swirling, screeching noise. But when the performers, including Saltwater Band, B2M (Bathurst to Melville), and Yolngu singer-songwriter Yirrimal Marika, together with ten groups of traditional dancers from all corners of the Territory, take to the stages, all focus will be on them.

With some State and Territory governments now negotiating their own treaties with Indigenous peoples, the 30-year federal government shame job will be there for all to see. That shame job has only been compounded by the present federal government's refusal to act on the 2017 Uluru Statement from the Heart and its call for a Makarrata Commission to begin the negotiation of agreement-making between governments and First Nations and truth-telling about our history.

Treaty(ies): some points for consideration

A Treaty (or Treaties) with the First Nations of Australia must come from genuine and equal negotiation between First Nations Peoples and either the current British Crown authorities, with their colonial relics enshrined at the heart of the Australian Constitution, or with the so-called Australian Government, which arose after the British invasion and currently administers the spoils of that invasion.

It is not our place to impose our objectives for such Treaty(ies) on that negotiation, but we do offer the following points for consideration of what the descendants of the unsettler occupiers must now be prepared to offer Aboriginal and Torres Strait Islander First Nations.

In our view, it is appropriate that there be recognition that the continent and islands of Australia were owned and occupied by First Nations Peoples for at least 65,000 years, or, as many prefer to express it, since time immemorial. The sovereignty exercised by First Nations peoples was never ceded, nor surrendered, at any time during the violent invasion and occupation of Australia and its islands by British colonialism.
It must be acknowledged that the occupation of Australia and its islands by British colonialism was everywhere undertaken by force and violence or the threat of force or violence against First Nations Peoples by the British colonialists. Resistance to that force and violence was the inalienable right of First Nations Peoples. In the course of that forceful and violent occupation, Australia and its islands were not "settled"; rather, the peaceful, stable and settled communities of the First Nations were grievously and cruelly unsettled, and the traditional languages, laws and cultures containing the wisdom of the Aboriginal peoples were denied and suppressed by the colonialists, who enforced their own language, law and culture.

Land rights recognise, and the Mabo Decision confirms, the continuity of Aboriginal Peoples' property rights in land and waters, and in the natural resources thereof. Consistent with this is the right of First Nations Peoples to exercise self-determination in their languages, laws and cultures, and in the lands, the waters and the resources belonging to them.

Australian governments are duty bound to compensate Aboriginal Peoples for the damages inflicted by invasion and colonialism that have continued on through to the present day. Contemporary injustices against Aboriginal and Torres Strait Islander Peoples' must be eradicated. Issues of housing, health, education and injustice before Australian law must be addressed within a specific and agreed time frame.

Decisions on Treaty must be made by Aboriginal and Torres Strait Islander Peoples, as sovereign custodians of this continent and its surrounding islands.
Barunga Festival: Parliament's shame job
Print Version - new window
Barunga Festival: Parliament's shame job
Print Version - popup window
-----