AUSMIN 2018: When the masters meet their minions
Written by: on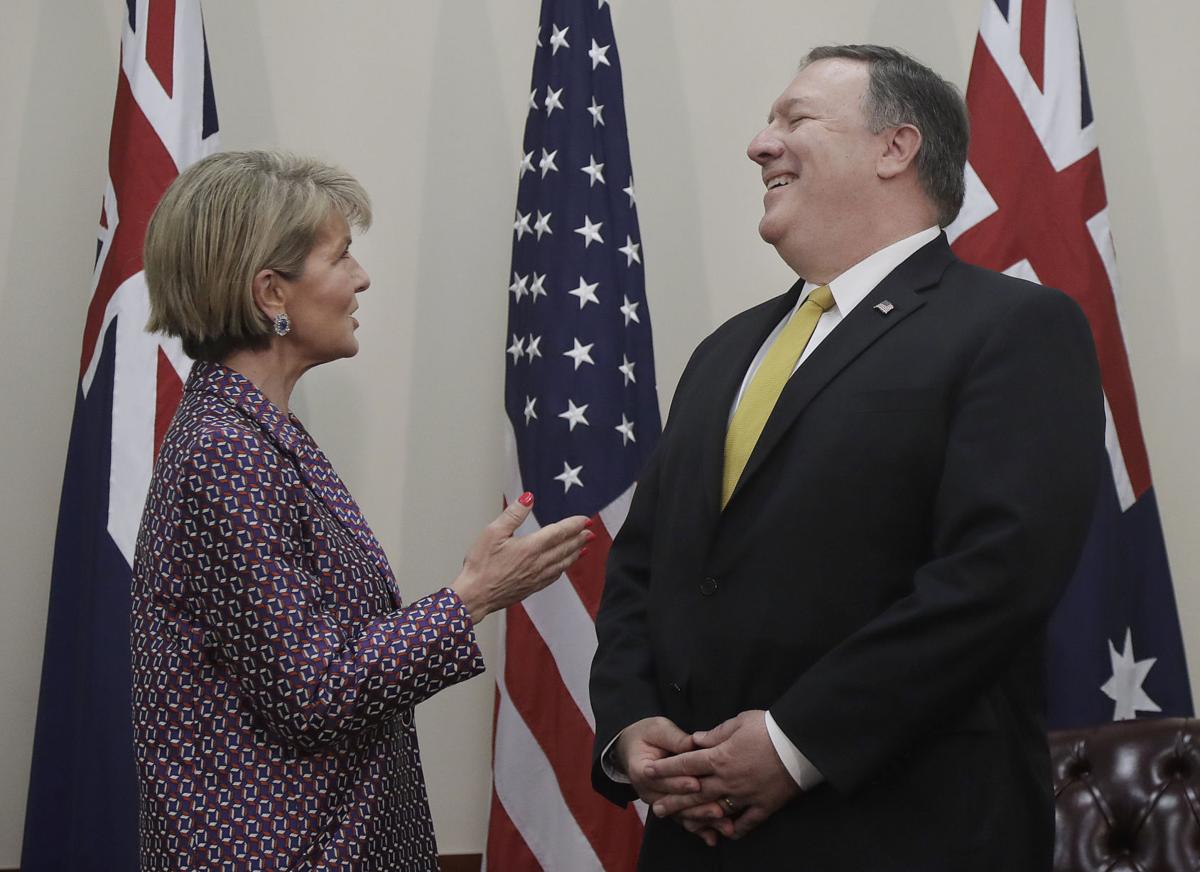 (Contributed)

The recent mid-July Australia-United States Ministerial Consultations (AUSMIN) summit took place while US-led forces attempt to roll-back China's influence in the Asia-Pacific region.
Problems, however, have arisen for the Turnbull Coalition government in Canberra.
The problems reveal far more than minor differences of opinion; they are about economic support and trade relations with China itself, which is Australia's biggest trading partner.
Progressive people should exploit these differences for all they are worth: to enable the forces of organised labour to make advances and to push for an independent foreign policy as a major agenda item.
Over a two-day period, 24-25 July, the Australian Foreign Minister, Julie Bishop together with Defence Minister Marise Payne of Australian Coalition government met with their US counterparts, Secretary of State Mike Pompeo and Defence Secretary Jim Mattis, for what officially has been termed an annual consultation. It was, however, a strange definition of the term; in reality, it was the way US military planning toward the Asia-Pacific region has been conducted, through a series of directives. The major US consideration remains a decades-old military plan to encircle and contain China in the Asia-Pacific region and elsewhere.

Australia has one of the closest diplomatic alliances with the US due to its geographical location and relative political stability, ensuring sensitive US military facilities linked to Diego Garcia and other places remain able to operate across the region without interference.
Other sensitive US military facilities including the triangular relationship with Japan as a fully-fledged northern regional hub for 'US interests' linked to Australia as a southern counterpart through massive Electronic Warfare (EW) systems has increased US military involvement through the use of proxies to defend 'US interests'.
The recent AUSMIN summit took place amid heightened concern that US hegemonic positions in the region are being threatened, and indeed downgraded, with the rapid rise of China's influence through accelerating economic growth rates. Studies have revealed present-day US GDP in dollar terms is about fifty per cent larger than China, but, by '2030 China will command the greatest economic force in history'. (1) The dislodging of the US as the world's leading economy, by China, will have far-reaching implications for countries such as Australia.
What is remarkable about the political diplomatic discourse taking place about the issue is that many of those not usually associated with progressive standpoints and causes have made important contributions.
Reliable assessments of the situation from such people as Professor Hugh White of the Australian National University, for example, have suggested the failure of the US to formulate a clear regional response to China has resulted in 'America's leadership in Asia rapidly dwindling', with the very real possibility it may disappear. (2) The result will be a major problem for Canberra with, 'Australia's whole foreign policy which depends completely on US strength, in tatters'. (3) The problem in more recent times has been exacerbated by statements by President Trump that the US was planning to withdraw some military support in the region as part of their general isolationist program.
Secondly, the view is also supported by former trade minister Andrew Robb who recently stated 'US attempts to contain China were futile and counter-productive and Australia needed to use its influence as a middle power to ensure sensible outcomes' (4) indicating that Australia should distance itself from US foreign policy.
Official diplomatic media releases from AUSMIN were therefore very carefully worded and presented in an attempt to deflect concern in both Canberra and Washington, particularly when dealing with specific areas of the wider region regarded as being sensitive. It was noted for example, that 'China's growing strategic and economic activism in the Pacific islands region, as well as the disputed territory in the South China Sea, were key topics of discussion'. (5) The linking of strategic considerations with economic practicalities throws light upon the real nature of US-concerns about China and the South Pacific.
Australia, historically, has been the Mother Country for the South Pacific region. For generations Pacific Islanders looked to Australia for assistance and support; during the last Cold War, countries such as Papua New Guinea, the Solomon Islands and Vanuatu were incorporated into the Defence of Australia doctrine (DOA) as northern buffer-states for the defence and security of Australia. The three small South Pacific countries form a vital component part of wider defence and security planning.
The DOA was then linked into both British Commonwealth and US planning for military provision across the wider Indian Ocean region giving rise to the term Indo-Pacific. It was no coincidence, therefore, the Pentagon changed the name of their Pacific Command to Indo-Pacific Command, mid-2018, to deal with wider regional military considerations. And it was noted at the recent AUSMIN summit, that, 'the Indo-Pacific is of utmost strategic and economic importance to the US and Australia, and is the focus of our discussions at AUSMIN', although there was no accompanying statement regarding the involvement of India in military provision. (6)
Two related matters arising at the same time as the AUSMIN summit, however, reveal a great deal about high-level US-Australian diplomacy, in camera and behind the scenes.
Immediately prior to the official opening of the AUSMIN summit, US congressman Joe Courtney, co-chair of the Friends of Australia, 'called on Australia to conduct its own freedom-of-navigation-operations against China in the South China Sea. (7) Linking the request to official AUSMIN diplomacy, Courtney also stated he hoped the summit, 'would lead to Australia conducting its own exercise'. (8) Earlier, a week before the summit, a brief media release from the Australian Defence Department did acknowledge there had been a 'long-held US desire that Australia take a more forward stance' with some regional military matters. (9) The position of the present Australian government remains far from clear over the US line: while the request from Courtney was immediately rejected by Foreign Minister Julie Bishop, it was nevertheless noted that 'the Turnbull government has been vocal in its support for US freedom-of-navigation-operations. (10)
Australia, historically, has sent ships and planes close to the 12-mile zones around China's maritime facilities in the South China Sea. US military planning now, however, wants Australia to take a more dynamic role challenging China on behalf of the US. The matter was quietly shelved amid AUSMIN diplomacy although it has remained a worrying reminder of Pentagon planning and the systematic use of proxies to defend 'US interests'. Chinese diplomacy toward Australia has already been noted as being placed into a 'deep freeze' by Beijing and has been accompanied by a refusal to 'allow any ministerial level visit from Canberra'. (11) It is likely to deteriorate still further under present circumstances.
Secondly, the position of the Turnbull government in Canberra to take a stronger pro-US line with China over so-called foreign interference 'has left the government and business wildly at odds over the state of the bilateral relationship'. (12) There is a growing division between state and class power within the higher echelons of Australia. Decision-makers in Canberra are squabbling in the corridors of power as influence has quite clearly been brought to bear upon leading government departments through the alliance with the US and their Cold War position on China. A carefully-worded media release from Canberra, for example, acknowledged the recent AUSMIN summit had taken place 'at an awkward time for Australia, with relations between Beijing and Canberra at a low ebb', following the Turnbull government taking a pro-US line on perceived Chinese foreign interference in Australia. (13)
The corporate sector, however, remain quite content to have favourable trade relations with China, and a large section of the Australian working-class are employed either directly or indirectly with such economic relations. In fact, it has been noted from well-placed sources when dealing with Australian economic projections, that 'the economic future depends almost entirely on China'. (14)
An official statement from deputy director-general Damien White of the leading Office of National Assessments (ONA) has shown an attempt to play down the rift 'of simmering debate over Chinese influence in Australia', with reference to 'external engagement especially with the business community… becoming a bigger part of my job'. (15) No doubt further influence is being brought to bear.
Progressive-minded people should exploit these differences of opinion for all they are worth to rid this country of such pro-US clowns and sycophants. At the same time, we need to monitor the activities of pro-China comprador elements who are prepared to facilitate the exploitation of Australian workers by Chinese capital. Capitalist governments, whether Liberal or Labor, will invariably sell us out to imperialist interests. And we urgently need an independent foreign policy before we are dragged into a war-situation with China which will decimate our economy and the living standards of ordinary working-people.

1. Gearing up for China's power rise, Australian, 31 May 2018.
2. Australia's weak leadership will carry foreign policy costs, The Straits Times, 24 May 2018.
3. Ibid.
4. Bring US, Asia together or pay the price: Robb, Australian, 3 July 2018.
5. Pompeo gives Bishop his word: no US retreat, Australian, 25 July 2018.
6. Ibid.
7. US call for Australia to take on China, Australian, 24 July 2018.
8. Ibid.
9. South China Sea high on AUSMIN agenda, Australian, 18 July 2018.
10. Australian, op.cit., 24 July 2018.
11. Straits Times, op.cit., 24 May 2018.
12. Spies tap business chiefs for insights, Australian, 18 July 2018.
13. Straits Times, op.cit., 24 May 2018.
14. South China Sea, Australian, op.cit., 18 July 2018.
15. Spies, Australian, op.cit., 18 July 2018.
Print Version - new window Email article
-----
Go back