VANGUARD - Expressing the viewpoint of the Communist Party of Australia (Marxist-Leninist)
For National Independence and Socialism • www.cpaml.org
Morrison's ancestors' land theft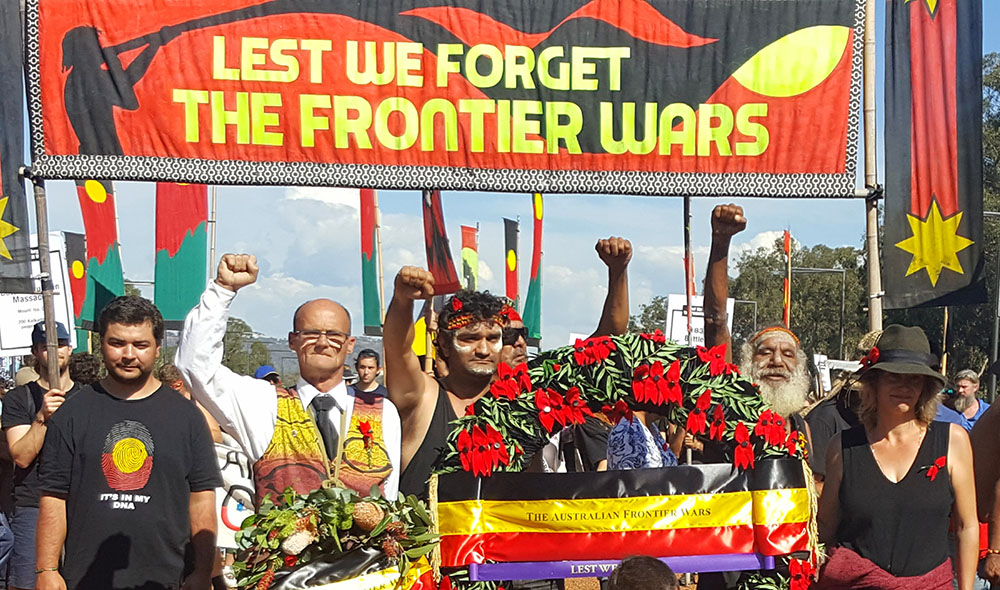 "It's all about acknowledging how far we've come. You know, when those 12 ships turned up in Sydney, all those years ago, it wasn't a particularly flash day for the people on those vessels either".
(Scott Morrison referring to Australia Day, Gladstone Qld, The New Daily, 21 Jan 2021)
It "wasn't a great day for my fifth great-grandfather, William Roberts" Morrison revealed to The Guardian while also revealing in the Second Fleet, on the Neptune, was Kezia Brown, a gardeners' labourer convicted of stealing clothing who would become Mr Morrison's fifth-great-grandmother.
(Scott Morrison, National flag-raising and citizenship ceremony, Canberra, per The Guardian 26 January 2019)
But nothing is mentioned of Morrison's ancestors later lives and their interactions with traditional inhabitants of the land where they settled.
He revels in fragmentary facts and in doing so hides or hides from the whole truth.
He also strives to shut down ideas at odds with his celebratory vibe, in his own turn to cancel culture.
Morrison's ancestors were early settlers on the Hawkesbury frontier
Records show Morrison's ancestors, William Roberts and Keiza Brown, settled a government land grant in the Hawkesbury district on the Dyarubbin River near Pitt Town in 1796. The family bought and operated the nearby 'Hobby Farm' near the original grant until the 1950s.
The granted land was alienated from its traditional inhabitants by Morrison's forebears setting up camp, clearing land, removing traditional yam crops and replacing them with maize, wheat, potatoes and like European crops, grazing pigs and cattle on it. Their settlement involved exclusion of traditional inhabitants from return to or systematic ongoing use of the land. That exclusion denied traditional inhabitants access to foods sources, leaving them to harvest what crops were on their ground and take stock for food and to fatten for themselves when the opportunity arose.
The traditional inhabitants proved insistent on returning to their land for sowing, tending and harvesting crops, harvesting bush tucker, catching game or other animals and just enjoying their nurra and culture on it.
Hawkesbury settlers were just as insistent on enjoying sole occupancy, to use the legal term.
Both sides escalated the means they used from demands and threats, to armed confrontations, ambushes and raids, plundering or destroying crops and infrastructure, assaults, killings, and eventually resorting to the first persistent settler – First Peoples war on the continent in three waves between 1795 and 1816.
Morrison's forebears were part of the first community to engage in three waves of persistent settler-First Peoples warfare over a 19-year period in Australia involving numerous officially-recorded exceptionally brutal clashes.
Was It War? You bet it was.
Recognising qualms many have in using the term war, let's get the term straight.
The Australian Defence Force defines war as "a clash of wills involving organised violence as an extension of politics. In war, the fundamental goal is to make the adversary comply with your will", and notes war "as a means of achieving political objectives", "resolve a difference between nation states or non-state groups". .
In the Hawkesbury between 1795 and 1816, settler society and the British Military used organised violence against traditional inhabitants to secure their personal security and hold over disputed territory and crops etc. That much is quite clear from the records and its commonly understood. Traditional inhabitants used organised violence to recover their land from the strangers who had taken it over is also clear from the records but less commonly understood.
It's hard to dispute organisation for violence when, in one instance, an estimated 500 warriors massed with arms in hand to confront settlers.
There was a clash of wills and organised violence to make the adversary comply with their will on both sides.
It sure was war. And it was the first persistent war between the adversaries on the continent. Morrison's family were part of the community involved from just after it began. This was their pioneering.
The Hawkesbury settler community was heavily outnumbered, just a bit over 400 white settlers in 1796, when Morrison's ancestors settled, including women and children. At the same time bodies of up to 500 traditional men alone were occasionally encountered in ceremony and armed clashes. To overcome traditional inhabitants' persistent moves to displace the settlers, the settler community relied on a permanent military station of troops in barracks at Windsor for over 50 years from 1797 until 1843.
The Hawkesbury frontier wars were the first that persisted and quite brutal
From time to time this military presence could not contain the traditional inhabitants' struggles to retake their lands and drive the strangers away. Counter-insurgency military sweeps by troops from the Sydney and Parramatta forces were sent to drive the traditional inhabitants from the Hawkesbury and other frontier districts and their surrounds.
After all, the Hawkesbury settlement was vital to the very survival of the Sydney outpost in the drought of the early 1790s. The colony's food stocks had fallen to the extent that rations could not sustain life and convicts died in their hundreds. Of 122 convicts from one ship only 50 survived the rigours of 1792.
The British colonial prison outpost was in danger of collapse. Supply ships were infrequent and unreliable. Only when the Hawkesbury settlement was established and provided a bumper crop was the survival of the colony secured.
Morrison's ancestors weren't going anywhere, and had the troops and imperial determination to back them up through murder and terror wrought on the traditional inhabitants. Records of the day in official documents and written accounts provide rich testimony of it.
Take every native Prisoner, Fire on Runaways, String bodies in trees, Strike Terror in Survivors – Governor's Orders
Just a couple of examples bookending the Hawkesbury frontier wars illustrate the nature of the military sweeps.
After allegations of 2 settlers being killed by Darug people in May 1795, the acting governor Capt. W. Paterson, a veteran of 4 years of the Anglo-Mysore wars in India, despatched 2 NSW Regiment officers and 66 soldiers to the Hawkesbury with orders to, 'drive the natives to a distance;' and, 'in the hope of striking terror, to erect gibbets in different places, whereon the bodies of all they might kill were to be hung.' (Fletcher B., 'Grose, Paterson and the Settlement of the Hawkesbury, Journal of the Royal Australian Historical Society, vol. 51, no, 4 , 1965 p 341 – 9 as per Kerskens G. People of the River, A&U, 2020.)
When the detachment found a Darug camp at night a contemporaneous report noted; "The roar of muskets filled the night air, followed by the screams of the wounded and dying. The soldiers saw seven or eight of the Bediagal fall down in the undergrowth, but when they went out next morning to find the bodies and string them up they found that the Bediagal (a Darug clan) had carried away their comrades' bodies during the night.'
It was no unique incident.
On 9 April 1816 Governor Lachlan Macquarie issued similar rules of engagement for three detachments of British colonial troops to fire upon and strike terror into 'natives'. The troops were to sweep through the Hawkesbury and Appin districts to secure the settlers and food production from persistent armed raids of settled lands by the traditional inhabitants, then being systematically excluded from the lands.
"On any occasion of seeing or falling in with the Natives, either in bodies or singly, they are to be called on, by your friendly Native Guides, to surrender themselves to you as Prisoners of War.
If they refuse
to do so, make the least show of resistance,
or attempt to run away
from you, you will
fire upon and compel them to surrender,
breaking and destroying the spears, clubs, and waddies of all those you take Prisoners.
Such Natives as happen to be killed on such occasions, if grown up men, are to be hanged up on trees in conspicuous situations, to strike the Survivors with the greater terror."
(
Editor's emphasis)
The outcome was the massacre of 14 Aboriginal people, others driven off a cliff, heads cut off two victims and their bodies strung from trees, women and children taken prisoner. Macquarie hosted a celebratory dinner for the officers responsible. (Macquarie Papers – Single Letters and Fragments 1801-1820.)
This author's forebears shared Morrison's ancestors' experiences
What are Morrison and his cronies trying to shut down?
Traditional lands were seized. Traditional inhabitants were excluded from their seized lands and food sources. Efforts to retake land and drive out the thieves were resisted with escalating force.
The British Military regularly swept through the settler districts to drive out traditional inhabitants, consolidate the land grab and provide personal security to the settler communities. The military and some settlers used brutal violence and terror to drive away traditional inhabitants.
But it's not just Morrison.
This author's forbears shared the same Hawkesbury district, granted land just a couple of years before Morrison's forebears and a few kilometres away. My forebears shared in the land theft, denial of food sources, reliance on brutal force to impose their will on the traditional inhabitants.
And there are many thousand more of us whose ancestors participated in the same activity across the country. We do need to acknowledge not just how far we've come but to do that we need to know what happened on the way. Morrison doesn't know or doesn't want to acknowledge it.
We are sympathetic to Koreans and Chinese who call for Japan to acknowledge the atrocities Koreans and Chinese suffered at the hands of Japanese armies in WWII. We hold dear the national memory of the suffering and sacrifice on the Changi railway in the same conflict. We cherish and acknowledge the apologies of Japanese who partook of that brutality and embrace their successors.
We don't put up with talk of these events being shut down. We object to their omission from or denial in school textbooks. We seek acknowledgement of the realities and paths to a better future.
It's time to tell our truths too, the whole truth and start the process of relieving ourselves of the burden of hiding the truth. Acknowledge violent land theft, massacres and brutality used on traditional inhabitants to force submission to our forebears will, and take their land.
It's time to acknowledge First Peoples' resistance to that violence and theft. Their defence of their sovereignty and country is their human right.
It's time to support First Peoples whenever and however they strive to exercise that right to sovereignty and land, as is their right.
Then other Australians can find a solid foundation of a fair and truthful relationship to be able to walk together into the future.