VANGUARD - Expressing the viewpoint of the Communist Party of Australia (Marxist-Leninist)
For National Independence and Socialism • www.cpaml.org
Russia's Ukraine War Enters Dangerous New Phase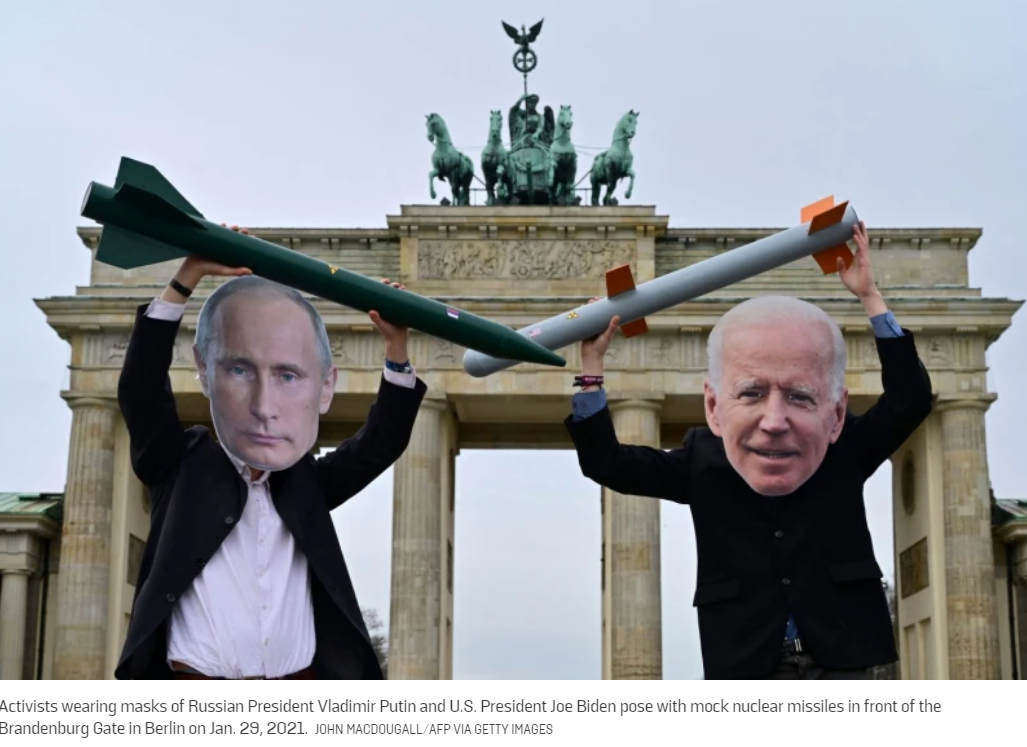 Russia's invasion of Ukraine has entered a dangerous new phase.
Putin's decision to formally incorporate parts of eastern Ukraine into the Russian Federation following the holding of referenda under condition of military occupation has ratcheted up tensions and hastened the counter-formality of Ukraine's application to join NATO.
Both sides appear to have ruled out continuing with talks aimed at resolving the crisis.
If Ukraine joins NATO, then there is every possibility that NATO will not only continue to arm Ukraine, but according to its Charter, may well decide to send in NATO troops.
Meanwhile, Putin has renewed threats to use nuclear weapons.
Putin's nuclear threat is being encouraged by prominent right-wing forces in and around Russia.
On September 29, Putin met with the heads of eight former Soviet republics, members of the so-called Commonwealth of Independent States. He stated that his aim was the creation of a New World Order. His hand-picked puppet at the head of the Chechen Republic (not part of the CIS), Ramzan Kadyrov, whom he made a lieutenant-general of the Russian Armed Forces on March 28, 2022, said just days ago: "We must carry out NWO in the full sense of the word, and not flirt. Use every opportunity and every weapon to defend OUR territory. Donetsk is still being shelled. Residents of the joined 4 territories want to be protected."
A comrade from the Russian Maoist Party warned on August 8 that "the internal propagandists of the Russian Federation are extolling the idea of a complete obliteration of western countries with atomic weapons in all possible forms. Russian propaganda in Russia is actively promoting the idea of an atomic war of aggression. Russia is calling for us to be proud of every new military development, actively promoting new missiles on television, while boasting about how many are enough to destroy a certain country. Or boasting about how many seconds it takes for a new missile to reach important cities in western countries."
This warning cannot be easily dismissed.
Once upon a time, the two superpowers believed that the more nuclear weapons they each possessed the better: matching each other's nuclear weapons stockpiles would ensure that nuclear weapons would never be used. This became the theory of Mutually Assured Destruction (MAD), acceptance of which encouraged Reagan and Gorbachev to speak of détente and nuclear disarmament.
In fact, the nuclear powers remain armed to the teeth, and Putin has put the final nails in the coffin of the theory of MAD.
There is the real danger that Putin will use nuclear weapons to pre-empt the entry of NATO troops to Ukraine, or respond to their entry with nuclear weapons to stave off defeat and avoid being driven out of that part of Ukraine he has incorporated into Russia.
All these dangers stem from imperialism. Russia, the aggressor, is imperialist. The United States, which undoubtedly provoked Russia's aggression by expanding NATO eastwards in defiance of an undertaking given by Reagan to Gorbachev, is imperialist and the main source of war dangers globally.
At the beginning of this conflict, we raised the slogan "Russia out! US and NATO stay out!"
To those slogans we now need to add: "No nuclear weapons in the Ukrainian conflict!"