VANGUARD - Expressing the viewpoint of the Communist Party of Australia (Marxist-Leninist)
For National Independence and Socialism • www.cpaml.org
PNG wants to assert greater independence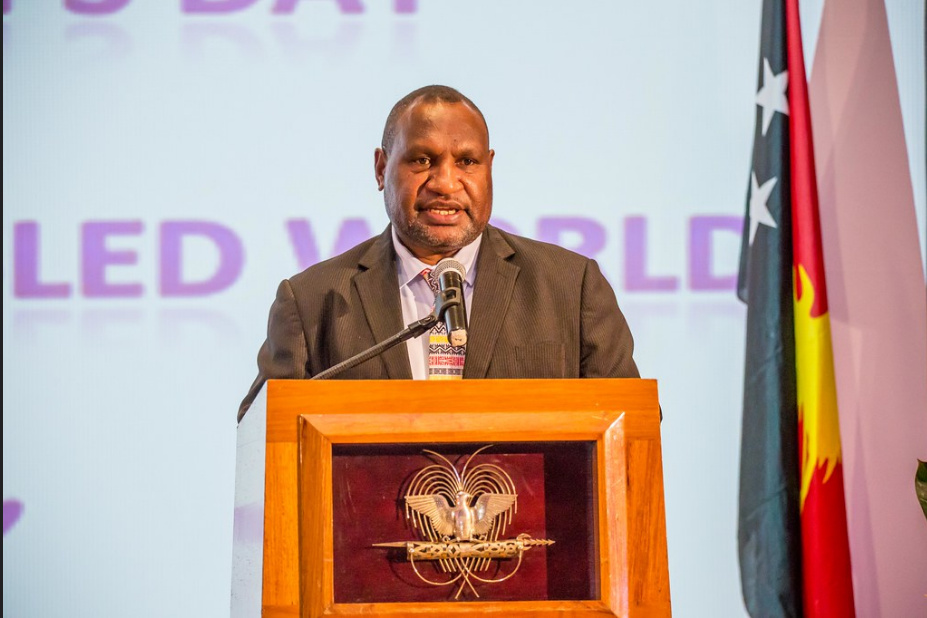 (Above: PNG Prime Minister James Marape Photo from Flickr)
High-level diplomatic talks in December between Australia and Papua New Guinea have revealed the transient nature of the important relationship. PNG has moved from being a 'client-state' of Canberra in recent decades to having a more assertive role when governing its own affairs.
PNG is still, nevertheless, a strategic component part of Australia's military and security presence in the South Pacific although the neo-colonial relationship of yesteryear is now being successfully challenged by a rising generation of younger politicians and decision-makers. PNG-Australia diplomacy is no longer clear-cut, with the latter informing the former of their wishes: the relationship is now based more in shades of grey, where present-day PNG decision-makers are more astute than their fore-fathers and less inclined to follow the dictat of US-led initiatives channelled through compliant governments in Canberra.
In early December PNG prime minister James Marape travelled to Australia with what was referred to as a 'heavyweight delegation of ministers' to finance a number of major development projects aimed at 'economic independence' for PNG. (1) The country won its independence from the Australian colonial administration during the mid-1970s, although political independence was accompanied by neo-colonial relations largely through Canberra
in the name of 'US interests'. The Marape administration is now challenging the status quo.
During the one-to-one talks with business leaders Marape drew attention to the problem of Bougainville, which he attributed to the failings of Australian-based business interests which did not assist local people. (2) Disputes, between local landowners, mining companies and the people of Bougainville erupted into a full-scale war in the late 1980s and resulted in the largest open cut-mine in the world being closed; the hostilities have recently been played-out with the people of Bougainville voting for independence from Port Moresby in a referendum. The matter has yet to be finally resolved.
During the early years of independence political leaders in Parliament House, Port Moresby, were keen to attract foreign expertise and investment to exploit the country's vast natural resources. The development plan was to use the returns from the joint ventures to finance the state and co-operative sectors for the benefit of local people. It never happened. To the contrary, Australian-based mining companies merely siphoned off huge returns which were paid to shareholders elsewhere.
Round after round of economic rationalism imposed on the country by international financial institutions largely controlled by the US were, furthermore, subsequently responsible for reducing PNG to a poverty-stricken country dependent upon foreign aid. Since 2019, for example, Australia has provided PNG with $1.2 billion in support.
Recent developments have also been accompanied by revelations that the population of PNG is larger than officially estimated. While official government statistics put the population at about 9.4 million, a UN study, using satellite modelling, housing data and household surveys, has found it might be as high as seventeen million. (3) The findings therefore reduce PNG's per capita income from $3230 per year, to about $1770 a year, which has been noted as 'putting Australia's closest neighbour on par with African states such as Sudan and Senegal'. (4) If the UN estimates are proved correct, PNG will be entitled to concessional loans from international financial institutions.
The effect of the economic crisis in PNG, in human terms, is not difficult to establish.
Despite PNG continuing to accommodate western mining interests, classroom sizes of 120 students in education and one medical doctor to about 10,000 people with one nurse or mid-wife for every 2,000 people, show basic services do not exist for many local people. (5) The failure to accurately calculate population totals has also created difficulties for any realistic economic modelling and forward planning.
PNG's Institute of National Affairs, furthermore, has acknowledged 'the UN population estimate reflects the situation on the ground in PNG, where unemployment and a weak state were feeding community unrest. Vast areas of the country were effectively ungoverned'. (6)
The problem is exacerbated by the country's population being divided into five main ethnic groups, which are then sub-divided into about eight hundred localised groupings. Inter-ethnic problems and violence remain commonplace. Effective governance is difficult.
The present political leaders and decision-makers in PNG have, nevertheless, used previous experiences, when dealing with Australia, as an autodidactic experience.
The Marape administration in Port Moresby used their diplomatic visit to Australia, for example, to table an ambitious economic development plan for PNG: they are seeking to replace 2.2 billion kina worth of imported foodstuffs with locally grown produce, grown in tax-free havens and 'new special economic zones' to encourage as wide a participation as possible. And if Canberra is not willing to co-operate the administration has already stated it will approach Beijing for assistance. (7)
While the US continues to focus its attention on the wider Pacific region with Partners in the Blue Pacific initiatives in June and the US-Pacific Island National Summit in September,
aimed primarily at countering China's role in the region, countries like PNG have had favourable relations with Beijing since the earliest days. PNG-China diplomacy has remained particularly strong for decades. The present Chinese ambassador in Port Moresby, sworn in last year, is the fifteenth since official diplomatic relations began in 1976!
Australia, however, has tended to use the South Pacific countries, including PNG, as buffer-type zones to protect northern approaches and so-called threats to Australia's sovereignty; the defence and security relationship is regarded as particularly sensitive for Canberra with a continuous stream of intelligence assessments about perceived threats. As the US continues to escalate diplomatic tensions with China, countries such as PNG have become more strategic for Australia's military planners, drawing both countries ever closer to real-war scenarios: it has resulted in dramas being acted out against a backcloth of shades of grey.
An announcement that PM Anthony Albanese will visit PNG in mid-January and will use it to visit Wewak 'to pay his respects at the grave of PNG's first PM Michael Somare', is a useful indication, however, of renewed favourable diplomacy; a lot of water has already passed under the bridge, nevertheless, since the time of Somare's leadership, which was marked by open optimism and a belief in Australia as the 'Mother Country'. Somare, as the Father of the PNG Nation, has remained a revered figure of a country ruthlessly exploited by the forces of international finance capital.
An official announcement from Canberra noted the high-level diplomatic meeting early next year would be to specifically 'discuss increased security co-operation'. (8)
Elsewhere, coverage of the diplomatic initiatives noted that while PNG regarded Australia as its main provider of 'security support', the country is now 'the beneficiary of significant Chinese investment for new roads and infrastructure in recent years', which are aimed, primarily, at longer-term economic development. (9)
Those long-serving Australian diplomatic officials responsible for the economic crisis now facing PNG might like to take the opportunity to ponder on some of their past initiatives and assess how they failed, and the outcome: the balance of forces, for example, is now turning. And they may also ponder on how they might rectify the chaos, some of which is of their own making from neo-colonial political expedience.
A major provincial newspaper in Australia has already reluctantly acknowledged these developments and the accompanying silent diplomacy and stated 'Australia's unchallenged dominance in the Indo-Pacific is over forever, and Labor knows it – even if it won't say it aloud'. (10) It follows a US congressional commission's findings in 2018/19 where similar assessments found the US were no longer the dominant power in the Pacific and 'the implications for American interests and American security are severe'. (11)

These are important developments for the people of PNG, as they challenge traditional US-led hegemonic positions foisted on their country through Australia with independence and the accompanying neo-colonial diplomatic relations!

1. PM's Pacific 'weak spot' warning, Australian, 5 December 2022.
2. Ibid.
3. Population shock puts PNG in peril, Australian, 5 December 2022; and, Editorial, PNG must put is house in order, Australian, 7 December 2022.
4. Australian, ibid., 5 December 2022.
5. Ibid.
6. Australian, ibid., 7 December 2022.
7. PNG hunts for funds from wherever it can, Australian, 6 December 2022.
8. Albo's on a mission, The Advertiser (Adelaide), 12 December 2022.
9. PM's PNG visit another step in our Pacific journey, The Advertiser (Adelaide), 12 December 2022.
10. Ibid.
11. Study: US no longer dominant power in the Pacific, Paul D. Shinkman, Information Clearing House, 22 August 2019.