VANGUARD - Expressing the viewpoint of the Communist Party of Australia (Marxist-Leninist)
For National Independence and Socialism • www.cpaml.org
Death merchant Israeli Aerospace Industries should be kicked out of Australia.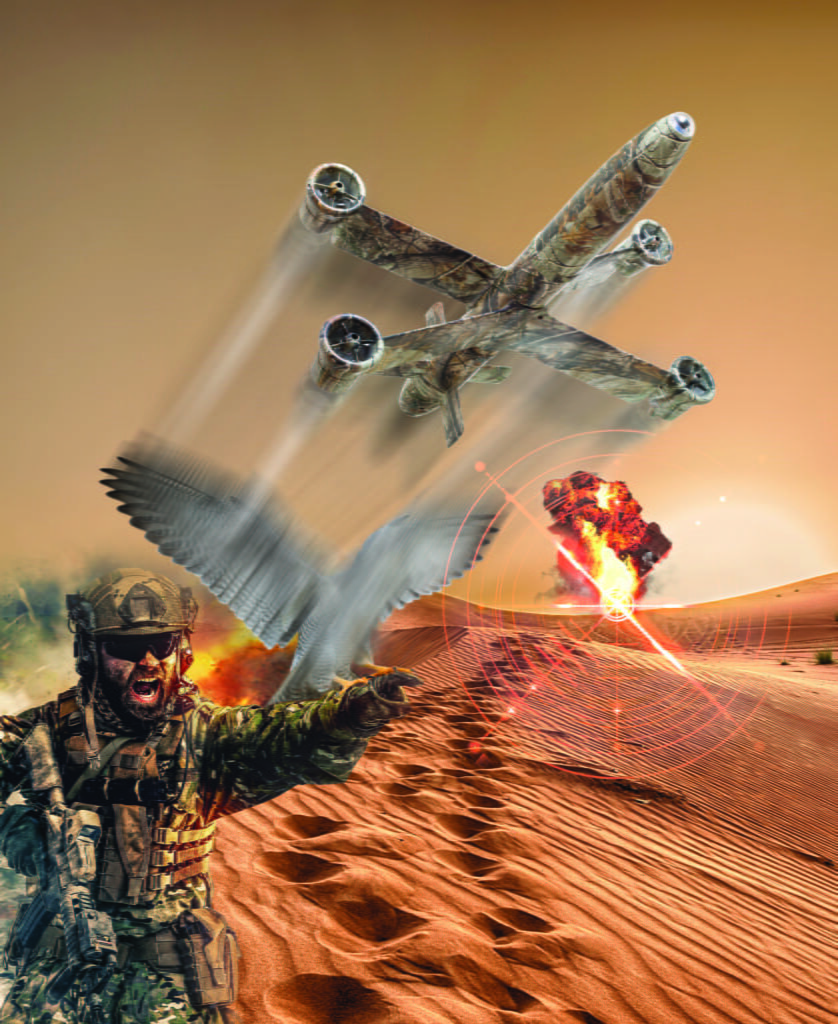 (Above: Glorifying death by technology, Israel's Point Blank missile drone. Image source: Asia Pacific Defence Reporter)
An Australian government agency has worked hard to establish a branch of a notorious Israeli arms manufacturer in Australia.
It has been assisted to begin operations in Australia by the Australian Trade and Investment Commission (Austrade), the Australian Government's international trade promotion and "investment attraction" agency.
Israel Aerospace Industries opened an office in Australia in time to promote itself at Queensland's 2021 Land Forces Australia arms expo.
It tried to come in innocuously, on the quiet, under the cover of having set up a joint venture (JV) with what was said to be an Australian company, Bis, to launch Auto-mate, a new company that will provide autonomous systems to the mining industry. Bis was formerly Brambles and is now privately-owned by US private equity companies Carlyle and Varde. So much for it being an "Australian company"!
Auto-mate means getting rid of jobs in the mining and transport industries. Something the government agency Austrade was apparently pleased to be involved with. According to its website:
Austrade played a pivotal role in bringing IAI and Bis' JV to fruition. Austrade provided market and customer research and analysis, connected IAI with relevant industry and government officials within Australia and targeted relevant companies for the JV.
Austrade has worked with IAI since 2013 to pursue a partner in Australia for autonomous/robotic mining and introduce potential partners and relevant institutions. Over the last two to three years, Austrade has assisted IAI to expand its presence in Australia and advised on ways and opportunities in which it can expand its role within Australia's defence ecosystem.
Oh well, that's the Australian taxpayer's dollar at work.
Loitering around the arms expo
But back to the armaments industry. At the Land Forces exhibition, IAI presented "awareness solutions including information gathering reconnaissance, surveillance, communication as well as a selection of loitering munitions capabilities."
A "loitering munitions capability" is not something that hangs around street corners waiting to be picked up by Constable Plod.
A loitering munition (also known as a suicide drone or kamikaze drone) is a weapon system category in which the munition "loiters" around the target area for some time, searches for targets, and attacks once a target is located.
The 2021 version was the Harop drone.
The new version, announced a couple of days ago, is the POINT BLANK electro-optically guided missile, that can, according to an IAI press release, "be carried in a soldier's backpack. The system answers the battlefield requirement to provide tactical units ranging in size from small tactical teams to battalion level, with an independent and organic capability to increase their lethality. POINT BLANK allows these units to attack a variety of targets in real time with great precision and high lethality, without the need for support. The missile is hand-launched, operated by a single soldier, and can take off from and land vertically back to, the soldier's hand."
That description is the inspiration for the rather fanciful ad for the drone which sees a bird of prey taking off from a handler's gloved fist and morphing into the missile drone.
What isn't shown are the civilian casualties among the Palestinians of the Gaza Strip, or any other people fighting for their liberation from capitalist oppression and imperialist domination and control, as the loitering missile-loaded drone unleashes its firepower on targets selected by individual soldiers lurking kilometres away.
IAI and Australian guided missile manufacture
In June 2021, IAI signed a cooperation agreement with the Australian Missile Corporation (AMC), owned by Queensland based NIOA, owned by the family of federal politician Bob Katter's son-in-law Robert Nioa. The AMC was established that year after PM Scott Morrison determined that Australia should manufacture its own guided missiles as part of US imperialism's preparations for war with China. He had established the Guided Weapons and Explosive Ordnance Enterprise ("GWEO") program for that purpose.
Retired RAN Rear Admiral Lee Goddard, CEO of AMC, said in June 2022, "Our next steps will involve working with Defence and the GWEO Strategic Partners, Raytheon Australia and Lockheed Martin Australia, on a roadmap that meets the GWEO capability elements."
As part of that roadmap, IAI is to provide Australia with a 'very advanced autonomous maritime system', although the details remain classified.
IAI charged with criminal conduct in Israel
Meanwhile, back in Occupied Palestine, IAI has had to deal with allegations of criminal conduct.
Israeli police arrested 13 people in March 2017 from IAI and private companies who either supplied or were supplied by IAI, on charges of corruption, aggravated fraud, money laundering, theft by public officials, illegal business practices, fraud and breach of trust.
"The covert investigation of this affair has thus far shown systemic criminal business practices and the suspicion of deep corruption, which is apparently common in the Israeli Aerospace Industries," police said.
Then in 2020, The Times of Israel reported that IAI transferred at least $155 million in 2012-2014 to two companies that were reportedly used as a secret slush fund for Azerbaijan's elite shortly after the company signed a $1.6 billion arms deal with Azerbaijan.
The bank accounts for these two offshore companies were serviced by the Russian bank International Financial Club, which is part owned by the wife of Sergei Chemezov, the CEO of Russia's state-owned arms manufacturer and exporter, Rostec. In other words, a bank that is partly owned by the wife of a US-sanctioned Putin ally performed a key role in suspicious payments from two state-owned Israeli arms manufacturers to offshore companies reportedly controlled by members of the Azerbaijani elite.
In addition, from June 2016 to May 2017 IAI paid $ 2.8 million to a British Virgin Islands firm called Bakinshaat Group Ltd., whose website describes it as a construction company involved in government projects in Azerbaijan.
It has been widely reported that IAI is the top supplier of arms to Azerbaijan, including of lethal "loitering" drones that some analysts believe helped Azerbaijan gain an edge over Armenia in the recent hostilities in Nagorno-Karabakh.
In 1993, IAI established a marketing arm, Spacecom, for its AMOS satellites. In February 2016, Israeli police recommended bribery, fraud, breach of trust and extortion indictment against Labor and Social Services Minister Haim Katz. The case alleged that he intervened in internal IAI matters involving the workers union, in exchange for favours from IAI employees.
The head of IAI's employee union is his son, Yair Katz.
Katz's involvement occurred as IAI pressed the Israeli government to award it a contract for a new generation communications satellite even though a US rival's bid was for only half the amount asked for by IAI.
In August 2016, with the IAI bid faltering, Spacecom shareholders agreed to sell the company for US$500 million to China's Beijing Xinwei Technology Group, but the deal collapsed in September when the latest AMOS satellite was destroyed in a launch test.
The Israeli government subsequently awarded the contract for the new satellite to Spacecom and IAI in 2018 amid controversy, as allegations about political deal-making and a state bailout at the taxpayers' expense clash with a government citing national security as justification for its decisions.
Throw them out
IAI, with its inglorious record of corruption, was nevertheless feted by Austrade which used Australian taxpayers' money to pave the way for the company to set itself up here.
This is a company which is making a killing from the making of killing expertise.
It is an enemy of progressive humanity and should be widely exposed and condemned.
When we reported in 2021 on IAI's presence at the Land Forces Expo, we said, "We must oppose IAI's presence in Australia, and any cooperation between it and the Australian military."
We repeat that call today.