VANGUARD - Expressing the viewpoint of the Communist Party of Australia (Marxist-Leninist)
For National Independence and Socialism • www.cpaml.org
US panics into balloon warfare mentality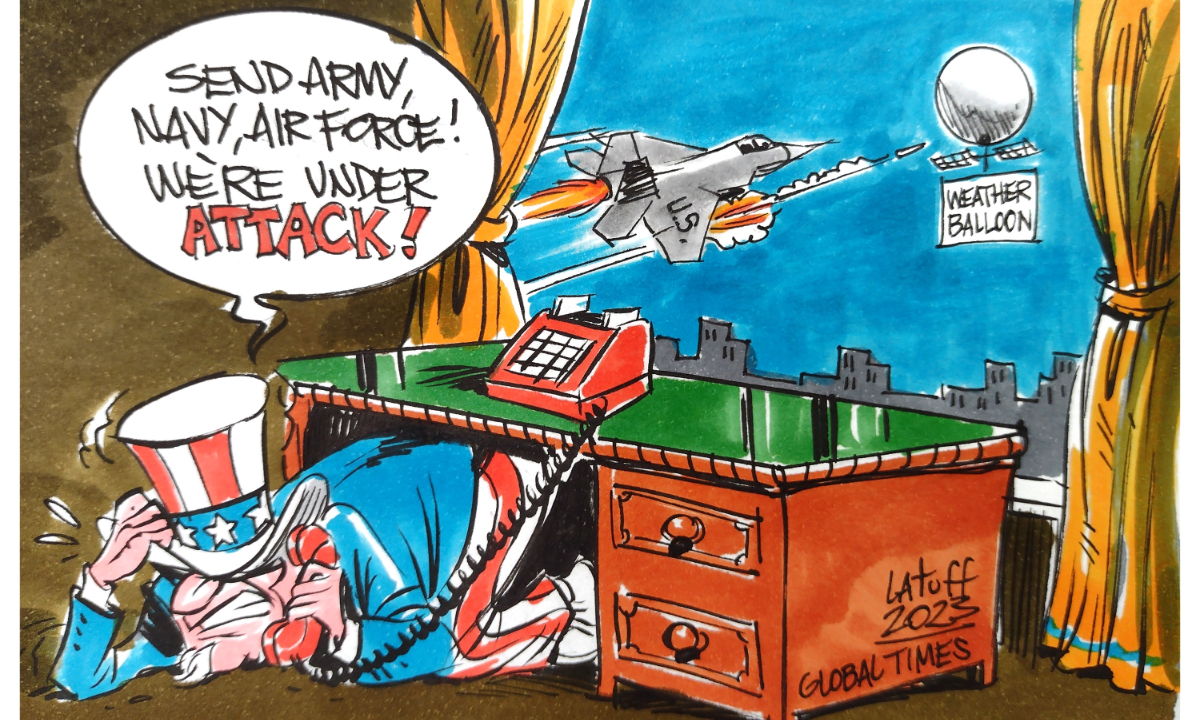 Controversy surrounding a large Chinese balloon over US airspace have revealed classic Cold War positions and escalating diplomatic hostilities. Elsewhere, inside the elite US-led Five Eyes defence and security organisation, allegations about China using social media and spy-cameras for intelligence-gathering have included displays of Cold War paranoia.
In early February controversy emerged over the identification of a large Chinese balloon over Montana in what was regarded by the US as an intelligence-gathering system near sensitive military facilities. The fact the balloon was only discovered by civilians on a commercial jet flight has revealed serious flaws inside the US defence and security facilities. (1) It was noted, diplomatically, that 'concerns about the robustness of the US and Canadian network of ground-based radars to identify aerial threats … which oversees the NORAD organisation', had not identified the balloon. (2)
The balloon, however, had a canopy about 60 metres tall with 'equipment underneath … about the size of a regional jet'. (3)
Since the spy/weather balloon downing, US jets have "downed' two more smaller UFOs over Canada. Let's hope no helium balloons escape from kids' birthday parties as the Us sinks deeper into a "War of the Worlds"-type panic!
There are at least sixty current and former US military facilities in Montana, which are regarded as sensitive. (4)
Later, a Pentagon briefing revealed the first balloon had first been sighted on 28 January flying over the Aleutian Islands near Alaska before crossing into Canadian territory and then re-entering the US three days later. (5) It then spent several days hovering over the US. (6)
The balloon was also flying at about 18,600 metres over the US, well above military and civilian flight paths. (7) Commercial aircraft operate at no more than 12,000 metres.
The official response from Beijing was that the balloon was studying weather conditions and had blown off course. The Biden administration, however, appear to have used the event to stir Cold War controversies to a new, higher level of diplomatic hostilities. It was subsequently noted, for example, the balloon took a 'leisurely path across the entire country, passing directly over ultra-sensitive military bases'. (8)
Later, as the controversy continued to mount, it was eventually acknowledged that there had been previous balloons entering US air-space, including three during the Trump presidential period and a fourth at the beginning of the Biden administration. (10) Publicity about the flights, however, was extremely limited and the matter not considered particularly controversial.
The Biden administration appear to have not initially considered shooting the balloon down. Later, however, approval was given by Biden personally for the air force to shoot it down.
The US Air Force then appear to have tracked the balloon to coastal waters off South Carolina. Following a missile being fired at the balloon, an official statement issued by the Pentagon stated the debris had fallen into shallow waters about fourteen metres deep. (11) An order would then appear to have been given to the US Coast Guard to retrieve the debris, from an area equivalent to about 225 football fields, stretching over a distance of eleven kms. It will be interesting to note the time allocation for the recovery of the balloon's equipment.
Pentagon fears
While the drama was taking place, a statement issued by the Pentagon revealed their panic station mentality: an intelligence report noted China now had access to more land-based intercontinental-range missile launchers than the US, and by 2035 would possess about 1,500 nuclear warheads, from previous estimates of about four hundred in 2021. (12) China's economic development has, likewise, threatened traditional US hegemonic positions, particularly in the Indo-Pacific region.
Elsewhere, the US-led Cold War sabre-rattling has continued unabated: a report issued by the head of a parliamentary committee in Westminster 'advised people to not use the Chinese social media app TikTok because of data security concerns. (13)
Similar almost hysterical media releases have included the outcome of a study of Chinese manufactured spy-cameras being used in government institutions across Australia: it was accompanied with a statement 'the Commonwealth was riddled with CCP spy-ware', following a high-level diplomatic meeting of the Five Eyes and AUKUS partners in London last November. (14)
Despite the fact, 'a large number of the devices would have been installed during the nine years of the coalition government', and none were connected to the Internet, calls were made for the present Albanese government to replace the spy-cameras immediately. (15)
Throughout the period no reference was made to the US-led drone program which has been used globally for intelligence-gathering and assassinations. Pine Gap, likewise, was given no publicity; its surveillance range has made it one of the most important US intelligence facilities. There is little doubt China is regarded as the main adversary.
Reference was, however, reluctantly given to the fact that US reconnaissance planes have flown eight hundred times near China's territory and 'repeatedly violated its airspace'. (16)
Just what is the US really doing, what are they planning, and what do they hope to achieve?
Unfortunately for the US even the best made of duplicitous Pentagon military planning can go astray, and questions, from the most unlikely of quarters, can cast aspersions upon ethical considerations and Washington's diplomatic positions.
Imperialists use spy satellites, not balloons
A short feature spread in the Australian from a leading member of the Australian National University's Strategic and Defence Studies Centre, for example, questioned whether the Chinese balloon was conducting espionage over the US. (17) The centre has not, historically, been noted for advocacy of an independent foreign policy. In fact, to the contrary, it has remained highly supportive of the 'alliance'. It noted, however, China already possessed spy satellites for intelligence-gathering, surveillance and remote sensing, as part of their space program; they would, 'be far more likely to use satellites than a very large, in-your-face balloon'. (18)
The article concluded with a calm warning that, 'it would be prudent for Australia to remain neutral over the balloon issue, at least for the time being ... on the basis that … the US claim was politically motivated to stir up anti-China sentiment or justify increased military spending … and the balloon … could have been brought down just as easily over an unpopulated land area, allowing for full recovery of the payload'. (19)
The present US position, however, would appear marked by swashbuckling Pentagon military bravado, conducted in the name of present-day US diplomacy!
And those involved at the ANU are well aware of the potential problem arising within the so-called 'alliance' with binding US-led military agreements, which can draw Australia into real-war scenarios, at any time, to defence and secure regional 'US interests':
We need an independent foreign policy!

1. White House fury at China spy balloon, The Weekend Australian, 4-5 February 2023.
2. US military admits to 'defence lapses', Australian, 8 February 2023.
3. Ibid.
4. Wikipedia: US military bases – Montana.
5. Trump attacks Pentagon over spy balloon, Australian, 7 February 2023.
6. Ibid.
7. Spy balloon was an ominous sign. Editorial, Australian, 6 February 2023.
8. China balloon and polls scramble script for Biden's speech to congress, Australian, 8 February 2023.
9. See: Trump attacks, Australian, op.cit., 7 February 2023.
10. Ibid.
11. US fighter shoots down spy balloon, drawing Beijing's ire, Australian, 6 February 2023.
12. China now has more land ICBM launchers, Australian, 9 February 2023.
13. Tory MP warns users off 'tech-totalitarian' TikTok., Australian, 7 February 2023.
14. Red eyes in our power corridors, Australian, 9 February 2023; and, We must pop China's spy balloon, Editorial, Australian, 9 February 2023.
15. Ibid.
16. White House fury at China spy balloon, The Weekend Australian, 4-5 February 2023.
17. Maintain an air of caution over US balloon claims, Australian, 10 February 2023.
18. Ibid.
19. Ibid.