VANGUARD - Expressing the viewpoint of the Communist Party of Australia (Marxist-Leninist)
For National Independence and Socialism • www.cpaml.org
Former Taiwanese President Opposes US War Plans: "We are all Chinese"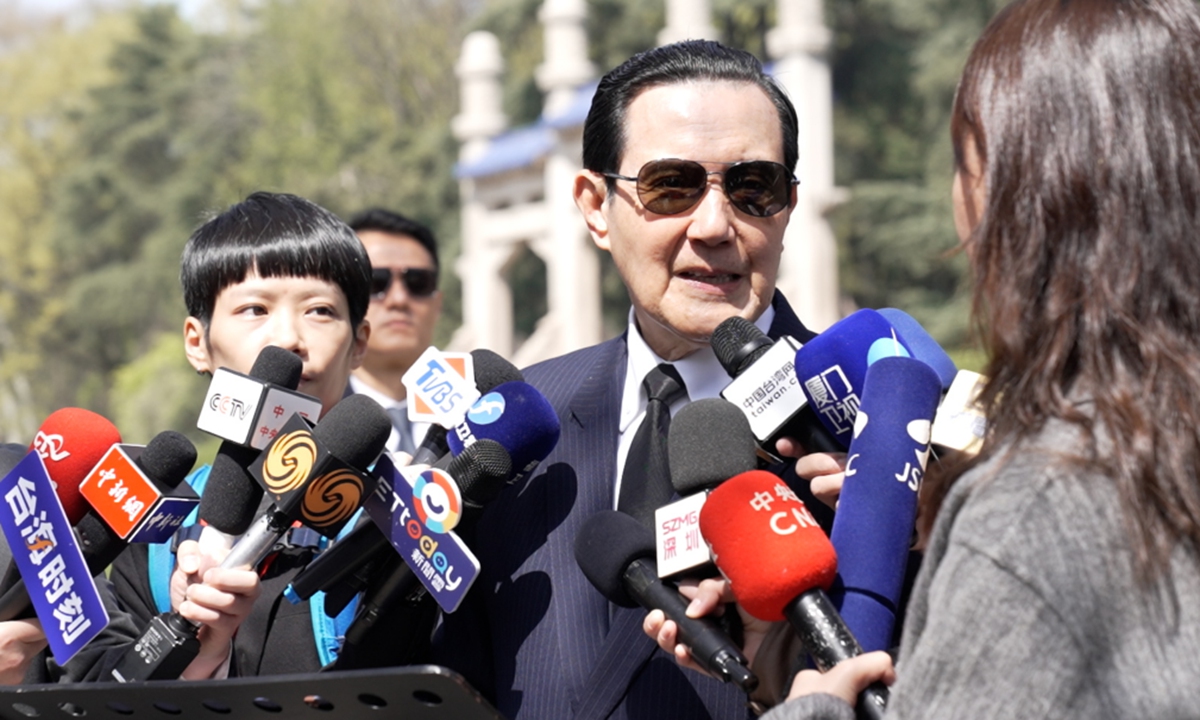 (Above: Former Taiwan President Ma arrives in China. Photo Shenzhen TV)
A military intelligence assessment about the balance of forces across the Taiwan Straits by a right-wing US organisation with links to the military-industrial complex has provided an insight into Pentagon strategic thinking. It has also served as a pretext to boost US-led military spending across the wider region. Information from elsewhere, however, has provided a far more sensible and practical assessment of the problem and likely outcome.
A recent intelligence assessment produced by the Pacific Forum about the balance of forces across the Taiwan Straits and fears arising about a Chinese invasion of the small island, was subsequently leaked to mainstream Australian media. (1) The leaking of the document into the media was clearly officially sanctioned, with the specific purpose of raising diplomatic hostilities toward China even higher.
The so-called Pacific Forum, is indeed, a shadowy body: based in Hawaii, which also remains the centre of the US Indo-Pacific Command, the organisation has numerous official websites and publications, publicising conferences and fellowships. Founded in 1975, during the past Cold War, the forum also has affiliates which include the World Economic Forum and Federal Reserve Bank together with lists of those associated with the organisation. It is part of a network of over thirty similar research institutes around the Pacific Rim, which attract retired military officials, retired diplomatic personnel and academics. One centrally placed individual, Richard L. Armitage, co-chair of the International Advisory Board, was former deputy Secretary of State during the Bush administrations.
No reference, however, was made to the so-called Weapons of Mass Destruction, used as the convenient pretext for the US-led invasion of Iraq, two decades ago.
In recent times the US has become preoccupied with China's Taiwan Province, as China has increased its economic and diplomatic presence across the wider region. Much of the military planning behind the recent Australian acquisition of nuclear-powered submarines lies in the acceptance the US cannot be relied upon to "defend" Taiwan by itself and has required widespread assistance from allies. The range of nuclear-powered submarines would lend to the view their rapid deployment from Australian bases toward far afield 'theatres of war', would include the Taiwan Straits and Korean Peninsula, both areas where the US remains desperate to retain traditional hegemonic status.
The US military intelligence assessment has carefully outlined two possible scenarios:
Taiwan is invaded by China without US-led intervention. It would begin with Chinese armed drones destroying radar sites and intelligence-collection facilities followed by submarines severing fibre optic cables linking vital telecommunications facilities with both Japan and Guam. China would then launch a massive air-born attack on Taipei, devastating the government. China would, once in control, subsequently capture US weapons facilities and Taiwan's micro-chip research, development and manufacturing plants, causing serious problems for the US and its allies.
The second scenario has included intense battles between China and US-led allies, where hundreds of US and allied pilots are shot down together with an estimated fifty per cent fatality rate before surrendering. It was noted the scenario also included most of the US Pacific Fleet being sunk.
The conclusion of the assessment noted, 'the fall of Taiwan would undermine perceptions of the US as a world leader'. (2) Further related diplomatic problems are also identified.
It is not particularly difficult to imagine those closely associated with the military-industrial complex rubbing their greasy little mitts in glee, by using the intelligence assessment as a pretext for even greater military spending for regional defence and security provision.
Elsewhere, however, an official statement from Beijing has provided insight into China's position. Late last year the ruling Democratic Progressive Party (DPP) of President Tsai Ing-wen in Taiwan lost several key areas in local elections. It was perceived in China as a gauge of the government failure in Taiwan to guarantee peace across the Straits and to firmly oppose moves toward independence and external interference. (3) Troubled with internal corruption problems in Taiwan, President Tsai Ing-wen also immediately stood down as DPP leader, to distance herself from controversy.
Much to the embarrassment of pro-war hawks in Washington, Canberra and other capitals of the US-led bloc, former Taiwanese President Ma Ying-jeou is currently visiting China.
President from 2008-2016, Ma is the first former or current Taiwanese president to visit China since the defeated Republic of China (Guomindang) government fled to Taiwan in 1949 at the end of a civil war with the Communists. Speaking in Nanjing, Ma said "People on both sides of the Taiwan Straits are all ethnic Chinese and we share the same ancestor."
"I sincerely hope that the two sides of the Straits will work together to pursue peace, avoid war and revitalize the Chinese nation. This is an unavoidable responsibility of the Chinese people on both sides of the Straits, and we must work hard to realize it," he said. (4)
Taiwan national elections take place early next year and China has clearly backed the GMD (aka KMT) re-winning its traditional ruling position, which was always accommodated by Beijing, and which seeks to re-establish the Taipei-Shanghai Forum as a major trade organisation.
Reliable commentary from Taipei has noted, 'polls suggest both major parties have a path to victory, but much will depend on the state of the Taiwanese economy and the international environment in the lead-up to January'. (5) At no time, however, did the US intelligence assessment pay reference to the possibility the DPP may lose presidential elections early next year. It was not an agenda item for those associated with the Pacific Forum.
Those who pay the piper, do indeed, call the tune; they also arrange for sycophantic political associates of US-led foreign policy to dance in time with their every beat.
We need an independent foreign policy!
1. US 'in no state' to save Taiwan from invasion, Australian, 28 February 2023; and, The World after Taiwan's Fall, Ian Easton, Pacific Forum.
2. Ibid.
3. See: Taiwan local elections say no to DPP rule, call for peace, Global Times, 28 November 2022.
4. Ma Ying-jeou calls for cross-Straits peace, revitalizing Chinese nation on first day in Nanjing, Global Times, March 28, 2023
5. Attack by China will 'wreck its economy', Australian, 17 March 2023.