VANGUARD - Expressing the viewpoint of the Communist Party of Australia (Marxist-Leninist)
For National Independence and Socialism • www.cpaml.org
Justice for Aubrey Donahue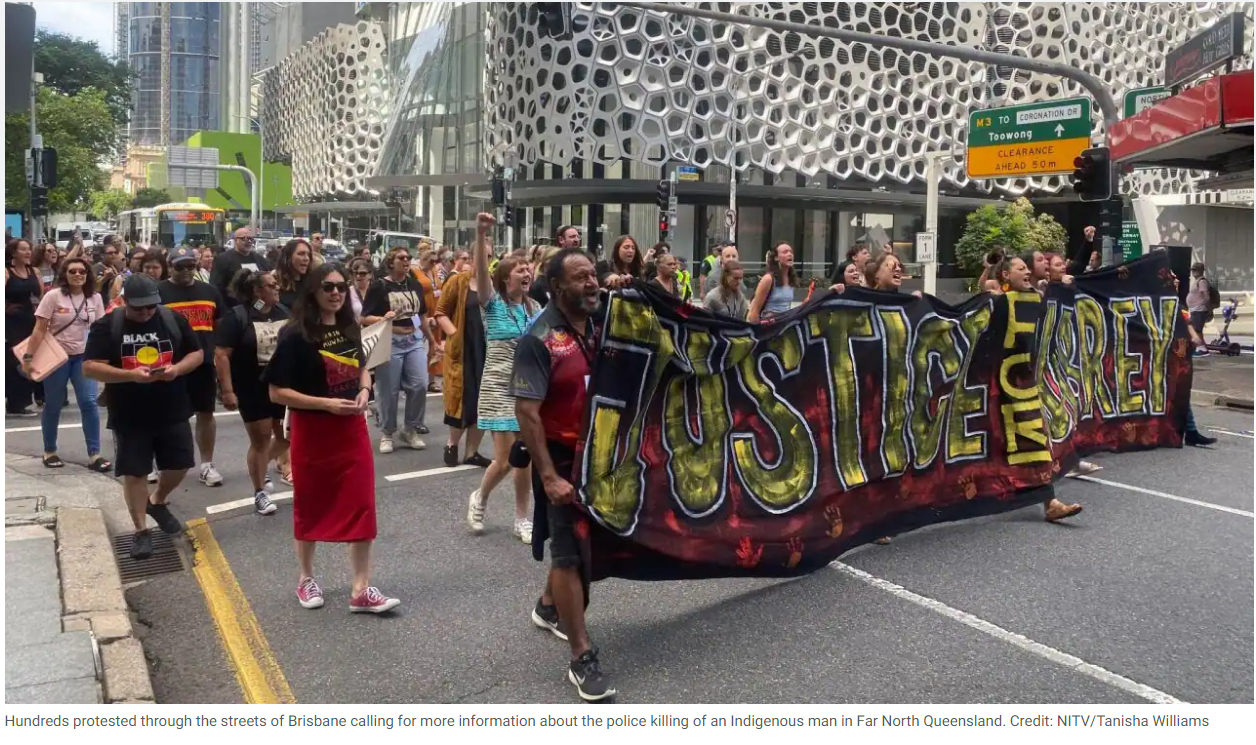 A week ago, the far north Queensland town of Mareeba witnessed the latest police execution of an Indigenous person.
Whilst some of the details are contested, it appears that police were called to a family disturbance.
There is some confusion in the reports we have accessed for this article as to whether a woman was being held hostage by a man called Aubrey Donahue, or whether Donahue was threatening self-harm, or maybe a mixture of both.
In any case, Aubrey Donahue was shot four times by police as he left a house.
The police claimed he approached them with a knife. Family and community members dispute this and say he was carrying a mobile phone.
It is impossible to verify the police story as none of the special unit officers who attended wore body video cameras.
The justification offered by the police for their killing of Donahue has similarities with the murder of Kumanjayi Walker at Yuendumu by racist cop Zac Rolfe.
Rolfe said that he shot Walker in self-defence after Walker had stabbed him with scissors. That worked in the media for a while, but it was soon revealed that the scissors were not sharp pointed scissors, but round-ended and left a tiny surface scratch a couple of millimetres long on Rolfe's upper arm.
We do not say that police should not defend themselves if attacked; but a trained police officer (and Rolfe was not alone) should have had recourse to a number of options for dealing with this, short of killing an unwell and upset person.
In the case of Aubrey Donahue, there was not one, but at least 15 officers in attendance. If they felt there was a threat, they could have either overcome the alleged offender with numbers, or used a taser. It seems inconceivable that there was any need to shoot to kill.
It appears given the above that an agitated Black man was unjustly and inexcusably executed by police.
Already First Peoples and their supporters have taken to the streets. Rallies have been held in Mareeba and Brisbane, where the Supreme and District Courts were temporarily closed as protesters gathered outside.
The death is the latest of many killings of First Peoples by Queensland cops. The Queensland government's Indigenous adviser, Professor Gracelyn Smallwood, quit her job in protest.
She has been advocating for changes in the way police restrain people, particularly in the wake of the death of Townsville Indigenous man Noomba in 2018.
This latest police execution shows force and violence, systematically used against First Peoples since the arrival of European unsettlers, cannot be wished away by words. Not just in Queensland, but across Australia, police must be disarmed before responding to incidents involving emotionally disturbed persons of any colour. Negotiation and support, not violence nor murder, are basic demands. It seems this "civilised" country still can't provided them.