VANGUARD - Expressing the viewpoint of the Communist Party of Australia (Marxist-Leninist)
For National Independence and Socialism • www.cpaml.org
Thailand - A Changing Balance of Forces?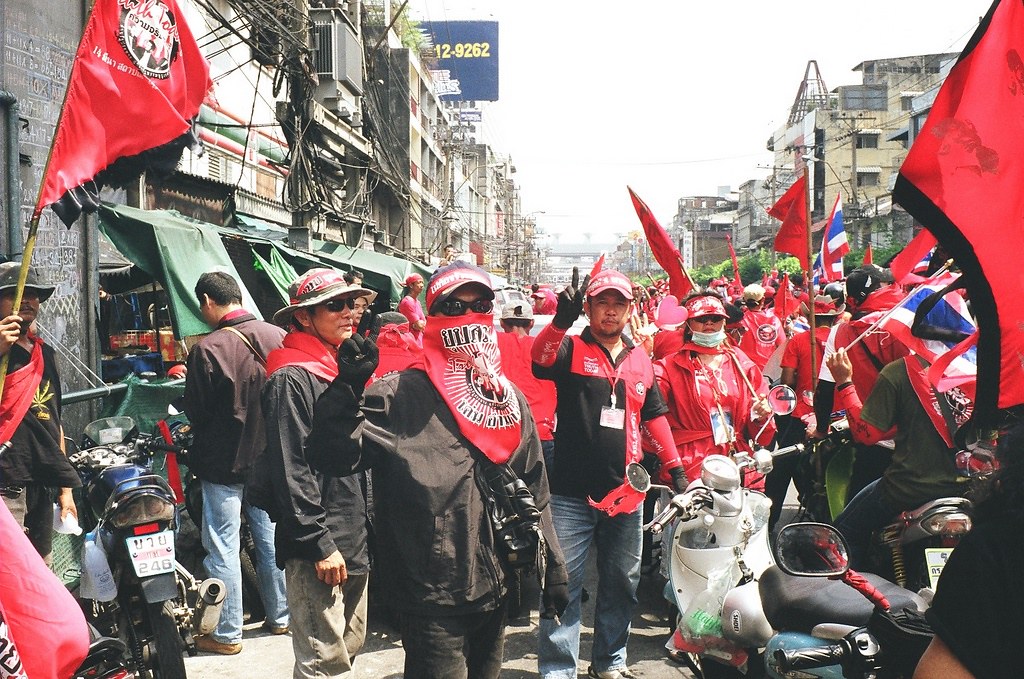 (Above: the anti-coup Red Shirts movement emerged in 2006 to support Thaksin. Photo: by Nate Robert is licensed under CC BY 2.0.)
National elections in Thailand, scheduled for mid-May, may prove highly problematic for the US. The changing regional balance of forces has had a dramatic impact on the Asian kingdom which used to be central for US regional foreign policy. The country, in recent decades, has moved away from Washington and Pentagon traditional hegemonic positions. The forthcoming elections, therefore, look set to bring pressing matters to a head.
The unwieldy and tripartite volatile mix of class and state power together with the re-emergence of electoral popularism in Thailand is heading toward a major flashpoint.
Opinion polls across Thailand have shown the daughter of previous prime minister Thaksin Shinawatra, Paetongtarn Shinawatra, has amassed enough electoral support to win elections scheduled for 14 May. Thaksin Shinawatra fled Thailand over fifteen years ago following the 2006 coup which ousted his government. Nevertheless, he has remained a popular political figure with many Thai people.
Since the 2006 military coup Thailand has experienced elections which were heavily gerrymandered following the re-writing of the constitution drafted by the military to serve their interests. Reliable polls, however, have shown Paetongtarn Shinawatra has about 38 per cent of the vote, which is considered a wide enough margin to secure her success at leading the Pheu Thai party to establish a government majority. Present prime minister, Prayuth Chan-ocha, is polling in third place with only about fifteen per cent, behind the Move Forward party which is committed to changing the draconian Lese Majeste laws which are used to stifle any criticism of the King.
Despite the stifling nature of class and state power, criticisms of the present government are becoming more audible. Thailand, for many opposition figures, is not regarded as a real democracy and Prayuth, a former General backed by the military, 'has not shown any real leadership or technical expertise'. (1) The Move Forward party has challenged class power, traditionally topped by King Maha Vajiralongkorn, who assumed office in 2016 following the death of his father. The present king, however, has not won the support or respect of many Thai people who regarded his father in a rather different light; in fact, calls for reform of the whole monarchy have become commonplace. (2)
To understand the present dilemmas facing Thailand, it is important to look at the legacy of previous times: during the period from the 1960s to 1990s, the Thai economy was relatively sluggish. The period also coincided with the country becoming a central regional hub for 'US interests' during the Vietnam War. During the mid-1990s, however, the economy grew rapidly, unleashing new social and political forces. (3)
It is interesting to note the Shinawatra grouping remain extremely popular in the north of the country, which was the area subject to US-led counter-insurgency and counter-intelligence during the Vietnam War period. The US feared insurgent forces in Vietnam would extend their reach into neighbouring areas, as they had in Cambodia and Laos. (4) It was noted by CIA sources, during the period that there was, 'widespread Communist support in north-east Thailand … with a … broad-base of society rebelling against years of repression'. (5) Thaksin Shinawatra successfully won the support of much of the northern part of the country and challenged traditional hegemonic positions from a popularist power-base.
Thailand has also remained important for the US: it is an important component of the Indo-Pacific Strategy of regional alliances which are noted as 'expanding US diplomatic presence in the Indo-Pacific, particularly south-east Asia and the Pacific Islands. (6)
US diplomatic figures in their Bangkok embassy reveal a great deal about the nature of 'US interests': Ambassador Robert F. Godec, is also a deputy Commandant and International Affairs advisor at the National War College and State Department together with being a principal deputy co-ordinator of counter-terrorism, invariably linked to counter-intelligence.
His deputy chief of mission is Gwendolyn Cardino, a specialist in banking before joining the State Department. (7) Thailand has a long history of military involvement in civilian affairs and the Bangkok Stock Exchange is important for regional programs, including those linked to ASEAN.
Reliable commentary emerging from Thailand has noted the expected election results have left the present Prayuth government with two options: dissolving the Pheu Thai party or staging yet another coup. (8) To what extent the King will lend support to the Prayuth administration has yet to be established, although it has already been noted that, 'the Shinawatra family is loathed by the Royalist military establishment'. (9)
It has also been noted that 'by numbers alone Pheu Thai have won every election since 2001, though judicial rulings or military coups have prevented three Thaksin-backed governments, including one led by his sister Yingluck until the 2014 coup, from completing their term'. (10)
The forthcoming election in Thailand also takes place at a time of economic uncertainty: the economy grew rapidly in 2019, although it slumped 8.16 per cent the following year. More recent data has shown only a 1.25 per cent economic upturn. (11)
The US imperialists are also tiring of the present governmental system in Thailand, warning that it should not purchase Chinese military equipment, nor engage in continued human rights abuses and threats of coups. (12)
While the US has become increasingly apprehensive about dealing with Thai governments, China has stepped into the vacuum. (13)
1. It's make or break at crucial Thai poll, Australian, 22 March 2023.
2. See: Thai king flies to Germany, The Guardian (U.K.), 13 November 2021.
3. Thailand Economic Growth, 1960-2023, Macrotrends.
4. See: Deadly Deceits, Ralph McGehee, (1983); and, Obituary, Ralph W. McGehee, The New York Times, 14 May 2020.
5. Deadly Deceits, ibid.
6. Fact Sheet: Indo-Pacific Strategy of the United States, The White House, 11 February 2022.
7. Website: United States official diplomatic personnel.
8. Australian, op.cit., 22 March 2023.
9. Thailand, The Guardian, (U.K.), 20 March 2023.
10. Australian, op.cit., 22 March 2023.
11. Macrotrends, op.cit.
12. Washington worries China is winning over Thailand, F.P., 17 June 2022.
13. Ibid.