VANGUARD - Expressing the viewpoint of the Communist Party of Australia (Marxist-Leninist)
For National Independence and Socialism • www.cpaml.org
Malinauskas and Modi, With Friends Like These, Who Needs Enemies?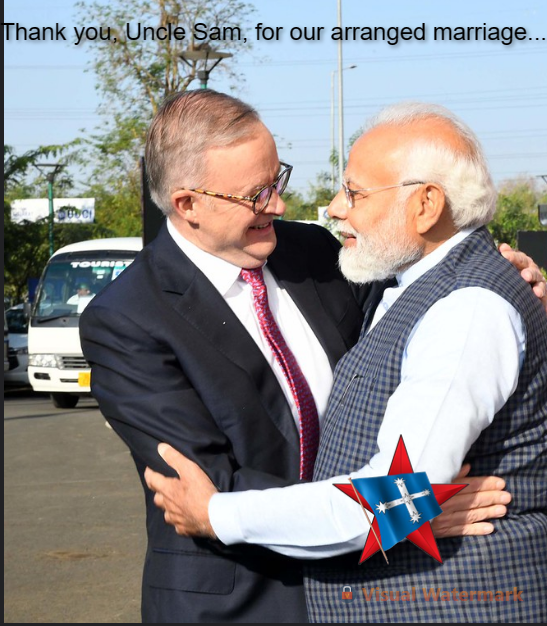 (Original photo: MEA Photography on Creative Commons Flickr)
The other morning when I went to buy a newspaper at the local petrol station, I was served by an international student, Harmandeep, who was working to support his time here while studying at an Australian university.
I asked him what he thought about Indian Prime Minister Modi's visit to Australia. He said that his family lived in the Punjab in India where there were many small farmers, his father being one of them.
He said he was surprised that Albanese literally embraced Modi when Modi met Albanese here. I asked him why he was so surprised.
He said that Albanese was meant to support democracy for the ordinary people, being leader of a Labor Party government. Yet Modi was definitely not a fighter for the common people in India. Harmandeep said that Modi was directly responsible for the massacres of Muslims and Sikhs, including farmers from the Punjab. The farmers were fighting the Modi Government and agribusinesses who wanted to kick small farmers off the land and turn agriculture over to the control of Modi's friends in agribusinesses.
I asked Harmandeep why so many Indian people in Australia went to see Modi and Albanese at the sports ground in western suburbs of Sydney recently?
He said the Indian business Hindu community in Australia support Modi, but the Modi government had done nothing for working people in Indian big cities and farming areas, most of whom were poor, regardless of their different religions.
I said that maybe Albanese was so desperate to get India on the side of USA and Australia in their military build-up against China that he ignores the crimes committed by Modi against farmers from the Punjab in particular.
Harmandeep agreed and said that Modi would do deals with any foreign government if it meant more profits for his corporate friends in India
Harmandeep's comments made me think that Modi and SA Labor Government Malinauskas were alike in some ways.
Both were mainly interested in supporting their friends in business and both had taken action against the ordinary people who wanted to protest in public spaces about issues of concern to them.
Modi used force to suppress farmers participating in demonstrations in public spaces.
Malinauskas passed new laws in a flash in parliament in SA in an effort to make people's protests about issues of importance to them ineffective.
Modi amd Malinauskas have similar objective when it comes to suppressing people's protests.
Just different methods to achieve their ends.