Vale - Stephen Darley
Written by: Michael Williss on 11 May 2022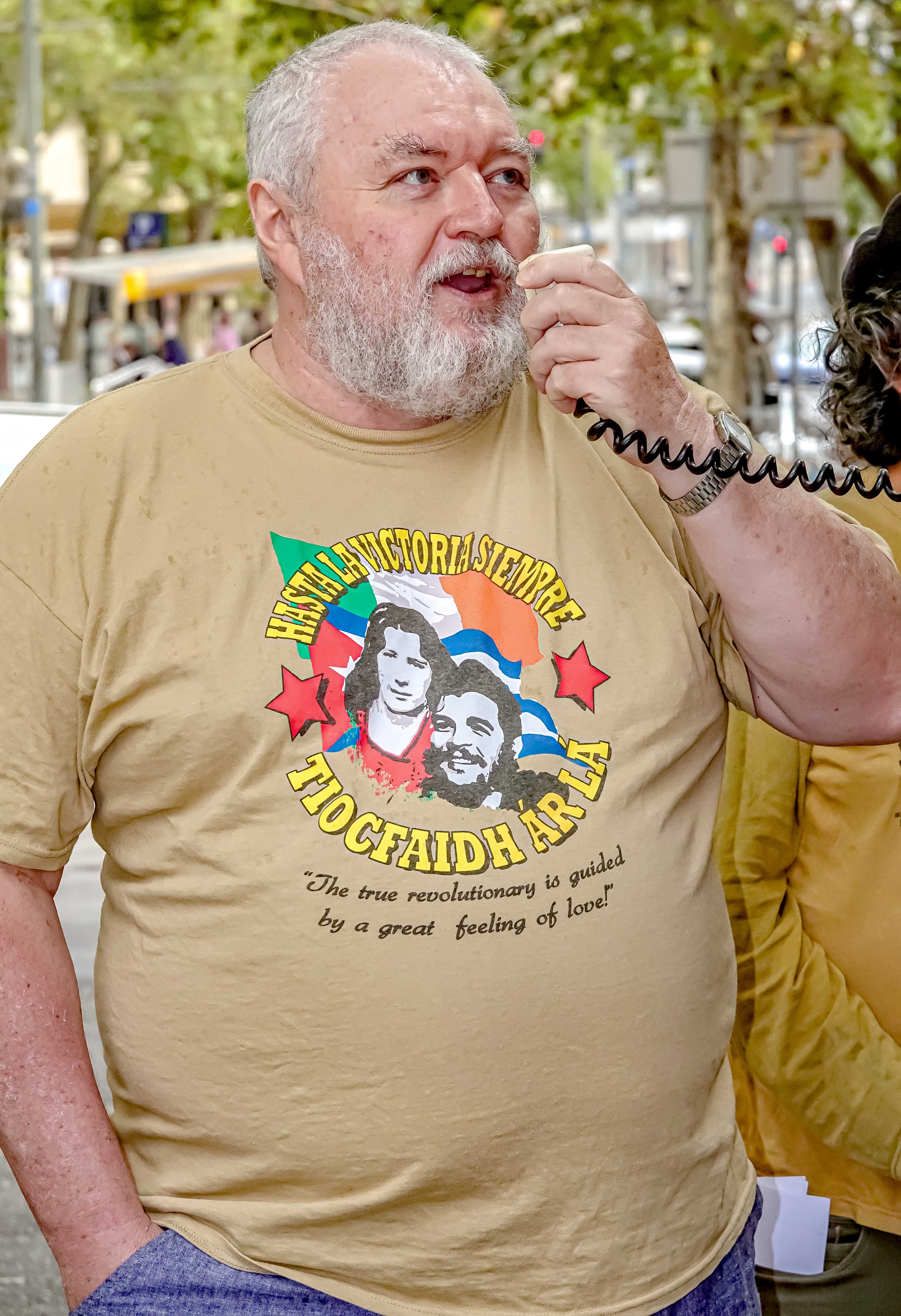 (The following eulogy was read at the funeral of Stephen Darley by Michael Williss)
It is a great privilege for me to talk today to the family and close friends of our comrade, Stephen Darley.
I make these remarks formally on behalf of the Communist Party of Australia (Marxist-Leninist) of which Stephen was a member.
Stephen worked tirelessly for the great cause of anti-imperialist independence and socialism. His Northern Irish background made his anti-imperialism doubly significant, and his family who were deeply involved in the Northern Irish struggle, reinforced each other's political and ideological awakening. His working class background made his fight against exploitation and oppression second nature.
Stephen was well-known to environmental and anti-war activists in South Australia and nationally. During the giant "No War" protest movement of 2003, when hundreds of thousands came out onto the streets to condemn US plans to invade Iraq, Stephen made an immense contribution as a speaker and main organiser.
For many years, he presented "A Peace of the Action", a radio program with strong anti-imperialist content on 5UV (later Radio Adelaide). He was also a co-presenter of "The Environment Show" on Adelaide's Three D Radio.
Stephen had been a university lecturer and tutor in environmental studies for 20 years at the three Adelaide universities until 2010.
His current political involvement was in the national coordinating committee of the Independent and Peaceful Australia Network (IPAN), and the National Anti-AUKUS Coalition. He was a founding member in SA of Spirit of Eureka, a democratic and anti-imperialist mass movement. He had also been involved in the Living Incomes for Everyone (LIFE) coalition of union and welfare grassroots groups, and the Anti-Poverty Network.
Stephen was a main organiser, and often main speaker, in Adelaide of rallies on topics such as opposition to AUKUS, opposition to the nuclear submarine program, support for Venezuela against US imperialism and other causes.
The numerous tributes to Stephen that have been posted on his sister Eileen's Facebook page, are testimony to his influence and the respect in which he was held.
Stephen embraced Marxism-Leninism out of a belief that capitalism could never be reformed and that exploitation and oppression could only be ended when the working class held state power and brought to an end the system of private ownership of the means of production.
The day before he died, he was discussing anti-AUKUS and IPAN related matters with comrades interstate who said that he seemed in good spirits and was doing terrific work.
But there were demons that accompanied Stephen in his life.
Stephen was afflicted with the disease of depression, an involuntary illness that affects the mental health of too many Australians. He shared the onset of depressive episodes with his comrades, often saying that he would not be able to attend meetings or deal with things for a couple of weeks. When the illness passed, he would pick up where he left off and throw himself back into the struggle.
We thought, as comrades, that we were supportive of Stephen's situation, but his loss of life, at his own hands, is a tragic reminder that this illness is still too poorly understood.
There was a song of my childhood that went:
Catch a falling star
And put it in your pocket,
Never let it fade away.
I have Stephen in my pocket. He's in my breast pocket, above my heart.
I will not, we will not, let him fade away.
Our comrade has passed. We will miss him enormously. We will always honour his memory and hold him in the highest respect. To his family and friends – love and strength.
Print Version - new window Email article
-----
Go back