Martin O'Malley – Comrade and Friend
Written by: Michael Williss on 12 May 2022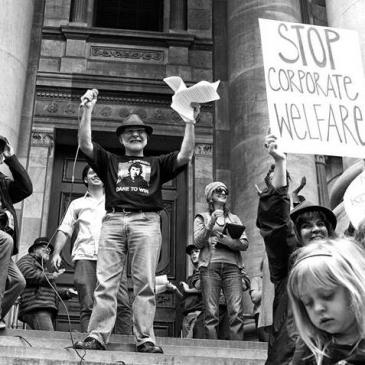 Martin O'Malley, former State secretary of the CFMEU and President of SA Unions, died on April 29, 2022. Speakers at his funeral, held today in Adelaide, included his daughter Lisa's fiancé Ben; former CFMEU organiser, now working for the United Workers Union, Darren Roberts; Kuku Yalangi man John Hartley; and friend and comrade from Chrysler Rank and File days, as well as the BLF and CFMEU, Allen Harris.
The following eulogy was read on behalf of the CPA (M-L) by Michael Williss.
Martin O'Malley, Comrade and Friend
I'd like to say something about the politics of this man whose life we are celebrating today.
They are politics which Martin lived by, and which guided him in his union work and in his personal life.
I am speaking on behalf of the Communist Party of Australia (Marxist-Leninist) about our member, a leading state and national comrade.
Some of you will have known, and others will have suspected or guessed, that Martin was a Communist.
That he became a Communist probably surprised no-one more than Martin himself. Educated at a Catholic school at a time when that Church was obsessively anti-Communist, Martin was definitely influenced by those views.
However, he was also conscious of the division of society into classes, and that he was of the working class.
As a worker at Chryslers, his class consciousness led him to a group of like-minded workers who hated the pressures they were under to produce cars, and resented the failure of their sell-out union, the Vehicle Builders Union, to support them.
One day, it was suggested to him that he ought to have a word with a leading militant, Will Heidt, about setting up a rank and file group to fight the bosses.
"Nah," he said, "I'm not talking to him- they say he's a Communist".
Well, talk they did, and friends they became, and both of them outstanding leaders of the Chrysler Rank and File, the influence of which soon challenged that of the VBU. As the intensity of the struggle grew, so did Martin's eventual embrace of the politics he had initially distanced himself from. He saw that militancy by itself was not enough, and that workers needed a party to the left of the ALP, a party unequivocally for the working class, not one that would be compromised by the object of trying to reform capitalism through parliamentary means. He joined our Party.
On October 17, 1975 police were called to Chrysler after 2000 angry workers demanded the reinstatement of Will Heidt, who had been sacked. Workers closed in around Will and prevented the police from taking him off the grounds. Later that day, as Will and Martin entered a local pub, they were both set on by police and arrested. Martin regarded that as probably as valuable a lesson in the nature of the state under capitalism as anything he later read by Marx or Lenin.
In July 1977, Chrysler, aided and abetted by the VBU and using a name list of workers supplied by them, sacked 700 workers and effectively smashed the Rank and File organisation.
However, stamping out the flames of struggle at Chrysler only served to spread the sparks to other areas.
In Martin's case, he went into construction and eventually became an organiser with the Builders Labourers' Federation which was led at that time by another great comrade, Ron Owens. Like Ron, who spent time in jail for his union work, Martin was unafraid of where militancy might lead, and epitomized the BLF slogan, "Dare to Struggle, Dare to Win".
Martin thought deeply about social issues. Workers are often resistant to reading (and writing): schools that have failed to develop them as readers leave them feeling inadequate and ashamed; one of the legacies of schooling is that reading never seemed relevant - it was tedious and a waste of time. Martin knew that workers' leaders need to develop theoretical understanding of the way capitalism works and of the way socialism can be achieved. So, he read. A lot. One day I said he was in danger of becoming an intellectual. Martin paused, then said, quietly and seriously, "There's no worker who can't become an intellectual. You've just got to be disciplined in your approach to thinking about things. And you've got to read. I think I became intellectual when I first understood Marx's theory of surplus value. You can never go back to just fighting for a 'fair day's pay for a fair day's work' once you understand the nature of exploitation."
Martin was a warm, compassionate and welcoming person, who never put airs on himself or stooped to lecturing people about his beliefs. If you were disrupting working class organisation and unity, he'd let you know about it straight away. Apart from that, he genuinely welcomed talking with and learning from others, regardless of whether they belonged to some other organisation or not.
The proof of that pudding was the relationship he developed with Benny Carslake when it became apparent that the BLF would have to amalgamate with its arch-rival in the building industry, the BWIU. The CFMEU owes its origins in this state to that relationship and to them placing the desire for unity above the recriminations of the past.
Martin himself sometimes wrote for our Party, often under a pseudonym, because we try not to identify too many of our people to surveillance by the authorities.
Martin wrote about his great passion for First Peoples and the justice of their demands. Martin and John Hartley, a Kuku Yalanji man, were both arrested and jailed when the union supported the Ngarrindjeri women at the Hindmarsh Bridge dispute. Later they both organised for SA union leaders to visit the APY lands, and the CFMEU assisted in the construction of a community building at the NT community of Ampilawatja. In an article he wrote for us on May 7, 2020 about the colonial invasion of Country, Martin said:
Laws were drawn up, the country carved up, the First Peoples sliced up, their languages, traditions and cultures ripped up and their basic way of life, stuffed up, all based on the original lie, Terra Nullius. The lies continued developing, expanding from generation to generation. All-encompassing, all powerful, promoted at every opportunity, undermining the basic values encompassing the First Peoples culture, traditions and life.
He called on us to "show respect to the First Peoples, accept without equivocation their original ownership of this land," and said we should "celebrate the world's oldest continuous culture of tens of thousands of years instead of celebrating their subjugation".
Martin had worked in an industry where workers can be, and are being, killed and maimed in the relentless search for profits. He had worked with BLF organiser and SA Unions representative Jack Watkins on asbestosis, and saw in silicosis yet another insidious workplace disease that was killing workers. On March 4, 2019, he posed the question:
Why are workers still dying?
Governments and their agencies, combined with employers' responsible for workers safety, have once again failed to protect workers from the oldest industrial disease known to humans. In the most technologically advanced era ever, why are workers still placed in this danger? The drive for greater profit, unfettered competition, survival at all and any cost, greed, lack of appropriate government oversight, reduction of "red tape", corruption, deliberately dumbing down of workers' safety knowledge, interwoven with unfettered technological advances owned and controlled by the few, all equate to the one cause, Capitalism.
Martin's adult life was spent in the fight against capitalism, and its exploitation of, and harm done to, the people.
He didn't do it blindly, but thoughtfully, guided in his practical activities by the theoretical teachings of Marxism-Leninism.
The young worker who wanted nothing to do with Communism, embraced it and became the courageous, generous, open-hearted, laughing and engaging person that we all knew and loved.
To his family, and particularly Sandra, the love of his life, and to Lisa, his carer, protector and guardian angel, we offer our sincerest condolences.
To his friends and comrades – let's keep his light shining and his inspiration enriching us.
Print Version - new window Email article
-----
Go back