Norm "The General" Gallagher
Written by: on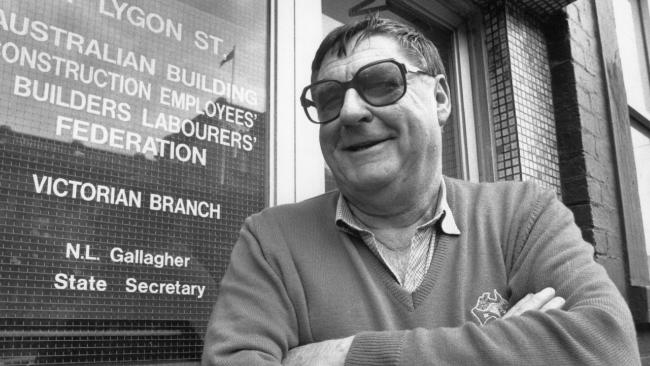 (from Vanguard 8 September 1999)
Up until his death on 26 August aged 67, Norm Gallagher, legendary union leader and long time Communist, remained for many Australians an inspiring example of uncompromising, resolute, militant struggle even though he had been out of the public spotlight for years.
In fact he was a teacher by both positive and negative example.
Gallagher was a knock-about working class youth who became a builders' labourer and gained a reputation among his workmates for standing up to the boss. He joined the Communist Party.
He became part of a group of Builders' Labourers' Federation officials headed by the great Paddy Malone who from the 1950s got builders' labourers organised and led them in fierce battles which over the years won spectacular improvements in wages, conditions and rights.
Malone and Gallagher and a number of the BLF officials were products of their industry and of their communist politics. Marxism had a big influence on the development of their ideas, their practical action and their tactics.
Large-scale construction is one of capitalism's most dangerous industries, presided over by utterly ruthless bosses intent on squeezing the maximum profit out of the particular project in the fastest possible time, workers' lives and limbs notwithstanding. The class conflict between workers and big business is particularly stark. These conditions breed militancy and tough tactics and provide fertile ground for revolutionary socialist ideas. They produced Norm Gallagher. Malone, Gallagher and others drew strength, ideas and advice from their Communist Party membership.
In the big battle within the Australian communist movement in the late 1950s/early 1960s between those upholding revolutionary Marxism and those trying to water it down, Malone and Gallagher were among those communist union leaders who upheld Marxism. They became in 1964 founding members of the Communist Party of Australia (Marxist-Leninist) - the CPA (M-L) – led by the great E.F. (Ted) Hill.
After Malone, Gallagher became the key BLF leader and he attracted and inspired younger militants. Together they unleashed the enthusiasm and imagination of the rank and file. Under Gallagher's leadership, new levels of "guerrilla" industrial tactics were pioneered and new advances won. Builders' labourers took a prominent role in wider battles – against industrial relations penal sanctions and the Vietnam War in the 1960s/70s, over preserving historic buildings, building unity with battling farmers and championing Australian culture and the need for Australian independence.
Gallagher and the BLF came to be widely seen as synonymous with militant defiance of the bosses and the ruling class, summed up in the slogans 'Dare to Struggle – Dare to Win" and "If you don't fight, you lose".
A very important aspect of communist history in Australia has been the battle within the Communist Party between revolutionary ideology and politics and what Communists call trade union ideology and politics. Unions are vital. The trade union struggle to defend and advance workers' wages and conditions and rights within capitalism is critically important. While supporting that vital struggle, however, the Communist Party's goal is to overthrow the whole capitalist system and so communists strive to promote that outlook and fight against trade union ideology and politics which seek to restrict workers to only struggling over wages and conditions.
The battle between these two outlooks is particularly acute for communist union officials. It is a constant battle by the individual communist union official and by his or her fellow communists to keep revolutionary ideology and politics to the fore and contribute to building revolutionary (as opposed to merely trade union) organisation. Gallagher was no exception. Ted Hill and other leading communists tried to assist. The process had its ups and downs and partly reflected some shortcomings in the CPA (M-L) in dealing with these matters.
There is nothing the ruling class hates more than a working class communist who has success in striving to unleash the great power of the workers in action, not just on industrial issues but on wider political questions. The ruling class hated Gallagher deeply indeed. They set out to destroy him and the BLF. They enlisted the help of the top Labor and ACTU leaders and the courts. As part of the campaign, Gallagher was convicted of accepting "secret commissions". But no one ever suggested he ever sold out his members' interests. In fact all the evidence was to the contrary.
In the latter period of his life, Gallagher became somewhat isolated, increasingly divorced from rank and file builders' labourers and working people in general. He also neglected his work in the Communist Party, failing – after Ted Hill's death in 1988 – to keep up with the battle for revolutionary ideology and politics as against trade union ideology and politics. Inevitably therefore the trade union ideology and politics took over, with its negation of revolutionary politics, its machinations and manoeuvres, divisiveness, personal rivalries etc.
The process reached a low point away from the public eye in the mid-1990s. Gallagher finally abandoned revolutionary politics altogether and conspired with a couple of others to try to destroy the CPA (M-L) which had nurtured, nourished and defended Gallagher for so many years. The anti-party scheme failed, but it was a tragic end and a terrible negation of the politics and principles which many activists believed Gallagher had come to personify.
Gallagher's life showed that great advances can be won by genuine, correct leaders guided by Marxism working together with a mobilised rank and file. It also showed that communist union activists need to ceaselessly strive to develop their revolutionary perspective and build revolutionary organisation and not be overwhelmed by trade union ideology and politics.
They need to keep close ties with the people and continue lifelong activity toward the goal of overthrowing the present rotten social system.
………………..
Further reading:
https://itsnotnormalisit.com/2015/05/15/norm-gallagher-a-tribute/
The people can never be repressed: defeat new penal powers
Hear Norm talk about his early life on Youtube: https://youtu.be/nC6gw4yXV64

Print Version - new window Email article
-----
Go back