Doreen Lorbach
Written by: on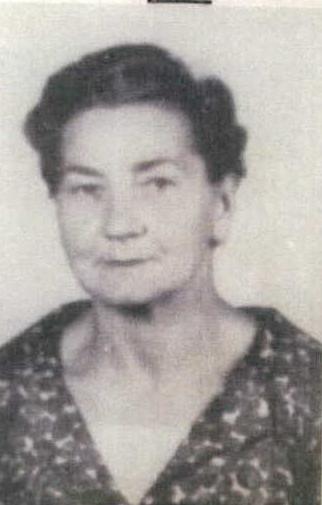 Doreen Lorbach – A life devoted to serving the people
Betty Little (from Vanguard 17 June 1998)
Great fighters are developed from within the revolutionary movement; as older comrades die, new and younger ones reach up to take their place.
Doreen Lorbach, foundation member of the Communist Party of Australia (Marxist-Leninist) died on Sunday May 31 in Cairns, Queensland. Doreen had been ill for some time.
Doreen had been an active member of the working class since the 1930s, participating in all the great struggles of that time.
She was a member of the Young Communist League and Workers Sports Federation, where she ran the gymnasium classes.
Doreen was an outstanding athlete, she was Australian women's fencing and gymnast champion, among other sports.
As a member of the first women's team to win the right to row on Yarra River, Doreen helped to break a long-standing taboo. (The humiliation of the upturned canoe on the front page of the Herald newspaper faded into insignificance over the years).
Doreen worked in the dietitian department of the Alfred Hospital. Later she was an organiser of the Liquor Trades Union, working among low-paid hotel workers - at the time predominantly women. The bosses of the Southern Cross were well aware of her organising abilities!
Doreen built strong connections among the people of Glenroy and Broadmeadows (Melbourne) where she lived.
She was one of the early members of the Australia-China Friendship Society and maintained her membership until her death.
In 1964 Doreen volunteered to work in the People's Republic of China (PRC). When she left for China a great crowd of wellwishers, neighbours and friends saw her off from Essendon Airport (as it was then). She joked about going around tightening up the screws on the plane. Always the practical one!
The 1960s were rather difficult days for friends of China. Doreen always faced the challenge of discussing socialist ideas and China's policies for peace and friendship, in all places, among many different types of people.
While in China, Doreen worked at Xinhua (Chinese News Agency). The work entailed long hours, helping to sift through reports coming from all over China. Reports of the day-to-day activities of the people.
During her stay in China, she spent all available spare time getting out amongst the people. Doreen's bicycle was well-known around the back streets of Beijing. Australian visitors were warmly welcomed to her inviting flat. She was able to provide in-depth knowledge of China as she travelled widely to outlying areas, very seldom visited by foreigners.
Doreen came back to Melbourne, Australia, in the middle 60s. Once again, she worked in the hospital field until her retirement. She continued her work among the local community, active as ever in all issues affecting the people. Doreen was a regular contributor to Vanguard. She travelled extensively throughout Australia, investigating conditions first hand; first on her motor scooter bike, later in her much-loved camper van – beautifully outfitted by her son Karl, a builder of ocean-going yachts.
When the Kalkadoon Bookshop was established in Bourke Street in 1974, Doreen worked with other volunteers with great enthusiasm. This was a new type of bookshop – predominantly concerned with presenting material reflecting the growing struggle for Australia's independence. Kalkadoon was also an outlet for publications from the People's republic of China, a country that had won its independence.
Doreen's active mind and body saw her doing "back flips" until well into her 70s. She had acquired the skill of Tai Chi while in China.
The local senior citizens were pleased to avail themselves of her gymnastic skills. The annual display was a highlight of their activities; Doreen also passed on her skills in Tai Chi.
Doreen also did voluntary work with the Citizens Advice Bureau.
Doreen will be sorely missed.
………………………………………..
Tribute to a remarkable fighter for the people
(from Vanguard 15 July 1998)
Friends, neighbours and colleagues of Doreen Lorbach joined with her family on Sunday, 28 June, to pay a tribute to a remarkable life.
Doreen joined the Communist Party in the 1930s and remained devoted to the socialist cause until her death on 31 May, aged 87.
The Hadfield Community Centre in Glenroy, just a stone's throw from where Doreen lived for over 40 years, was a fitting place for a farewell to this fighter for the community.
Doreen had seen this neighbourhood grow through the years from a desolate, isolated area to a thriving working class neighbourhood.
Schools and other facilities developed through the many community struggles.
A lovely selection of photographs of Doreen's life showed her as a young dancer right through to her cycling in Tiananmen Square, Beijing, in the 1960s, to group photos of gym classes held in the Hadfield Centre.
Floral tributes added to the warm atmosphere.
Doreen's son Karl gave a moving outline of the full life that she had lived and explained the influences that had helped to develop Doreen into the strong person she later became.
Doreen's father and mother instilled in her a strong working class position: a stand that she carried with her throughout her life.
At the age of eight, Doreen performed in pantomimes in the city of Melbourne, her earnings helping to supplement her father's wages as a farrier. Later she went to work in the clothing trade. Then, as her gymnastic skills developed, she taught in schools. One of her pupils at Geelong Grammar was Rupert Murdoch, then known as "Red Rupert".
Karl paid special tribute to the care and devotion to Doreen on the part of his wife Helen, formerly involved in the movement for independence in the Philippines.
Betty Oke, one of Doreen's students at dance and gymnastic classes for the Young Communist League (YCL) in the 1930s, told of the pride that their team felt at winning major competitions, with the emblem YCL emblazoned on their costumes. Another early dance associate of Doreen's was present.
Linda Blundell, who was the first woman councillor in Broadmeadows and later became its first woman mayor, told of the work Doreen had contributed to helping establish the first legal aid service in the area. Doreen worked as a volunteer counsellor for a number of years.
Betty Little, from the Australia-China Friendship Society, spoke about Doreen's long involvement with China, including her three years in China working for Xinhua, China's news agency.
Chinese Consul-General in Victoria, Liang Jianming, sent a floral tribute. A representative of the Canberra bureau of Xinhua was present and presented a beautiful floral tribute.
Marcus Clayton represented the Vanguard and recalled Doreen's contributions to the paper, bringing back observations from her many trips around Australia. He said Doreen made great efforts to get to know the real Australia, mixing closely with many people, inquiring about their lives and working conditions.
Marcus concluded by reading a passage written by the revolutionary Russian author Ostrovsky:
"Man's dearest possession is life. And since it is given to him to live but once, he should live it so as not to be seared by the shame of a cowardly or trivial past; so live as not to be tortured by regrets about years spent without purpose; so live that dying, he can say – all my life and all my strength were given to the greatest cause in the world – the liberation of mankind."
Doreen lived a life like that, Marcus said.
Doreen's grandson, Owen, spoke warmly of the great strength of his grandmother.
Neighbours joined in with anecdotes about Doreen's life. One neighbour recalled how Doreen gave assistance to one neighbour who had been injured at work. She pursued legal and union help and the neighbour ended up getting a good settlement. Her friend and neighbour pointed out that Doreen persisted in helping this person even though in the past she had shown some hostility to Doreen's views.
Mixing together after the formal part of the memorial, people exchanged views, met up with old friends and acquaintances. Altogether a fitting, warm farewell for a real Australian working class patriot.
Print Version - new window Email article
-----
Go back