Militarism in the Asia-Pacific region
Written by: on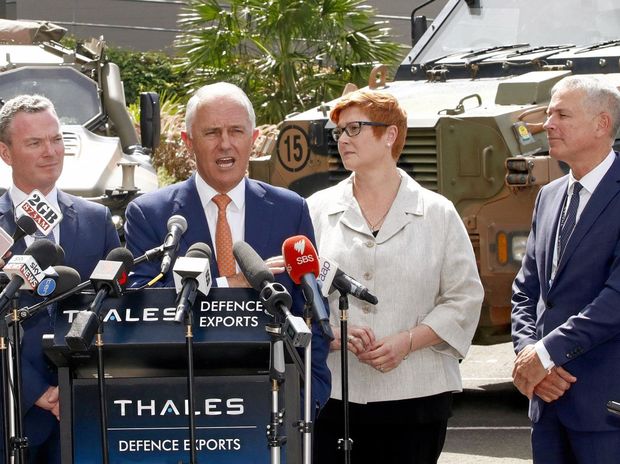 (Contributed)
Several recent diplomatic statements and media releases have thrown light upon the wave of militarism sweeping the Asia-Pacific region.
The militarism has not been planned for defensive positions. It is aggressive and based upon real-war scenarios.
At the beginning of the year the Turnbull government in Canberra announced it was boosting military spending to two per cent of GDP together with a 'defence export strategy' aimed at adding 'another strategic economic path for Australian defence contractors'. (1) The announcement coincided with a further statement that the government intended to catapult Australia into the top ten arms exporters. At present the country is ranked at twentieth.
The 84-page government report also provided further information about 'prime' arms manufacturers which included Thales and Austal with ships, armoured vehicles and technical communications equipment. (2) 'Sub-prime' manufacturers included Solutions with satellite communications and Thomas Global which produced electronic systems for military aircraft. (3)
Behind the announcement, however, lies a systematic strengthening of 'the alliance' with US imperialism. In fact, far from being an alliance, the diplomatic relationship remains one based upon obsequious sycophancy towards the US. The government report also clarified 47 per cent of present arms exports went to the other '5 eyes': the US, Canada, UK, New Zealand, adding insight into the sensitive nature of intelligence-sharing and central role of the US. (4)
The Pentagon undertakes military planning and then issues directives for their allies. The tame, hand-picked, faceless personnel in Canberra then issue media releases including ''Our defence strategy: all the way with the USA". (5) Their loyalty remains unquestioning: "the US expects Australia to lead", and those who pay the piper dance to the tune. (6)
The government report also threw considerable light upon US military planning and the designated role for Australia as a regional hub for 'US interests' with the statement the 'strategy paper states it wants to grow exports' to south-east Asia, India and the Pacific. (7) The plan is to clearly enhance Australian and 5-eyes influence across the wider region.
The US diplomacy with Australia is also linked to Japan as a northern regional hub. The triangular relationship aimed at encircling and containing China in the region and elsewhere. In recent times India, likewise, has been included as part of the newly re-established Quadrilateral Dialogue or 'Quad'. (8) What has been particularly significant is the manner in which the Quad has quickly evolved into a 'mechanism for consultation and possible policy coordination'. (9) Other countries have also been invited to Quad meetings including Indonesia, following a high-level diplomatic meeting in Jakarta with US Defence Secretary Jim Mattis last month. (10) Following the diplomatic visit Mattis issued a statement which included references to Indonesia becoming a 'maritime fulcrum' linking the India Ocean with the Pacific and that 'Indonesia was fundamental to shoring up the US position in the region'. (11) Official media releases have also stated 'a strong Quad can have influence and reach far beyond Asia'. (12)
Developments surrounding the re-establishment of the Quad have also coincided with planning to revamp the so-called Trans Pacific Partnership (TPP) as a greater regional Free Trade Agreement (FTA). There is little ambiguity with official diplomatic media releases showing how layers of military agreements rest upon FTAs which are used 'to inject more economic influence into the Asia-Pacific region as a counter to China'. (13) In a similar manner to the Quad, the proposed TPP has also evolved with plans to include Indonesia, Thailand, the ROK and the UK'. (14)
Recent Australian media releases have included open support for the US position written by Defence Secretary Jim Mattis entitled the 2018 National Defence Strategy which has named Russia and China as the greatest threat to US security. (15) Fears exist inside the Pentagon the combined military power of both Russia and China is equal to that of the US.
A recent US Defence Department media release from General Paul Selva, vice-chair of the Joint Chiefs of Staff clarified information about likely theatres of war with 'any fight with China would be a largely maritime and air fight' in the South China Seas. 'War with Russia', was clarified as 'a largely air and ground battle', indicating hostilities on the European mainland. (16) A recent Swedish government media release has also clarified a heightened diplomatic stance against Russia with all citizens being issued with a booklet about 'how to prepare for war'. (17)
Behind such moves lie Western military planning for the deep state and maintenance of the existing order entailing secret armies and cold war positions against civilian populations, including strategies of tension and psychological warfare techniques of disinformation. Recent statements from Canberra about fears of foreign espionage and interference would indicate such planning is well under-way in Australia. (18)
And if there remains any doubt about the intention of the US to embark upon real-war scenarios, the fact they are planning 'to appoint a military commander to co-ordinate a combat force capable of defeating Russia and China in a conventional war' is the evidence. (19)

1. $3.8 bn bid to drive arms sales, Australian, 29 January 2018.
2. Australia bids, The New Daily, 29 January 2018.
3. Ibid.
4. Ibid.
5. Our defence strategy: all the way with the USA, The Weekend Australian, 27-28 January 2018.
6. Abdication of responsibility in the neighbourhood, Australian, 31 January 2018.
7. Australia bids, op.cit., 29 January 2018.
8. Editorial, Momentous global change needs strategic responses, Australian, 29 January 2018.
9. Quad dialogue is our passage to India, Australian, 25 January 2018.
10. Ibid., and, US backs Joko bid for naval power, Australian, 24 January 2018.
11. US backs Joko naval bid for power, ibid., 24 January 2018; and, Defence Secretary meets Indonesian counterpart, Website: US Defence Department, 24 January 2018.
12. Let's strive for a key role in the emerging Indian miracle, The Weekend Australian, 27-28 January 2018.
13. Trump trade pivot stuns TPP nations, The Weekend Australian, 27-28 January 2018.
14. Ibid.
15. The Weekend Australian, op.cit., 27-28 January 2018.
16. US makes ready for war with old foes, Australian, 2 February 2018.
17. Swedes taught how to prepare for war, Australian, 19 January 2018.
18. ASIO warns foreign spooks more active than in Cold War, Australian, 1 February 2018; and,
NATO Secret Armies, Daniele Ganser, (London, 2004).
19. US makes ready for war with old foes, op.cit., 2 February 2018.
Print Version - new window Email article
-----
Go back