Bougainville: a legacy of unfinished business
Written by: on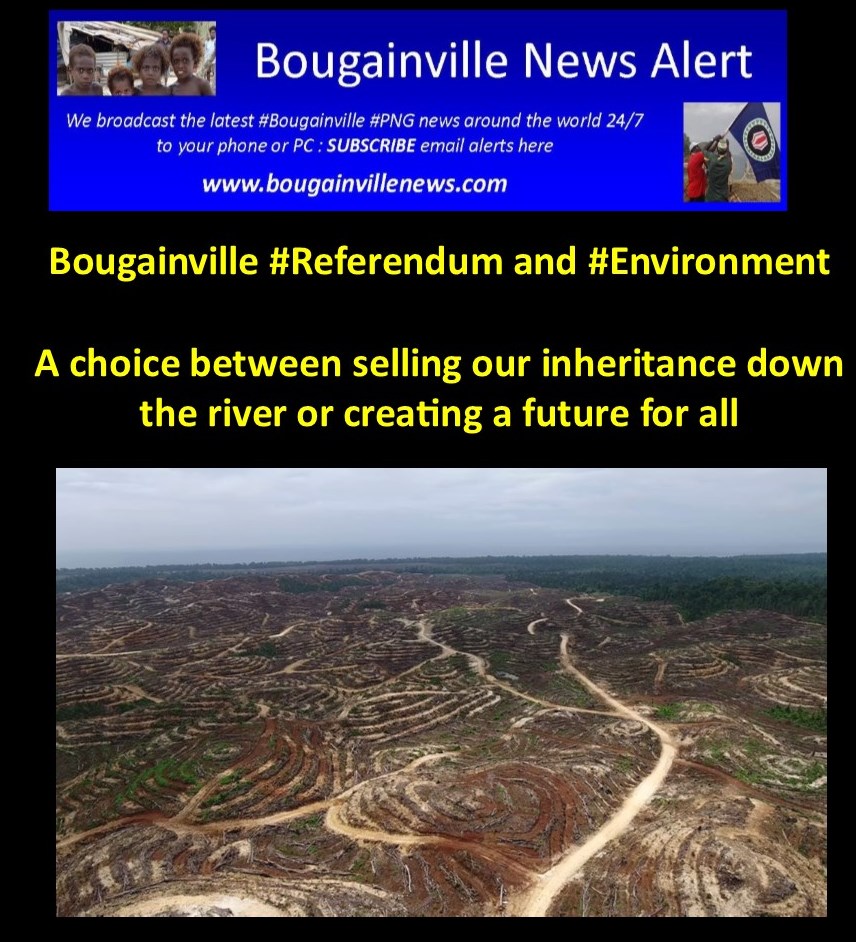 (Contributed)
In mid-2019 the Bougainville Independence Referendum (BIR) will take place. The people of Bougainville are very likely to vote for full independence from Papua New Guinea.
The looming BIR has already thrown Australian military planners into disarray; PNG is a strategic part of Australian defence and security provision and wider US-led regional planning designed to contain and encircle the influence of a rising China with classic Cold War diplomatic positions.
The Australian response toward PNG has been two-fold, marked by: use of soft diplomacy together with an increased aid budget; military planning and exercises for real-war scenarios.
The contemporary history of Bougainville has been both tumultuous and bloody. The landmass was only finally incorporated into PNG with independence in 1975. Many of the Bougainvillian independence leaders who advocated the islands be incorporated into the neighbouring Solomon Islands were either in prison or detention to prevent a credible opposition to policies formulated by the Australian colonial administration. The people of Bougainville have long-standing social and cultural ties and connections with Solomon Islanders and do not regard themselves as Papua New Guineans.
It is not difficult to establish why those in control of independence within the Australian Colonial Administration sought to facilitate neo-colonial relations with PNG: Bougainville has some of the largest copper deposits in the world, the landmasses form part of the Defence of Australia (DOA) doctrine protecting northern shores from possible invasion. The legacy of the diplomatic chicanery, however, has come back to haunt those in Canberra on more than one occasion.
The development of the Panguna mine in Bougainville, owned by a subsidiary of Rio Tinto Zinc, following independence eventually led to the creation of the Bougainville Revolutionary Army (BRA) in 1988. A decade-long civil war resulted in the deaths of thousands of people together with the forced closure of the mine. Throughout the period the BRA was organised from a headquarters based in Honiara, capital of the Solomons.
Developments on Bougainville also brought chaos and political instability to the PNG mainland in 1997-8 following a disastrous attempt by mine-owners and politicians to hire a mercenary army for counter-insurgency capabilities to deal with the BRA and reopen Panguna. The so-called Sandline affair involving Executive Outcomes and South African and other mercenaries eventually resulted in PNG Prime Minister Julius Chan being forced to resign and the fragile coalition of MPs supporting him disintegrating.
While moves to establish a working cease-fire and peace agreement eventually took place in 2001 it is significant to note the BRA were not party to the settlement and still technically controlled about half the island. During the 1988-98 period the organisation were also able to lobby extensive solidarity within many international left-wing political groups, providing an anti-imperialist political stance in the South Pacific. Their radio station, Radio Free Bougainville staffed by political activists from European backgrounds, also broadcast across the whole Pacific region with a signals range capable of reaching California. While the BRA ceased to function openly following the death of leader Francis Ona in 2005, they are a still a force to be reckoned with due to their extensive organisation, support and revolutionary legacy.
The forthcoming BIR is already causing decision-makers in Canberra serious concern.
When PNG established full diplomatic relations with China in 1976, it caused Canberra little concern. During the past decade or more, increasingly closer links between PNG and China have caused Canberra to deal with the problem on the basis of diplomatic silence. Apart from a few brief media releases, Australian diplomacy has attempted to play the problem down for fear of causing alarm bells to ring. When China undertook the refurbishing of the Murray Barracks outside Port Moresby a decade ago together with offering to train PNG Defence Force personnel in Beijing with scholarships of up to three years duration, it was significant to note media coverage came from New Zealand, not Australia. (1)
It was noted, however, that Prime Minister Malcolm Turnbull was 'expected to discuss the US military posture in the Pacific' when he met the chairman of the Joint Chiefs of Staff Joseph Dunford in the Pentagon in February. (2) It was further noted that in the US position following the release of the National Security Strategy, China was regarded 'as a strategic competitor that wanted to shape the world antithetical to US values and interests'. (3)
When a recent media release about Australian defence and security drew attention to problems arising in 'Southeast Asia and South Pacific' and a future strategy to defend Australia by 'a radical return to a forward-defence posture', reference to PNG was omitted although very much the centre of attention. (4) Fears have arisen that Chinese influence with our nearest neighbours has increased to levels now sufficient to be regarded as a threat to traditional defence and security planning by operating within countries part of the DOA doctrine. It is clear US-led initiatives include a more aggressive foreign policy toward the region in general and the South Pacific, specifically.
Present soft diplomacy from Australia toward PNG is based upon an aid budget for 'development assistance' estimated to be $546.3 million for this year. (5) The Australian aid budget specifically for Bougainville has also risen to $50 million for the 2017-8 year, with the claim of 'supporting effective governance is a priority for Australia's aid to Bougainville'. (6)
The Australian aid budget, however, has looked paltry in comparison to development assistance provided by China in recent years. In 2016, trade between China and PNG rose $3.3 billion. (7) It is now estimated even larger with the Chinese government reported to be investing billions into infrastructure projects, some of which have allocations for Bougainville. China has also directed development assistance specifically to Bougainville which has included an urban centre and a number of Special Economic Zones for Chinese investment. (8)
A recent defence paper, Australia's Management of Strategic Risk in the New Era, has suggested recent regional developments have created a situation where 'Beijing is slowly eroding Australia's strategic space and a crisis could develop rapidly'. (9) It was further noted 'countries are drifting into China's orbit'. (10)
It has, therefore, been interesting to note harder diplomacy in the form of US-led regional military
planning to deal with the perceived problem.
The 2017 annual Talisman Sabre military exercises were the largest 'amphibious assault for Australian troops since WW2' with 33,000 Australian and US military personnel, revealing the wave of militarism sweeping the Asia-Pacific region. (11) It is significant to note part of the exercises included forward defence postures including 'a force assault from the ocean to take on an enemy based on land' with planning for 'potential insurgents hidden among a civilian population'. (12) Harder diplomacy from US-led positions has also included a return to classic counter-insurgency techniques of the last Cold War.
All eyes are now set for the forthcoming APEC leaders' summit hosted by PNG in November. China will be sending a high-level diplomatic delegation and their official position has already noted 'it was fundamentally wrong to believe China was a strategic competitor with the US, wanting to replace Washington as a dominant world power'. (13) China is known to regard moves against it as acts of aggression. (14)
When the people of Bougainville vote next year the outcome of the poll may have far-reaching implications for regional diplomacy, where the present Cold War may escalate into a limited war as US-led regional initiatives seek to strengthen the DOA and dislodge Chinese influence. As a chilling drama unfolds, a recent Australian defence media release has acknowledged their forward defence posture included 'the expansion of the ADF and its capacity to engage in high-intensity conflict' with reference to the DOA and 'operations further afield'. (15)

1. Concern in PNG, Radio New Zealand, 19 May 2008.
2. Intelligence agencies step up warnings on Beijing influence, Australian, 21 February 2018.
3. PM celebrates 100 years of mateship, The Weekend Australian, 24-25 February 2018.
4. PM starts upgrade of old alliance, Australian, 2 March 2018.
5. China gift triggers more aid for PNG, Australian, 8 March 2018.
6. Website: Australian Department of Foreign Affairs and Trade, Development Assistance to Papua New Guinea.
7. Australia uneasy over Chinese influence in PNG, ABC News, 12 February 2017.
8. New Chinese-built urban centre for Bougainville, Radio Australia, 15 February 2012.
9. Overhaul nation's defence strategy to handle China's rise, experts warn, Australian, 15 November 2017.
10. Ibid.
11. Forces gear up to combat regional terror threats, Australian, 14 July 2017.
12. Ibid.
13. China urges US to open talks with NK, Australian, 9 March 2018.
14. Australia caught in the middle of South China Seas conflict, The New Daily, 26 February 2018.
15. Australia's management of strategic risk, Paul Dibb and Richard Brabin-Smith, ASPI, 15 October 2017.
Print Version - new window Email article
-----
Go back