Cleaners front Senate Inquiry and demand changes: new booklet available
Written by: on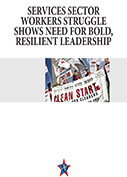 The Senate Inquiry into sham contracting and exploitation (we call it swindling) in the cleaning industry opened today in Melbourne.
Cleaners from Melbourne fronted the Inquiry to demand changes in the conditions of their employment.
To coincide with the opening of the Inquiry, we have uploaded the pdf of a new publication of the CPA (M-L) written with the assistance of cleaners from several states, including Victoria and New South Wales.
An Introduction to the booklet notes: "The Communist Party of Australia (Marxist-Leninist) values the experiences that workers gain in the course of their own struggles. These are our classrooms – our centres of learning. This is particularly true of new forms of struggle, of struggle under new conditions of ruling class obstruction and legal restrictions, and of struggles by workers who are in the early stages of their organised development.
"This small publication encompasses all three of those aspects."
We support the cleaners and support their struggles.
We encourage everyone to download and read the booklet SERVICES SECTOR WORKERS STRUGGLE SHOWS NEED FOR BOLD, RESILIENT LEADERSHIP http://www.cpaml.org/web/uploads/services+sector+workers+struggle+v3.pdf
Print Version - new window Email article
-----
Go back