"Serve the People" – Learning from Ted Hill
Written by: on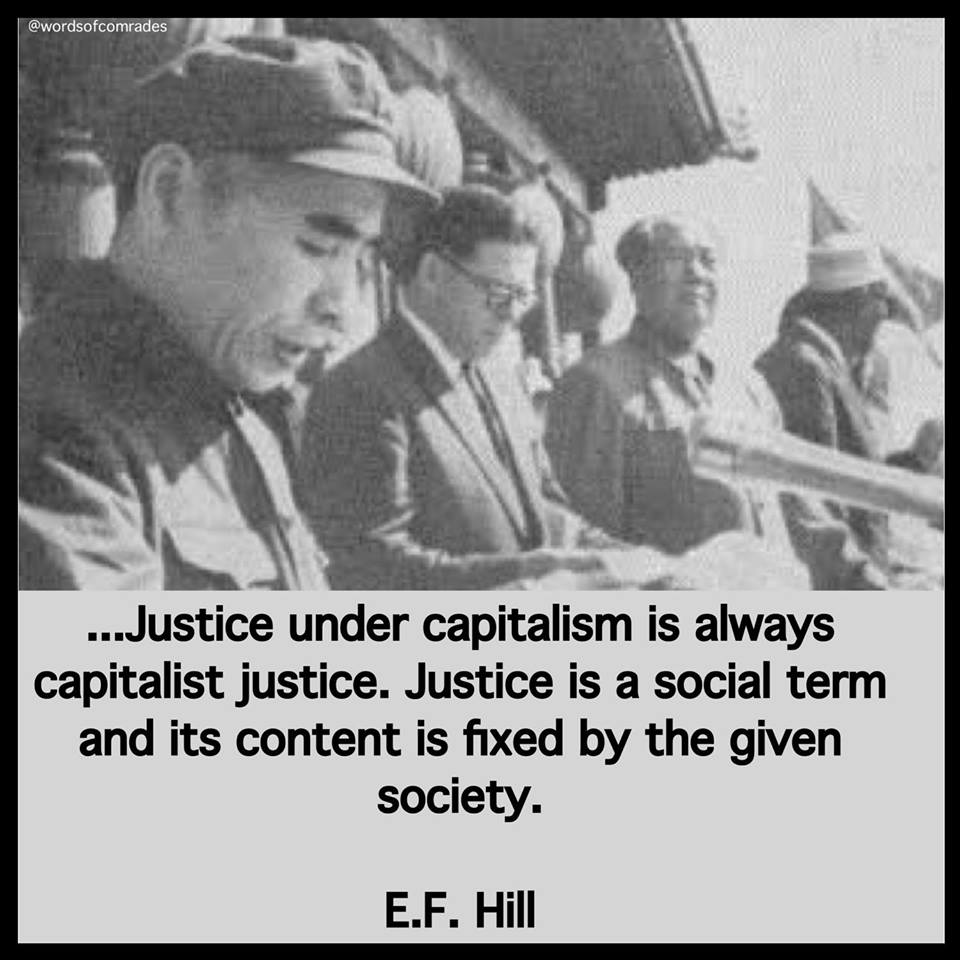 Ned K. 24 February 2019
Many Vanguard readers are probably aware that Ted Hill was a leader of the Communist Party of Australia in the 1940s and 1950s and initial Chairperson of the CPA -ML when it formed in the early 1960s. Vanguard readers are probably familiar with some or many of Ted Hill's extensive writings putting forward a Marxist-Leninist perspective and analysis of many aspects of Australian life.
Recently I read the book, "That Disreputable Firm, the Inside Story of Slater and Gordon". Slater and Gordon was the law firm where Ted Hill worked as a lawyer and barrister for many years. The book was written by Michael Cannon and it is worth reading just to gain more of an appreciation of what an incredible contribution Ted Hill made to the working class struggle and how highly he was regarded by the workers he represented in workers' compensation and other industrial matters and how well respected he was within the legal profession, even by those who represented the capitalist class.
Above and beyond this, Cannon shows in his book what an incredible caring, noble human being Ted Hill was, as this short passage below shows.
"In the last few years of his life, Ted suffered from Hodgkin's Disease...but his widow Joyce said 'he did not have time to die'. Each morning he still went to Brunswick baths for a swim, then walked his dog. Joyce drove him to work, where he would still spend ten to twelve hours per day. Even when nauseated from regular chemotherapy at Royal Melbourne Hospital, he continued his arduous routine."
The book also highlights the intense harassment and spying he endured from ASIO and other agencies of the state. He was even followed by plain clothes spies to the public telephone box near his house at all hours of the night where he went to make phone calls to avoid the phone tappers.
The book gave me an appreciation of how outstanding and conscientious Hill was in his chosen field of work, industrial law. He could have easily taken another path and lived the "high life' as a high paid member of the capitalist legal "club" such was his brilliance. However, he used his skills in service to the working class, putting in to practice on a daily, hourly basis his "serve the people" outlook.
The passage below from the book shows how skilled he was.
"Ted's brilliance as a young student soon became obvious. At that time the articled clerk's course consisted of one year's study: on passing that, four-year articles were signed, and nine further law subjects studied. The alternative was to do a full-time four-year university law course, followed by one year's articles. At Melbourne University Ted won every prize open to law clerks. In 1933 he was awarded the Harry Emmerton Scholarship in Constitutional Law and Legal History. The following year he won first class Honours and the Exhibition in Contract Law. In 1936 he was awarded the Bowen Prize for English Essays."
In 1937 he was interviewed by the Dean of the Faculty of Law Professor Kenneth Bailey who told the young Ted Hill that "he could have a great career" if only he would give up his radical ideas!
Hill refused and went on to study economics. In this faculty, Professor Douglas Copland demanded that Hill drop his Marxist analysis of history and adhere to traditional "theory of marginal utility". Hill, according to the book's author, concluded that "the function of universities in capitalist countries was to fill students' minds with a 'good deal of rubbish'".
Hill represented hundreds of injured workers as a barrister, often marking each at a lower cost. Despite Hill's brilliance inside the court rooms, he never lost sight of the fact that the best defence for workers against injuries was vigorous working class campaigns for better safety on the job. He said "too many compensation cases take a purely legal course...This suits insurance companies which have infinite financial resources to delay and hinder claims".
Hill's working class outlook that he maintained throughout his long legal career is probably best summed up by the following quote from him in Michael Cannon's book.
"I have lived and associated with working people all my life, and over many years my profession has brought me into contact with numbers of workers and also members of the capitalist class... I have learned much more about the nobility of human beings from the workers and working people than from any capitalist."
Print Version - new window Email article
-----
Go back