The sorrow and joy of May Day
Written by: on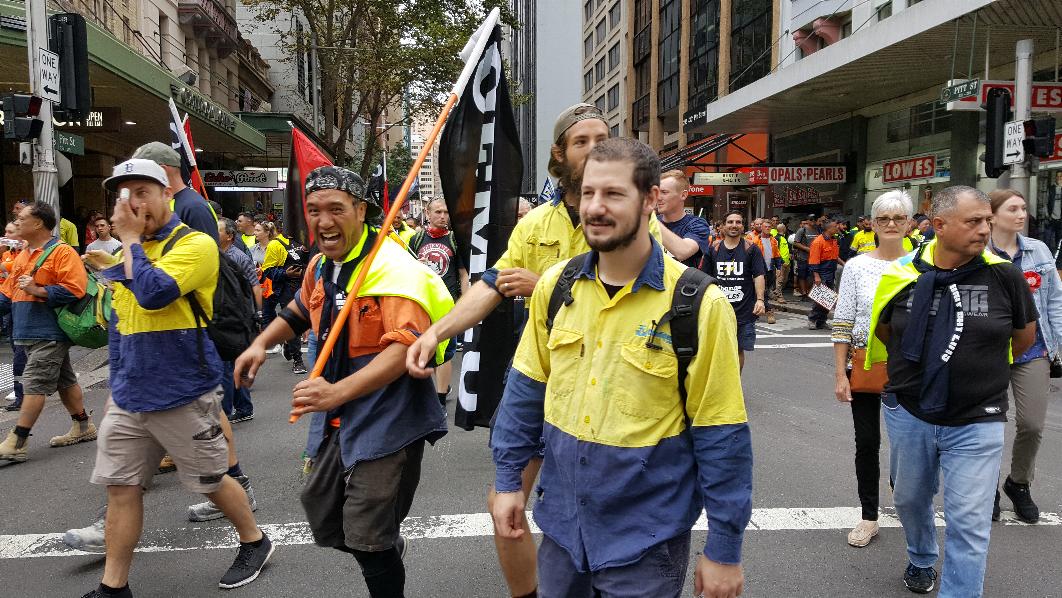 Louisa L 2 May 2019
For the first time in this aging writer's memory, May 1 was marked in Sydney with a 6000 strong strike and march. The push to return May Day to its militant beginnings came from the CFMEU grassroots. In Newcastle several hundred also stopped work.
Groups arrived in high spirits from jobs across Sydney, joking, laughing and greeting friends.
No one had to tell them when the march was starting. Every day they work collectively. The lead group started moving and everyone else did too. Pictures show the excitement, joy and liberation of solidarity mobilised into action.
"The best leadership"
A construction worker said, "People have died for the right to march on this day. In some places they still do. It's not just a family fun day."
In the lead-up the CFMEU went around the city, rallying their members. They called on other unions to join them. The ETU and Plumbers Union were the first to commit. The MUA also went out.

The ABCC puts the screws on employers when workers take action. Subcontractors were happy for their workforce to shake up the corporate end of town, but their workers weren't officially on strike, though their pay packets will be a little slimmer. No work, no pay.
But workers from big jobs figure that if you lose four hours' pay for a five minute strike under ABCC legislation, they may as well strike for four hours. They weren't going to dodge the word strike.

One said of the CFMEU, "This is the best union leadership we've had in 35 years. They're prepared to defy the rules." This sentiment was also reflected in comments and likes on Facebook.

Unions NSW, after failing to call a strike and rally on April 10, supported the event along with some affiliates, but to this writer's knowledge no other unions went on strike.

Full to over-flowing

But it wasn't just good humour. A month to the day earlier, young apprentice Christopher Cassaniti was killed when nine storeys of steel scaffolding collapsed on him. Another worker, Khaled Wehbeh, was badly injured.

On Christopher's 18th birthday workmates sang happy birthday to him in the lunch room, with cake and candles brought by his mother. Four days later, he was dead.

Workmates told how he was always helping his mum and others. "He'll always help you. He'll go out of his way."

His funeral was originally to be held in his local Catholic church. The CFMEU asked that it be moved to St Mary's Cathedral, the biggest church in central Sydney. The union reassured his mother, Patrizia, that the service marking his life would not be in a half empty church.
Even though workers squeezed into every seat and into the aisles, a crowd gathered outside, unable to get in.

There was anger as well as sadness. "Kill a worker go to jail. These builders should be held accountable for this tragedy. Everyone deserves to come home from work," was one comment.

Christopher's legacy

The march was dedicated to Christopher's memory.

At May Day, workers, along with his mother, chanted his name.

"We love you Christopher!" she said.

She told the crowd, "I found the courage to speak today," and dedicated herself to changing the rules.

Looking upward she said, "I'll love you forever Christopher. My angel."

On Facebook, Robert Cassaniti wrote, "Wonderful day! Sooo grateful to the CFMEU."

There is no greater love than solidarity.
Below: Patrizia Cassaniti, holding a teddy bear in memory of her son, smiles as the march enters Hyde Park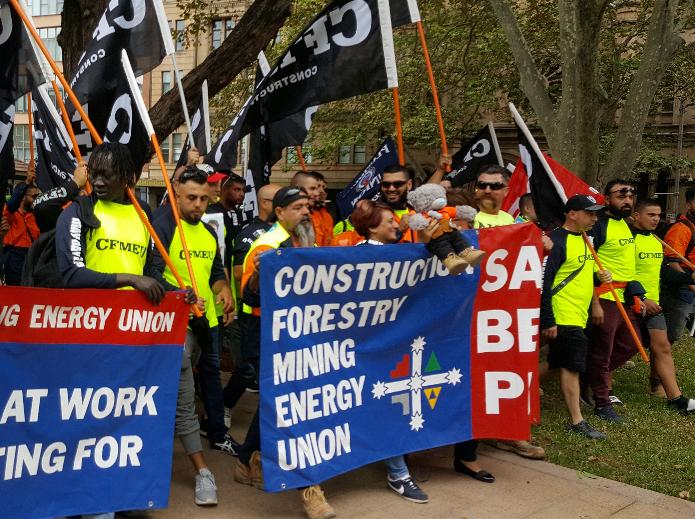 Print Version - new window Email article
-----
Go back