Memories of Bob Hawke from the shop floor
Written by: on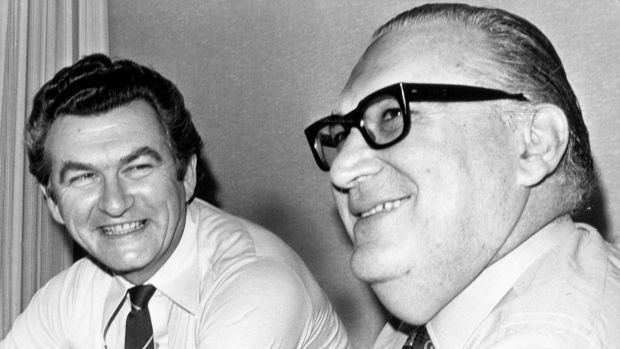 Ned K. 19 May 2019
Millions of Australians have fond memories of Bob Hawke (with best mate Sir peter Abeles, left) and millions of young people who were not even born believe that Bob Hawke was a great union leader and a great Prime Minister for the working people.
During Hawke's years as ACTU leader and his time as Prime Minister, I was working in several different factory jobs. I remember the day that Australia won the America's Cup yacht race. It was a working day and we had the radio on at work. Everyone laughed when we heard Hawke's voice over the radio saying that any boss who sacked a worker for having a day off to celebrate the win is a bum (or words to that effect).
A lot of workers I worked with liked the way Hawke talked. They could relate to his language and how he was pictured often having a beer with working people. He appeared to be "one of us" even though everyone knew he was living in a different world than the day to day grind of work on the production line.
However, there were some things Hawke did that I remember my workmates did not like at all. They did not like it when he "intervened" in industrial disputes when he was ACTU leader where we ended up going back to work and ending up with hardly any of the claims we were striking for in the first place. This was not good because the next time we needed to stick together and take industrial action to win improved conditions, there was a growing minority who said it was not worth it because the bosses will call Hawke in and we lose money by being on strike for next to nothing. Some workers called him the "fireman" because he extinguished their struggles!
Another thing that rubbed workers up the wrong way was when we had to give up a 3% wage rise and replace it with 3% employer paid superannuation. Some workers were opposed to this superannuation completely because they thought they already were paying for their retirement through their taxes over their working lives. So why didn't the government just tax the companies a levy to go towards a government guaranteed scheme for all workers retirement income? Other workers did not oppose the idea of employer paid superannuation but strongly opposed the trading away a wage increase for the 3% superannuation. This meant a wage freeze for a year and came on top of small wage increases from the Accord.
The last thing I remember from the shop floor about the Hawke Government period was that horrible wage system in about 1987-88 called the 4% Second Tier wage increase.
There were two wage increases separated by about a year of 2% each. However, to get the wage increase, we had to give up conditions in the award that the bosses wanted!
Then came "award restructuring" which exchanged wage increases of $12 to $15 per week depending if you were a trade worker or production worker. However it ended up being 'one worker doing the job of two' under the guise of "multiskilling".
Workers I worked with were scratching their heads about all this, trying to come to grips with how this former union leader and then Prime Minister who they thought was like them and a bit of a rough diamond as far as politicians went, could come with this stuff which suited the bosses more than workers!
Some of my workmates had worked in the building industry as laborers before working in a factory and they were also scratching their heads about how a Hawke Government could deregister the BLF which they told me was a strong union for workers.
Some workmates back then said that Hawke thought he could look after the interests of both the workers and the bosses at the same time. They told me that at first when Hawke came in to power, they actually started to think that maybe he did have a way of doing this. However, as their above experiences showed, this thinking did not stay for long.
I suspect they were quite glad when Hawke was put aside for Keating, although I was not working with them at that time. Perhaps they think now looking back that Hawke was better than Fraser, Howard, Abbott Turnbull and Morrison but will have no illusions about the limitations of future Labor leaders as Prime Minister as it's still Prime Minster of a bosses' system.
Print Version - new window Email article
-----
Go back