We stand with Warlpiri. We stand with Yuendumu.
Written by: CC CPA (M-L) on 19 November 2019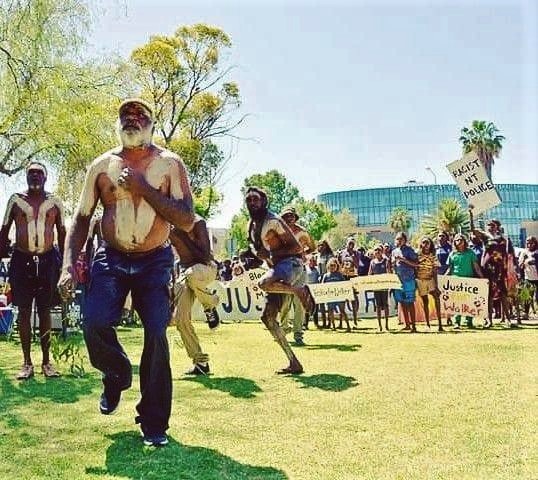 Above: Warlpiri men dance towards the police for justice Mparntwe (Alice Springs). Photo: Ali Satour
As protests against the police murder of young Warlpiri man, Kumanjayi Walker spread, Warlpiri Elders have reminded us all of three other mass violations of human rights inflicted on First Nations.
The first is the ongoing massacre of First Peoples, like Kumanjayi Walker, in custody. Whether by deliberate or casual violence, murder, invasion, neglect, cruelty, or oppression and suicide, the capitalist state apparatus of police, courts, gaols and the military exists to protect the neo-colonialist and imperialist system of foreign corporate domination of this continent and its islands.
As the Warlpiri know, this is not just about one bad copper.
The second human rights violation Warlpiri Elders raised is the Coniston Massacre of 1928. Imperialist "history" presents it as the last officially sanctioned massacre of First Peoples in Australia. Politicians apologise. In fact, it was a series of massacres over weeks, of Warlpiri, Anmatyerre, and Kaytetye Peoples. The official version says 17 First Peoples were killed. Warlpiri history says 170 children, women and men were hunted down and murdered.
As the Warlpiri know, this was not the end of the massacres.
The third violation is the 12-year Northern Territory Intervention. It began with a lie, of organised paedophile rings, of Elders trafficking young girls. No shred of evidence was found. It was enforced by the army. Some Peoples fled into the bush, thinking their children were going to be stolen again. It didn't happen immediately. But they were right. Across the country, not just the NT, theft of First People's children spread like a cancer, till it is now greater than at any time in our nation's history.
As
Vanguard
stated in March, "In 2007, when the NT Intervention was announced, Gudanji-Arrernte leader Patricia Turner immediately called it a Trojan horse disguising a land grab. Fracking is the incontrovertible proof.
"In the 500 pages of legislation that went through federal parliament in June 2007, the word 'child' was barely mentioned, though children were supposed to be the reason for the legislation.
"But there were ample references to access roads into communities. The legislation was ready well before, simply waiting for an excuse. It has continued almost unaltered though nearly twelve years and six prime ministers under both Coalition and Labor administrations," the article said.
As the Warlpiri know, it was even more than a land grab.
The imperialist ruling class is practising fascism on First Peoples.
They are watching to see how far they can go. They are practising to see how well they can divide and conquer, how well they can isolate Peoples, blame their victims and hide their misdeeds, how well they can use this reclaimed apartheid system, for after all South Africa modelled its system on Australia's.
They have denied water, safety, housing, healthcare, education. They try to govern every corner of First Peoples' lives, regardless of how well people manage their families' finances. People lose spirit. Suicide funeral follows suicide funeral. Harry Jakamarra Nelson says, "There is no fairness, honesty or respect."
They put a billionaire descendant of a mass murderer who thieved First People's lands in charge of a review of First Peoples' so-called welfare dependence, as if poverty were a crime chosen by the unworthy. And they privatise his cashless "Healthy Welfare Card" to be run by friends of politicians.
As the Warlpiri know, fascism is a cancer that spreads to others.

The first page of our Party Program includes these words,
"The Communist Party of Australia (Marxist-Leninist) recognises that Australia is built on the violent dispossession, oppression, and exploitation of First Peoples by British colonialism. For 150 years after 1788, a guerrilla war raged in every new area where settlement was attempted. Resistance, both then and now, takes many forms.
"For tens of thousands of years, First Peoples lived according to their Law. This Law and their custom, values, belief and practices have underpinned their survival and continue to do so in the face of attacks by multinational corporations.
"The tap root of invasion is based on four principles, asserted to this day. It says to First Peoples:
'You are not who you say you are.'
'You don't belong here.'
'This is not your land.'
'You must be like us.'

"For First Peoples, decolonisation reaffirms who they are and where they belong. It places them in their Country. It affirms their identity."
Warlpiri say to the invaders "We are sovereign Warlpiri People. We belong here in Country. This is our land. We will never be like you."
Many other First Peoples are joining them. They have asked for support.
We stand with Warlpiri. We stand with Yuendumu.
Print Version - new window Email article
-----
Go back