Indian women say "Down with patriarchy!"
Written by: CPA (M-L) on 11 January 2020
The ugliness of fascism continues to sweep across India. The ultra-right-wing religious nationalism of Narendra Modi's regime has served as a cover for discriminatory attacks on non-Hindu Indians, for placing Kashmir under a state of siege, and for an increase in male violence towards women.
Resistance is growing. Protests against the discriminatory Citizenship Amendment Bill (now an Act) and against rape occur. On January 8, an estimated 250 million workers, farmers and students participated in a one-day Bharat Bandh or general strike. These events are not covered in the Australian media, which, in line with US interests, paints a rosy picture of the Modi regime.
We reprint below a statement on the convening of the Fourth All-India Conference of the All India Revolutionary Women's Organisation towards the end of December 2019. We add the following explanatory notes for our readers:
• Article 370 of the Indian Constitution was revoked by the Modi Government on August 5 2019. It had protected a special status of limited sovereignty for Jammu and Kashmir. The area has been the site of long-standing disputes between India, Pakistan and China. The Indian military has crushed the rights of the people of the region.
• CAA Citizenship Amendment Act
• NPR National Population Register
• NRC National Register of Citizens
The statement below comes from the website of the Communist Party of India (Marxist-Leninist) Red Star (http://www.cpiml.in/cms/ )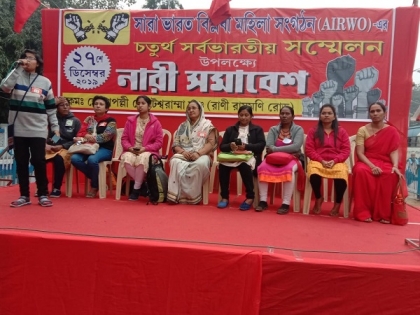 Down with Patriarchy! Indian Revolutionary Women Hold Conference
We are holding the 4th All-India Conference of the All India Revolutionary Women's Organisation in Kolkata at a time when, on the one hand, rapes and sexual attacks on women have reached an unprecedented high and, on the other hand, fascist forces have unleashed vicious attacks in the form of abrogation of Article 370, passage of CAB and threat of NPR-NRC, each of which targets the Muslim community, democratic activists as well as all oppressed sections, and makes women vulnerable to the worst kinds of atrocities including denial of basic rights.
Recently, the country was shocked by the rape and murder of Dr Priyanka Reddy, a young veterinarian from Hyderabad. Even before the shock died down, the horrific murder of a rape survivor from Unnao, Uttar Pradesh, by her rapists out on bail, sent fresh shockwaves throughout the country. And these two incidents were only the ones which made headlines, there have obviously been many more which have not even been reported, leave alone made it to the newspapers.
According to popular statistics, a woman is raped in India every 20 minutes. According to the most recent government data, more than 32,500 cases of rape were registered with the police in 2017, about 90 a day. Of these, courts disposed of only about 18,300 cases related to rape that year, leaving more than 127,800 cases pending at the end of 2017.
We have always maintained that rape as a weapon of subjugation is extensively used by the Indian State, be it in Kashmir, the Northeast, Chhattisgarh or elsewhere. We remember the women of Kunan Poshpora, we remember Thangjam Manorama, Soni Sori, Ledha Bai and countless others who were sexually assaulted and raped by men in uniform. We remember the rape of women in the State-sponsored genocide in Gujarat in 2002.
The State upholds, sponsors and perpetuates patriarchy. It does so by denying women employment, by promoting commodification of women, by glorifying the traditional roles of women, by upholding Brahmanism, by taking a tolerant view of abuse of women, by engaging in naked violence against women and in a million overt and covert ways.
In India, the female labour force participation has had a decadal fall from 36.7 per cent in 2005 to 26 per cent in 2018, with 95% (195 million) women employed in the unorganised sector or in unpaid work where discrimination and vulnerability to abuse is the highest. The intensification of neo-liberal policies has further worsened the condition of women by shrinking employment, depriving people of their right and access to jal-jangal-jameen, and unchecked pauperization of the masses. This, along with the feudal ideology still strong in large parts of the country, is wreaking havoc on the lives of women.
Today we have arrived at a situation when it is imperative for women across the country to unite against this overarching patriarchy that is threatening not only our hard earned rights but also our very existence. We are fast slipping back to a Dark Age, with violence being meted out to women both inside and outside the home and the State seeking to unleash a fascist onslaught that can have only the most devastating effect on the rights and lives of women. It is at such a juncture that we are holding the 4th All-India Conference of AIRWO with women from over 12 states participating. We appeal to all women, struggling within the home or without, to be a part of AIRWO and join the militant movement against patriarchy and all forms of patriarchal oppression.
With revolutionary greetings,
All India Revolutionary Women's Organisation
4th All India Conference of AIRWO
Print Version - new window Email article
-----
Go back