Palau technology upgrade to serve US military interests
Written by: (Contributed) on 5 November 2020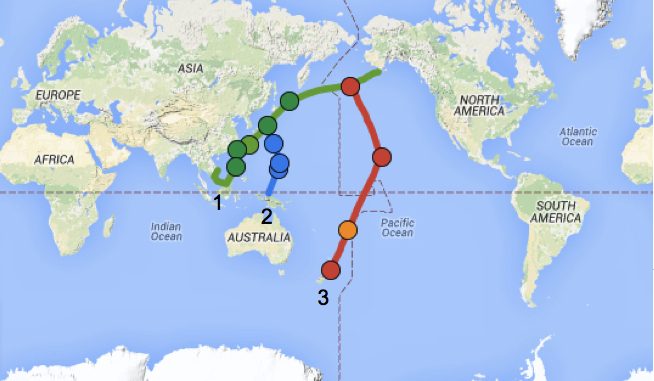 The decision by the United States, Japan and Australian governments to provide Palau with underwater internet cable provision has little to do with improved services for general subscribers.
It is primarily concerned with improved military communications and extending the reach of US regional hubs into spokes and outlying strategically-placed countries.
The development can be best viewed with the following considerations:
a further wave of US-led militarism;
a further consolidation of Island Chain Theory;
increased defence and security provision of one of Taiwan's major regional diplomatic
contacts for 'US interests'.
A number of questions, therefore, have arisen about the Australian involvement. Answers, as yet, have not been forthcoming from official channels.
In October, the US and their two regional hubs, Japan and Australia, announced plans to finance the laying of a major 170 kms underwater internet cable to Palau, linked into the US mainland and Singapore network. (1) The plan followed similar moves last year when the US launched a Kacific 1 satellite system to provide improved mobile telephone services. (2)
Palau, a sprawling land-mass of about 340 islands with about 20,000 residents, has historically had strong links with the US; following independence in 1978, the country established the Compact of Free Association with the US and subsequently became an important offshore banking hub with a large international airport. Being situated on the western chain of the Caroline Islands, Palau is strategically-placed in the Pacific, east of the Philippines and north of Papua New Guinea, just inside the arc which swings from Diego Garcia to Guam from US regional intelligence provision based at Pine Gap.
Palau has major significance with Island Chain Theory, a relic of the previous Cold War which has become vogue military thinking, once again, in more recent times. (See diagram)
It is, therefore, not particularly difficult to establish why the recent internet cable was accompanied with an official diplomatic statement from Australian Foreign Minister Marise Payne that the 'project and Australia's new embassy in Palau were part of the Morrison government's Pacific Step-up', a US-led regional position aimed at containing and encircling China's influences. (3) When Payne also stated 'we are very pleased to work alongside Japan and the US to support Palau's vision to strengthen its global internet connectivity', the moves had little to do with ordinary Palau residents having improved services.
While satellite communications provide relatively easy access to remote areas of the globe, problems arise with micro-second delays in transmission and reception creating difficulties with the levels of precision required by military planners to use military equipment for drones, surveillance geo-spatial facilities and missile defence systems. Cable provision, however, has the capacity to provide real-time transmission and reception requirements.
Palau would appear to have been placed in a front-line position with US-led regional military planning. Two months ago, US Defence Secretary Mark Esper visited Palau for high-level diplomatic talks with president, Tommy Remengesau Jnr. It was noted in official media releases following the talks, that 'Palau's request to the US remains simple: build joint use facilities, then come and use them regularly'. (4)
While committing Palau to troop rotations from the US, presumably in conjunction with similar rotations from northern Australia, the small Pacific country would appear to have been elevated in status for US-led regional military planning for future operations.
In fact, a recent statement from the Lowy Institute director of the Pacific Islands Program, Jonathan Pryke, gave reference to 'the security-focused cable project' in the context that 'Palau's approach stood out from other Pacific nations, which are trying to remain neutral in the increasingly contested region'. (5)
It is, therefore, interesting to note Palau is one of fifteen countries which continues to recognise Taiwan, an entity itself pushed to the forefront of regional diplomatic tensions by the Trump administration. While the US has always provided military support for Taiwan, in the last four years a dramatic increase in military spending and arms sales has taken place. (6) During the four years of the Trump administration, US aid was escalated to $US22 billion in comparison to the $US14 billion of the previous whole eight years of the Obama period. (7) The moves reveal a great deal about US Cold War diplomatic positions.
The moves have also been accompanied with the recent $US 250 million upgrade to the so-called American Institute in Taiwan (AIT), which has provided working facilities for nearly five hundred staff who have diplomatic status and are officially on temporary leave from the State Department in Washington. (8) While, at one level, they exist, at another more sensitive and operational level, they do not in present-day US Cold War diplomacy.
The developments can best be viewed, therefore, as the implementation of a military plan early in the last decade where the US sought to transform their Defence Intelligence Agency (DIA) 'into a spy service focused on emerging threats' and military intelligence-type assessments. (9) They are primarily concerned with the changing regional balance of forces; a central preoccupation for the present-day Pentagon and their AIT staff in Taipei. (10)
Palau has an important position in the whole plan, being a noted part of the 'New Southbound Policy' of Taiwan's President Tsai Ing-wen, where Taipei has sought to extend its diplomatic influence into regional dialogues organised by US think-tanks; their tentacles strike deep into the region for the specific defence and security of 'US interests'. (11)
It is significant to note the role taken by the present Australian government toward these developments. Why, for example, does Australia need an embassy and diplomatic staff in Palau? Any trade relations can, at best, be regarded as of minimal significance. Why should Australian tax-payers also subside Palau's internet services?

Australia, it can be seen, has assumed a compliant role in US-led military planning and directives for very likely future regional 'real-war' scenarios.

We need an independent foreign policy!
1. Sea cable to keep Beijing at bay, Australian, 29 October 2020.
2. Palau – CIA World Fact Book, 2020.
3. Australian, op.cit., 29 October 2020.
4. Ibid.
5. Ibid.
6. See: Wikipedia, US arms sales Taiwan.
7. US to sell Taipei drones in $10 billion weapons deal, Australian, 18 September 2020.
8. Beijing keeps a wary eye on new US Taipei outpost, Australian, 18 June 2018.
9. Pentagon plays the spy game, The Guardian Weekly (U.K.), 7 December 2012.
10. See: Study – U.S. no longer dominant power in the Pacific, Paul D. Shinkman, Information Clearing House, 22 August 2019.
11. Australian, op.cit., 18 June 2018.
Print Version - new window Email article
-----
Go back