Say Their Names: Thirty more years of deaths in custody
Written by: Lindy Nolan on 13 April 2021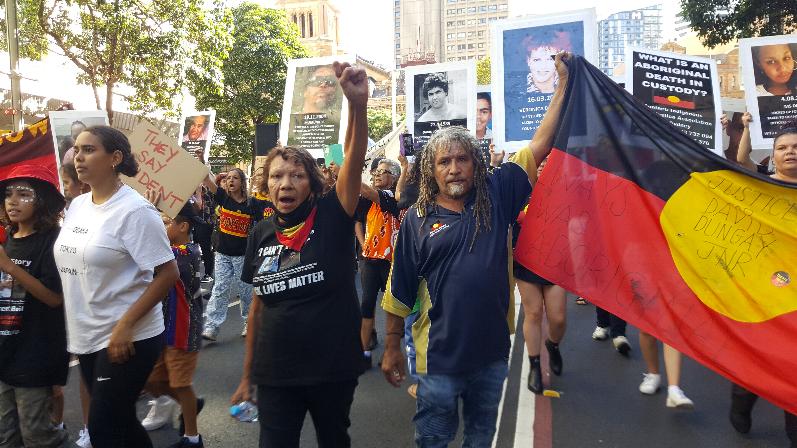 For many of us in NSW, Aunty Leetona Dungay (pictured with rasied fist) has become the face of resistance to state murders of First Peoples in custody.
Militant struggle and continent-wide anger brought about the Royal Commission into Aboriginal Deaths in Custody, which delivered its report 30 years ago on 15 April. It investigated 99 deaths, men, women – and even children.
The numbers have grown by 470 since then. But these are not just numbers. They are human beings whose lives are remembered, sometimes through generations.
Five more families grieve this month.
Aunty Leetona's son David Dungay suffocated in Long Bay Jail with a screw's knee on his throat, five years ago. She chooses to relive his death again and again, with dignity and determination for justice. She speaks out, exposing the contempt, lack of dignity and complicity of every level of the illegal colonialist state apparatus. But above all she tells of love for a son who died before his time.
She strengthens and inspires her family, including David's nephew Paul Silva and cousin, Elizabeth Jarrett. Lizzie Jarrett was an activist years before David's death. She fronts many Deaths in Custody protests. She goes to inquest after inquest at great personal cost. Paul Silva has grown from a childhood of flooding emotions about his uncle to be a strong warrior.
As the Sydney Town Hall bells rang out on Saturday April 10, Leetona Dungay read her statement of love, grief and determination to the 2000 people gathered. "The life of a Blak man means something," she said.
Greens MLA David Shoebridge, who uses the invaders' parliament as a platform to speak out and help the people organise, said of the Royal Commission recommendations, "There isn't even a dedicated program to remove the hanging points!"
This refrain was repeated by the family of Tane Chatfield. Tane hanged himself in Grafton's "heritage" jail.
Breathing sovereignty and self-determination
Later the protest march wended its way through the city's central streets, often stopping, not heeding police requests to get moving.
Organisers like Paul Silva called us to "Say their names". A small number to stand for hundreds of others.
David Dungay, Ms Dhu, TJ Hickey, Eddy Murray, Rebecca Maher, Tane Chatfield, and 16 year old John Pat bashed, and left to die alone.
As we came close to Gadigal meeting ground, Jarrbarrgalli (temporarily dubbed 'Sydney Domain') we sat blocking traffic again. Paul Silva called out the police, "Too many coppers, not enough justice", telling truth to power. Tensions rose.
As police shifted, Lizzie Jarrett called for a minute's silence to remember those murdered by the state. That solemn quiet stilled any police momentum to enforce their violent and deceptive rule.
These were streets sovereign to First Peoples. For over four hours all up, they breathed self-determination in action. The reality of day-to-day life across these Lands is very different.
Rape and violence are about power
At Djarrbarrgalli, Reverend Bill Cruz, whose life has been dedicated to protecting and feeding and defending the poor, said, "For every one person here, there's probably a hundred or a thousand who would be honking their horns if they were asked. Or they'd be with you."
He told how he worked in Kings Cross in 1970, "where a lot of kids used to run away from all those institutions, the Black kids, where they were taken to be made white."
One girl, twelve or thirteen he said, used to rub her skin against bricks, hoping it would turn white, so the police would stop raping her.
Rape and violence have always been about power.
Like many other young Blak women, Lizzie Jarrett was raped as a child, her abuser let walk free. Police regularly threaten her with removal of her family.
Murder by neglect
Nathan Reynolds was born on April Fools' Day, for his family "a joker, and a talented tradie, and a typical boys' boy and a big softie at heart."
Lizzie Jarrett read the statement from his family. "Nathan was our brother, he was a son, a father, a nephew and a grandson. He was deeply loved. Losing him has left a hole in our lives, and we miss him every single day."
"It is soul crushing to know that at just 36 years old, Nathan died on a cold prison floor.
"We know now he died of a preventable asthma attack, because NSW Corrective Services and Justice Health failed to give him adequate health care."
Lizzie Jarrett read how well he had managed his asthma before he was imprisoned, "until in just four months his condition deteriorated enough to kill him". The family statement detailed, yet again, the outrage of how this deadly racism unfolded step by step.
"He was seen only as a prisoner and not as a person."
One officer told the inquest "that the only thing different he'd do that day, was to take a sickie." Imagine hearing that about your brother or sister, and hearing it replayed again and again and again in your mind.
Like so many before him, it was his fellow inmates, not the prison officers, who gave him emergency care, and called for help.
It is murder by state neglect.
Systematic cover ups
Colin Chatfield, father of Tane Chatfield, told how they received no phone call from corrective services or police, but from his daughter-in-law. At Tamworth Hospital "the moment I spotted my son was the exact moment I knew he was dead, even though they had him on a breathing machine."
He gave evidence that everyone in the state apparatus is connected, from the police to the doctors to the forensics and the coroners, "covering it up".
"There's only one thing I can do is come out and fight."
For all those for whom justice has been denied, the determination to retell of stories keeps wounds raw.
Pressure tightens across the continent with more mandatory sentences, children jailed and new laws refusing bail, which the Royal Commission specifically condemned. Yet the pain and strength of speaking out passes down generations.
Leila and Arthur Murray fought for justice for their son Eddie until their deaths. Their granddaughter spoke in Djarrbarrgalli, with her small children beside her.
Colin Chatfield says, "It's too late for us, but other family members deserve to know their families are safe. Inmates should be believed."
Those who marched and spoke out will fight on until the ongoing colonialist system of invasion is itself dead and buried.
Print Version - new window Email article
-----
Go back