Fires burn against First Peoples' deaths in custody
Written by: Louisa L on 15 April 2021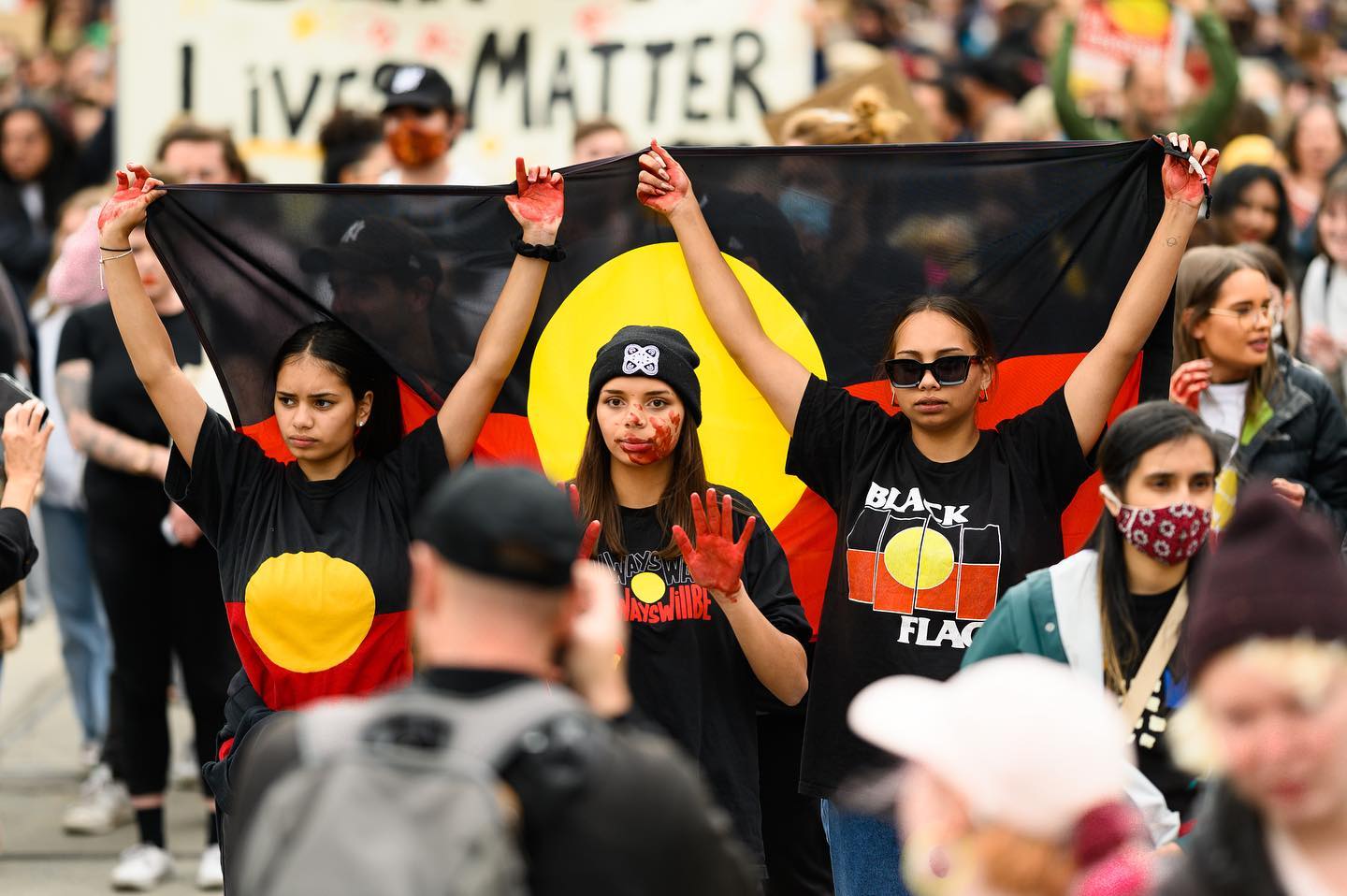 Across these sovereign lands, protests mark the 470 human lives lost in the 30 years since the Royal Commission into Aboriginal Deaths in Custody handed down its report and much-ignored recommendations. They call for justice and their demands go further than the Commission.
Protests began on Saturday 10 April.
The day's first rally brought 1000 people to the heart of Mianjin (Brisbane).
Among speakers was Troy Brady, nephew of Aunty Sherry Tilbaroo, murdered by racism's neglect. She was not checked for six hours. If the Royal Commission's recommendations had been followed, she like hundreds more would be alive today.
A fire lit outside police headquarters was both a cleansing smoking ceremony and a symbolic warning. A fire has been lit and threatens to explode across the country.
We are here for you
In Naarm/Melbourne 1500-2000 marched through the city streets. Many protestors had their hands dripping in red paint.
Wurundjeri woman Sue-Anne Hunter told the rally that despite the oppression of Aboriginal and First Nations people they were resilient and would continue to fight for justice as long as it takes.
'For us, this never goes away. For us, once this march finishes, we still have these injustices as a burden on our shoulders," she said.
"I want to particularly say to the families, to those who have lost loved ones in custody: we are here for you, we march with you and we seek justice beside you," Sue Hunter promised.
Speakers from Warriors of Aboriginal Resistance as well as Greens Senator and Djabwurrung-Gunnai-Gunditjmara woman Lidia Thorpe, also spoke.
Breeding anger in Lismore
At the protest in Bundjalung Land at Lismore, NSW, Widjabul Wybal woman Cindy Roberts was filled with deep anger.
She spoke of her older brother, one of many who have died in Grafton Jail. She was told he committed suicide.
"The coroner said it was suspicious and we knew he was murdered. The people who were in prison at the time who knew what had happened are now dead too.
"He was found hung in a cell, but how could he hang himself 10 feet up? He was still alive when they brought him to hospital, but he was in a morgue bag when he left.
"There was no justice back then and there is still no justice now."
Mparntwe
In Mparntwe (Alice Springs) deaths in custody are overlaid with the Northern Territory Intervention, which fourteen years has brought a brutal tightening of invaders' grip.
The multinational across the NT try to divide and conquer, and rip apart First Peoples' lands, whether it be Glencore at Borroloola or the frackers like Origin who have their eyes on 50 percent of the lands the Territory Labor Government aims to hand them.
Labor's new "youth crime crackdown" breeds despair, suicide, child imprisonments and murders in custody. Yet it also breeds anger and determination to organise and fight.
Anyupa Butcher of NATSILS said of the five deaths in the last month, "I find it hard to come up with words to explain how horrifying that is."
She demanded youth detention centres be closed, and asked why a multi-million dollar complex is being built.
Further rallies are planned for Thursday, 15 April in Perth and in Adelaide, where a representative of David Dungay Junior's family will speak. Organisers Natasha Wanganeen and Janette Milera will also introduce other speakers including Arabunna elder Uncle Kevin Buzzacott, Ngarrindjeri elder Basil "Mulla" Sumner, and Wirangu, Mirning and Kokatha man Keenan Smith who will talk about the death in custody of 29-year-old Wiradjuri, Kookatha and Wirangu man Wayne "Fella" Morrison in September 2016. Five years later, the inquest into his death will be handed down next week. Civil rights lawyer Claire O'Connor, who assisted with the Royal Commission into Aboriginal Deaths in Custody will also speak.
Stories and calls to action
Fifteen families have issued a 10-point call to action through NATSILS Facebook page (also shared on our Facebook page).
They also called for the Prime Minister to meet with them. A NATSILS' media release further details those ten points and the inhuman behaviour of the imperialist state behind them.

Three webinars remember the 470 First Peoples murdered in custody by the colonialist state, 30 years after the Royal Commission brought down its recommendations. They reach out to all those who were not able to march in the major cities.
The first webinar, is organised by National Aboriginal and Torres Strait Islanders Legal Services (NAITSILS), with Senators Patrick Dodson and Lidia Thorpe, Jungaji Brady, the nephew of Aunty Sherry, and Nioka and Colin Chatfield, the parents of Tane Chatfield.

FISTT, WAR and Gamilaraay Next Generation have issued invitations to a webinar on Thursday 15 April at 3pm (Sydney, Brisbane, Melbourne time) presented by Dr Chelsea Watego who will have a discussion with families and Elders.
Gamilaraay Next Generation is leading the fight to stop SANTOS from fracking the Pilliga. The alliance shows that deaths in custody arise from ongoing invasion which – as it always has – seeks to steal and exploit First Peoples' lands.
Panellists include Aunty Jenny Munro, Jungaji Brady, Aunty Shirley Lomas, Kyah Patten, Susan Dixon, Makayla Reynolds, Jason Fong and Martin Hodgson.
The third webinar is a conversation with families, on Monday 19 April at 6pm, also organised by NATSILS, on Monday 19 April at 6pm (Sydney, Brisbane, Melbourne time)

For those not able to see the webinars at the time, they will be available later on NATSILS, FISTT and WAR sites.
Two Vanguard articles, Say Their Names and Smash this system to the ground it's built on, cover the protest in Sydney.
Print Version - new window Email article
-----
Go back