Adelaide: May Day 2021
Written by: Nick G. on 3 May 2021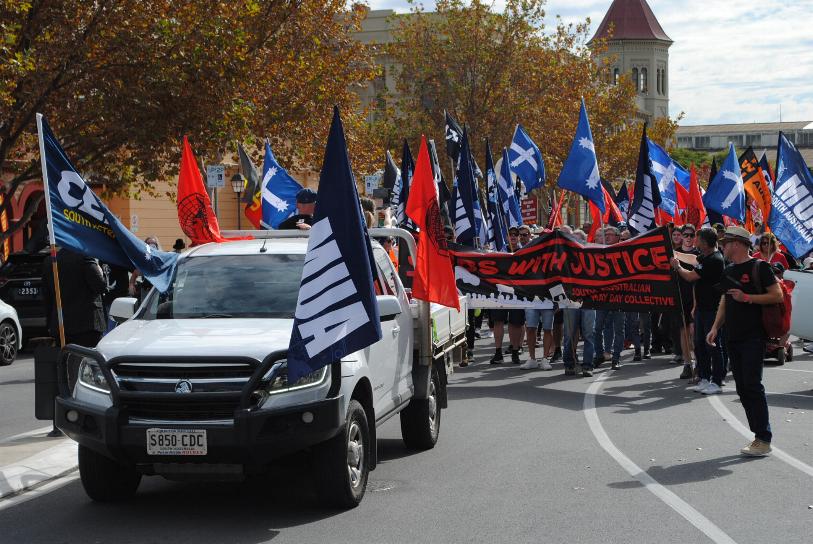 Organisers and participants at this year's 2021 May Day in South Australia were both appreciative of the large turn-out, and saddened by the news of the death, the previous day, of CFMEU stalwart and CPA member, Bennie Carslake.
Carslake had been seriously unwell for some time, and it was hoped that he would survive to be awarded the May Day Collective's Spanner Award for commitment to the ideals of May Day.
It was not to be.
For the first time in the event's history, the May Day Committee had decided not to hold the event in the heart of the city. Instead, it was decided to march through Port Adelaide to a local landmark, the Workers' Memorial statue, on whose plinth are recorded the names of people who have served the union movement and the working class. The base had been put in place in 1918 to honour 41 Portonians who campaigned in the preceding 50 years of the labour movement for the 8hr day, a living wage, safe work and a decent quality of life. In 1921 the Lady of Justice statue was added to the plinth. There are currently 138 names on it.
Several thousand union members and supporters took part in the march, and once past the Workers' Memorial ended outside the Waterside Workers Meeting Hall for a street party and fair.
Our Party had a stall and distributed Party literature and sold Party t-shirts. Other progressive organisations like Spirit of Eureka and the Independent and Peaceful Australia Network (IPAN) also had stalls.
Speakers at the street fair included Thomas Mayor, National Indigenous Officer of the Maritime Union of Australia, and speakers from the United Fire-fighters Union of SA, the Ambulance Employees Association (both currently in dispute with the state government), and the SA Salaried Medical Officers Association. Eileen Darley from the Anti-Poverty Network SA also spoke.
Print Version - new window Email article
-----
Go back