Fires still burn against murderous Intervention policies
Written by: Lindy Nolan on 12 July 2021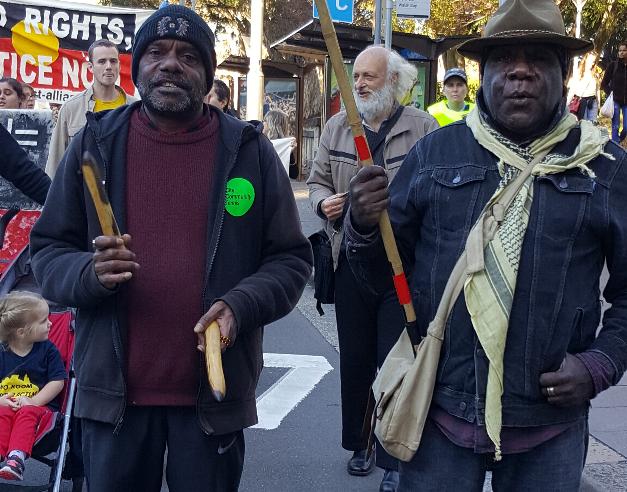 Notes from a landmark conference marking NT Intervention's 14 years
Aunty Elaine Kngwarraye Peckham recalls walking into Centrelink that first day, "All our people standing in line, like cattle to water."
"Even today," she says, "it brings tears to my eyes."
Aunty Barbara Shaw's prodigious CV includes current Deputy Chair of the Central Lands Council. Yet she is not judged 'worthy' of managing her own affairs. Her income was immediately quarantined, and remains so, simply because she is an Aboriginal resident of one of Mparntwe's (Alice Springs) town camps.
Aunty Barbara has been on the front lines against the Intervention since the beginning, says Celeste Liddle speaking at a two day online conference at which Barbara Shaw and Aunty Elaine were also speakers. Both were founding members of Intervention Rollback Action Group (Mparntwe) which jointly organised the conference with Stop the Intervention Collective Sydney and Victoria's concernedAustralians.
Aunty Barbara condemns the ALP's so-called Stronger Futures, which continued the five-year Intervention for a further ten years.
"We get scrutinised, stereotyped and demonised, especially our men.
"As a youth worker I find more people on the streets, more homeless.
"We still challenge the governments that come looking for our votes," she says.
In bed with oil and gas companies
Noongar Yamatji woman Dorinda Cox is a preselected WA Federal candidate for the one parliamentary party that has opposed the Intervention from the beginning, the Greens.
Dorinda Cox stated that in the Intervention's first month, permits to uranium miners went from 19 to 36.
She says, "Both major parties are in bed with all the oil and gas companies." Others reiterated this.
She condemns "cookie cutter policies" like welfare quarantining and Basics Cards trialled through the Intervention. Steve Kumerungi Hodder Watt speaks of these "guinea pig" policies then used against other "marginalised, oppressed and poor people".
How many hundreds of millions have been spent on police complexes in even the smallest communities? How many children are dragged to Darwin allegedly for "community safety"?
Actor David Gulpilil says in the documentary 'Another Country', directed by Molly Reynolds, "No one from any government has ever known our language. ... How can they know us?"
Gulpilil relates that $25 million was spent on a police centre as part of the Intervention in his Ramingining community in Arnhem Land, while houses crumbled and people went hungry.
40 percent of Aboriginal families in the Territory report running out of food.
Associate Professor Thalia Anthony concentrates on the impact on children. "Fourteen years on… the issues are just as real as in 2007.
"We are locking up children and torturing them."
This month the Labor Government announced Don Dale's extension, instead of closing it as promised, she says. This "increased the ability for guards to commit violence".
"Only one independent voted against bail laws" that will see more children imprisoned and for longer periods.
"It undermines the rule of law for Aboriginal Peoples," Ms Anthony states.
She condemns "top down and wilfully neglectful" policies.
Rule of police terror
NSW Greens MLC, David Shoebridge lists the worsening of every so-called Closing the Gap priority area in the NT.
He illustrates two: the dramatic drop in school attendance and skyrocketing incarceration rates. Unsurprisingly, parents refuse to send kids to schools when toilet blocks have no water.
In speaking of a "rule of police terror", he notes that if the NT were a country it would have the second highest incarceration rate in the world, and would be the worst in the world for the incarceration of children, 100 percent of them Aboriginal.
Dr Paddy Gibson from Jumbunna Institute at UTS says, "The 500 pages of the Intervention have now been broken up into a range of pieces of legislation.
"Police do not need a warrant to enter your home if you are on Aboriginal land." He says that the prohibition of alcohol is regularly used as a pretext.
"Ten bull wagons will arrive in community," he says and are used to "persecute outspoken Aboriginal Peoples."
"You can get jail time for a bottle of beer.".
Nothing about us without us!
Mr Hodder Watt says, "In a way, it fuels you with that fire in the belly to keep going."
"The 'SWAT team' chased a car … because they saw a toy gun on the dashboard."
He speaks of police "audacity and licence they give themselves to do whatever they want to do".
Aunty June Mills says royalty money due to First Peoples is being stockpiled, but also "being spent to abuse us. We are an industry. It's true!"
She rails against over-policing. Even the tiniest communities have seen millions spent on police stations and accommodation while Aboriginal housing crumbles.
She says, "Women are powerful. They need to be protected?
WHO FROM? Government systems. The police!"
She makes the way forward clear.
"Nothing about us without us."
Print Version - new window Email article
-----
Go back