US set to review and expand its bases here
Written by: Nick G. on 17 February 2022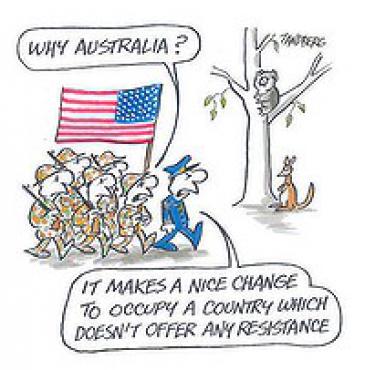 Following on the heels of the recent Quad meeting in Melbourne, a senior US military overlord is set to review US bases in Australia.
Led by U.S. Indo-Pacific Command's Director for Logistics and Engineering, Brigadier General Jered Helwig, a United States delegation will visit bases and facilities in Australia to progress the Australian-U.S. Ministerial Consultations (AUSMIN) 2021 commitments. Indo-Pacific Command's senior logistician will meet with key Australian Defence counterparts to discuss the establishment of cooperative logistics, sustainment, and maintenance enterprises.
Helwig's agenda is clearly to expand the number, nature and scope of US bases on Australian soil.
Australian Brigadier Jason Walk, Acting Commander Joint Logistics Command, is sponsoring the delegation. He said, "Aligning Australian and US understanding of the Northern Australian environment and the Defence logistics enterprise capabilities is central to achieving an effective AUSMIN outcome. The visit will focus on logistics opportunities and challenges in our Northern Region, our networks and infrastructure, and interoperability enhancement."
With the enthusiastic support of Defence Minister Dutton, a cheerleader for the US military presence in Australia and the region, and an undoubted agent of US interference in Australia, Helwig's imperial tour of observation will no doubt feed into the 2022 AUSMIN meeting with new measures to strengthen the US military presence here.
This is completely unacceptable.
Meanwhile, Commander of US Army Pacific General Charles Flynn has flown to Canberra to lay out his plans for greater influence ("interoperability") over his Australian counterparts.
Meeting with Australia's Army Chief, Lieutenant General Rick Burr, he strongly supported the Australian purchase, for $3.5 billion, of more than 120 tanks and other armoured vehicles from the US.
Australian defence experts have questioned the need for the tanks, noting that the current generation of Abrams tanks bought in 2007, had never been used in conflict, and that no Australian tanks had been used in fighting since the Vietnam War half a century ago.
Purchase ambulances, not tanks!
On social media, many Australians have asked why we need tanks at a time when the Government cannot supply rapid antigen tests, and we don't have enough ambulances and paramedics to prevent crisis-level ramping outside hospitals.
Flynn defended the purchase of the tanks (whenever has a seller criticised the sale?), saying "particularly in dense urban areas, you're gonna want armour forces, you're gonna need tanks". So, whose "dense urban areas" are we talking about?
US imperialism is desperately trying to keep its options open for control of the Indo-Pacific region, anticipating not only nation-to-nation fighting, but suppression of civilian uprisings in dense urban areas.
US imperialism cannot define our "enemies" for us, it cannot lead us into yet more unwinnable wars of aggression, as a result of which those of our armed services personnel not killed or wounded on the battlefield become scarred for life mentally and psychologically, with suicide and self-harm as an enduring legacy.
This is not where our interests lie.
We must widen the fight for anti-imperialist independence and socialism, kick out all US bases, and use diplomacy and negotiation to build positive relations based on mutual respect and understanding with our neighbours and the international community.
Print Version - new window Email article
-----
Go back