My name is Mahsa Amini!
Written by: Nick G. on 25 September 2022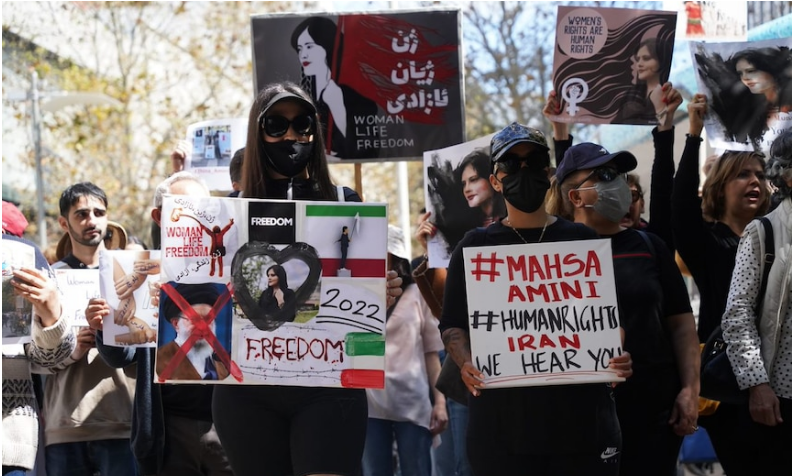 (Above: Australian Iranians rally in Perth. Source: ABC)
Thousands of Australian Iranians have taken to the streets in the week since the death of Iranian Kurdish woman Mahsa Amini, also known as Zhina.
The 22-year-old had spent three days in a coma after her arrest by the religious morality police, the Irshad, and died in custody after being beaten by a baton.
Visiting Teheran from one of Iran's Kurdish regions, Amini had been arrested for wearing "unsuitable attire" after judging that her hijab was too loose.
All major Iranian cities have erupted in protests and at least 41 people are known to have been shot and killed by police in protest crackdowns. Iranians of all ethnicities and religious beliefs have united to fight the repressive regime.
In Australia, protests began last week when hundreds of Australian Iranians and their supporters rallied outside Melbourne's largest library. As is the case in Iran, many men have come out in support of the freedom of women. A second Melbourne rally occurred this weekend at which a woman cut off her hair to chants from the crowd of "Freedom"!
Sydney has also seen rallies, Brisbane had one yesterday in King George Square, Canberra has had a rally, and Perth and Adelaide had rallies today attended by hundreds.
Perth rally organiser Mehdi Ghatei said he had never seen such a large gathering of Iranians in Perth.
He said he organised the rally to help give a voice to the people in Iran, who are cut off from the world by their government.
Print Version - new window Email article
-----
Go back