Beetaloo becomes battleground against US capital
Written by: Nick G. on 28 September 2022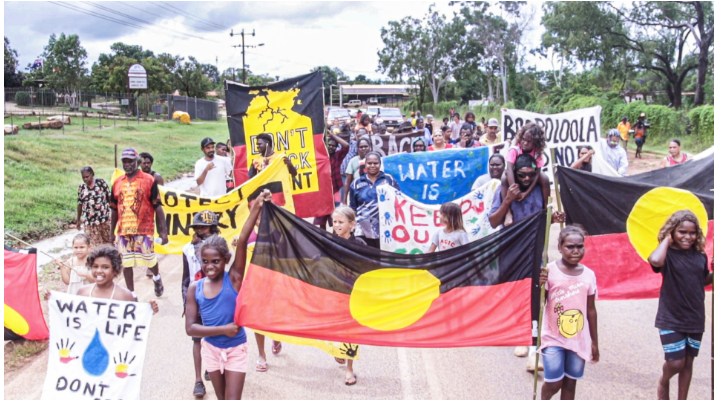 (The First Peoples are fierce defenders of Country Source: First Nations Justice Team)
Last week's decision by Santos Energy to divest itself of its Beetaloo Basin development in the Northern Territory is a huge win for pastoralists, environmentalists and particularly for the traditional owners.
It follows a decision by the federal court at about the same time, suspending its operations in the seas to the north of the Tiwi Islands following its failure to take into account the objections of the Munapi clan traditional owners.
Both decisions are testimony to the fierce determination of First Peoples to protect Country from those who would wage a war of destruction on it in the pursuit of their holy god of corporate profit.
Tamboran takes over from Santos
However, the Beetaloo Basin battle is not yet over, but has entered a new stage, with Santos's fracking license having been sold to Tamboran Resources, a company headquartered in Sydney, but controlled by US capital.
Tamboran has operated fracking projects extensively in the US.
Its Chairman of the Board of Directors is an American, Dick Stoneburner, who is currently a director of a number of oil and gas exploration and production companies, including having been President of BHP's US fracking operations.
CEO Joel Riddle has worked extensively for US fossil fuel corporations and was Principal at Murphy Oil Corp., Principal at Exxon Mobil Corp., Principal at Unocal Corp. and Principal at Cobalt International Energy LP.
Riddle said that most of the $195 million raised in "a couple of days" for the purchase of the Santos licenses had come from the US. He said that included Parsley Energy billionaire Bryan Sheffield and the "largest rig company out of the US", Helmerich and Payne, which would be providing "the first of five modern US rigs into the Beetaloo starting next year".
US shareholders control Tamboran
This reflects the profile of its top 20 shareholders as listed in the company's 2021 Annual Report.
The three major shareholders are all American.
The largest shareholder is Longview Petroleum LLC (Limited Liability Company) which owns 21.86% of Tamboran. Longview is registered in Delaware, a US state that is notorious for providing secrecy about the corporations registered there. However, it appears that Longview is a shell company for Sweetpea Petroleum Limited, which was owned by a US investment firm controlled by US citizens.
In December 2020 Tamboran bought out Sweetpea petroleum which became its wholly-owned subsidiary. In March 2022, the former Minister for Resources and Water, Keith Pitt, granted Sweetpea $7.5 million oftaxpayers' money to support the drilling of one of its Beetaloo Wells.
The second largest shareholder, with 18.69%, is BP-PE3 LLC, another US company with its corporate details hidden through registration in Delaware.
The third-largest is Lion Point Capital, based out of New York. Lion Point Capital is a hedge fund with 5 clients and discretionary assets under management (AUM) of US$905,084,463, and total assets of US$1.5 billion. It is, not surprisingly, registered as a business in the notorious tax haven, the Cayman Islands.
Together, these three companies own 50.47% of the shares in Tamboran.
Of the remaining 17 major investors, eleven are nominee or holding companies representing institutional investors whose identity is difficult to ascertain. Much of their capital, however, would also be US-based.
Social license and corporate citizenship
Santos cited commercial difficulties as its reason for selling its fracking licenses to Tamboran. It would also have been worried at its fast-disappearing social license, that is, its acceptance by the Australian people of its right to pursue its objectives. Its name was fast becoming mud, with numerous protests targeted at its offices in major cities.
Although headquartered in Sydney, Tamboran is US-owned and controlled, and less susceptible to the problems of social licensing.
This was shown when it refused to attend hearings of a Senate committee investigating subsidies paid to gas explorers by the Morrison government. On six occasions, Tamboran refused to appear before the committee, initially after having been invited to attend, and then after being summonsed to attend.
The committee was incensed that Tamboran's subsidiary, Sweetpea, would walk away with a gift of $7.5 million, yet the parent company would be prepared to face fines rather than be held accountable for its use of taxpayer grants.
The committee described it as an apparent "contempt of the senate".
US out! Always was, always will be aboriginal land
The Beetaloo Basin must be protected. The land – its topography and its biodiversity – and the water – surface water and underground streams – form a unity that are central to traditional owners' concerns for Country.
Samuel Sandy is a Jingili man from Elliot and believes any impact to the water would cause damage to sacred songlines.
"Water is like a bloodline," he said.
"It's all connected, it's connected to the heart. Once that water gets poisoned, where are people going to live?
"We only have one earth and all walks of life need suitable drinking water. I'm really worried about this company now overruling everything, the Traditional Owners, the decisions they make."
A new stage in the struggle has been reached, and the level of struggle must be lifted.
Tamboran must be driven from our shores.
US capital must not wreck Country!
Fight for the rights of traditional owners and the broader community!
Print Version - new window Email article
-----
Go back