Weapons manufacturer Lockheed Martin targets our kids.
Written by: Nick G. on 23 October 2022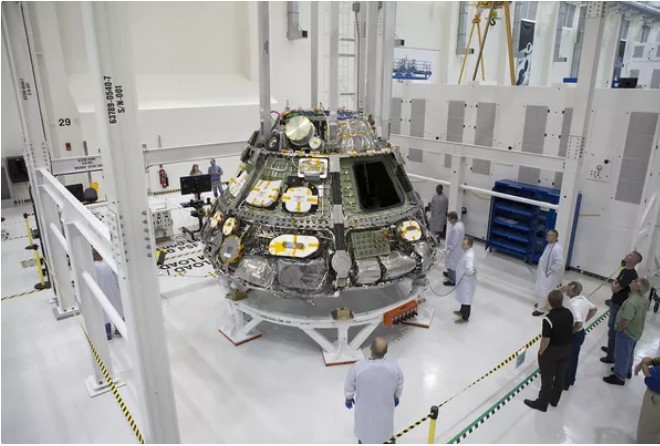 (Above: Lockheed Martin and Space Photo from Flickr CC-BY-NC)
US multinational arms manufacturer Lockheed Martin is the latest merchant of death to target young Australian students with an interest in STEM (science, technology, engineering and maths) subjects.
Others have included US Raytheon and the British BAE Systems (see British arms manufacturer announces new initiative to engage with school kids).
Lockheed Martin is one of the largest defence contractors to the US military. In some years as much as 80% of its revenue comes from sales to the US Defence Department.
It manufactures the F-35 jet fighter, the C-130 Hercules military transport plane and a range of missiles including the Javelin, Longbow, and Hellfire missiles, and the submarine-launched Trident missiles.
One of the four major divisions of Lockheed Martin is its Space Division.
It is a component part of former US President Donald Trump's sinister vision for the militarisation of space. In August 2019, Trump announced the creation of Space Command, and in December, of Space Force, the first new military service in 70 years and part of the US Air Force.
The big weapons manufacturers and military contractors like Raytheon, BAE Systems, Northrop Grumman, and Lockheed Martin are very much aware of the opportunities for profits embedded in global uncertainty and inter-imperialist rivalry.
They are increasingly involving themselves in Australian schools to seek out and cultivate those that they consider to be the "best and brightest" to serve in their workforce.
Resource-strapped teachers often fall for their curriculum materials and special projects aimed at both primary and secondary students.
Last August, Lockheed Martin announced a partnership with private provider STEM Punks to run "a space-focused educational program".
Based initially at Armidale Secondary College in New South Wales, with "many others planned ahead", the "flagship STEM learning initiative will deliver school curricula designed to educate, upskill and inspire Australia's future space workforce".
It has already run a two-day intensive education experience which involved 150 students across years 7 to 10 learning new STEM skills in radio frequency communications and coding.
"Career pathways" into Lockheed Martin were a feature of the sessions. Plans are underway to "engage a diverse array of students in 80 primary and secondary schools across Australia. By working closely with Lockheed Martin Australia," a company spokesperson said, "we can provide these students unparalleled opportunities to connect with industry and learn from some of our nation's leading experts in space."
The company says that its partnership with STEM Punks is to "help fuel the workforce in supporting the development of Lockheed Martin Australia's proposed JP9102 solution – a next-generation, sovereign military satellite communication (MILSATCOM) capability to the Australian Defence Force."
On October 17, Lockheed Martin announced it will invest A$74 million to establish a National Integrated Air and Missile Defence (IAMD) Ecosystem in Australia.
The company went on to say that it "has a responsibility to uplift industry and help build the workforce of the future."
That will be a workforce expected to compliantly assist in building the technologies to murder and kill opponents of US imperialism, whether they be other imperialists looking to expand at the expense of the USA, or people fighting for their liberation from imperialist domination and control.
That workforce is currently sitting in a primary or secondary school classroom.
That workforce is dreaming of rockets and astronauts, of satellites and space travel.
That workforce doesn't yet know of the chaos it will work towards here on Earth.
Print Version - new window Email article
-----
Go back