Digicel and imperialist rivalry in the South Pacific
Written by: (Contributed) on 28 November 2022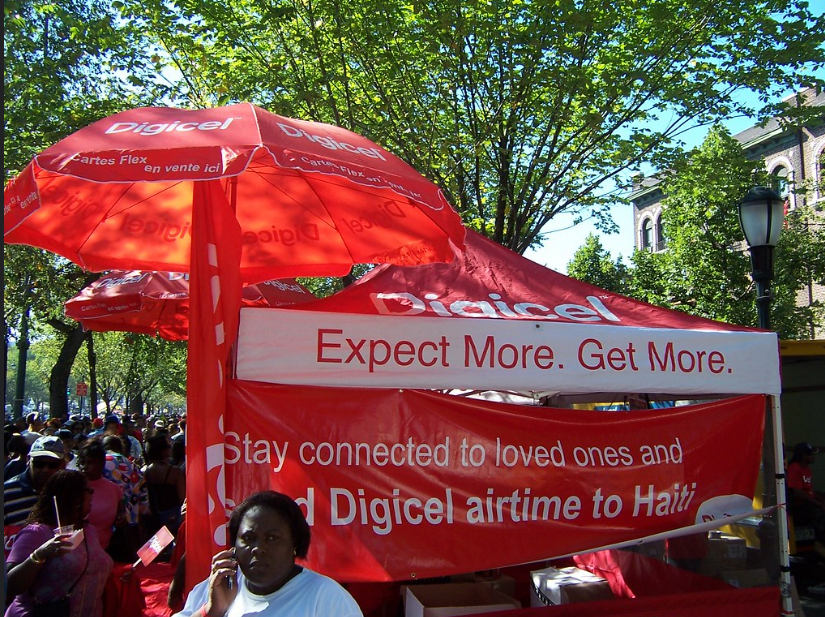 (Above: "My favorite South Pacific Cell Phone Company" by mjpeacecorps is licensed under CC BY-NC 2.0.)
Moves by the US and Japan to both contribute $73 million toward Australian Telstra's acquisition of Digicel Pacific, has formalised a highly geo-strategic telecommunications system, linked to US-led triangular regional military and security provision. While there was talk of economic development, the Telstra system is more concerned with formal control over two sensitive areas of the Pacific in the name of 'US interests'.
Telstra took initial control of Digicel Pacific last year with US$1.3 billion made available by the then Morrison coalition government through Export Finance Australia. (1) The moves were taken following an interest in Digicel Pacific expressed by China Mobile, to prevent their control of telecommunications networks in the two sensitive areas of the South and West Pacific.
Numerous intelligence assessments of the problem have tended to emphasise China's rapid economic development has also included diplomatic moves to break out of the US-led Island Chain Conundrum, and into the wider Oceania area. (2) The moves have been assessed as a serious challenge for traditional US hegemonic and diplomatic positions.
In recent times a great deal of Cold War hostile diplomacy has been played-out in the two sensitive areas; a recent US government study has also found the US was no longer the dominant power in the Pacific with China becoming a major competitor. (3) The US military intelligence assessments of the problem also included a recommendation that the US should 'further rely on traditional allies, including Japan and Australia'. (4)
The US-led diplomacy has also included Japan shedding its post-war pacifist constitution and being elevated within the Indo-Pacific Strategy to a northern regional hub for 'US interests' in co-operation with Australia in the south. (5) It should, therefore, come as no surprise to find the three countries operating together to control Digicel Pacific.
While the Telstra acquisition of Digicel Pacific included reference to economic development, the real reasoning was based in military and security provision. An official government statement from Canberra, for example, noted the Digicel Pacific network provided 'reliable and high-quality telecommunications networks … which are … critical to support the prosperity of our digital economies. This investment will improve security and performance and deliver affordable mobile voice and data services in the Pacific'. (6)
Elsewhere, however, reference was openly made to the acquisition being done on the basis of 'making sure China doesn't get a foothold in the communications infrastructure of the Pacific islands nations'. (7) And conducted along diplomatic positions to 'strengthen relationships with the region'. (8)
The moves were also preceded by the Biden presidential administration announcing US$810 million for development assistance for twelve Pacific countries, 'as part of a new economic and security compact aimed at keeping them out of China's growing sphere of influence', together with the appointment of a US special envoy for the Pacific to deal with military and security matters with 'US interests'. (9) The US has also expanded its diplomatic footprint in the region by increasing their presence from six to nine embassies.
Neo-colonialism, however, remains a major consideration: many of the Pacific islands are rich in minerals and natural resources. Many of the mining companies and related industries remain based in Australia.
In recent times US-led regional defence and security provision has also been re-organised into the Indo-Pacific Strategy (IPS) which has involved the US, Japan, India and Australia forming a 'Quad' with the incorporation of lower-level partners as spokes across the region, to contain and encircle China's influence. (10) Remote Pacific islands now appear set to join the IPS, if not as full members, as participants.
With these developments, the Cold War has come to the South and West Pacific countries with a vengeance; it has been noted, for example, 'on espionage, the appetite for our intelligence services to keep a closer eye on their citizens – and those of the PRC – is clear'. (11) And, 'all three countries would now collaborate more frequently … as geo-political competition with China intensifies'. (12)
These are indeed worrying developments; there would appear ever intention, by the White House and Pentagon, of escalating already hostile diplomatic positions into those of 'real war scenarios'.
We need an independent foreign policy!
1. Japan, US back Telstra's $1.6 billion Pacific telco buy, Australian, 17 November 2022;and, The US and Japan are backing Telstra's purchase, GIZMODO., 16 November 2022.
2. Breaking out of the Island Chains Conundrum, China's Strategic Objectives and Ambitions in the South-West Pacific, Strategic Analysis Paper, Future Directions International, 31 October 2019; see also, FDI Papers, Strategic Analysis: 23 July 2019, 10 October 2019.
3. Study: US no longer dominant power in the Pacific, Paul D. Shinkman, Information Clearing House, 22 August 2022.
4. Ibid.
5. The reasons behind Washington's push for GSOMIA., Hankyoreh, 12 November 2019.
6. Australian, op.cit., 17 November 2022.
7. GIZMODO., op.cit., 16 November 2022.
8. Ibid.
9. US pact to put check on China in Pacific, Australian, 30 September 2022.
10. See: Hankyoreh., op.cit., 12 November 2019.
11. US, Japan back Australia's Digicel Pacific purchase, ABC News, 17 November 2022.
12. Ibid.
Print Version - new window Email article
-----
Go back