It's time to fight BEFORE construction hits the rocks
Written by: Louisa L. on 15 April 2023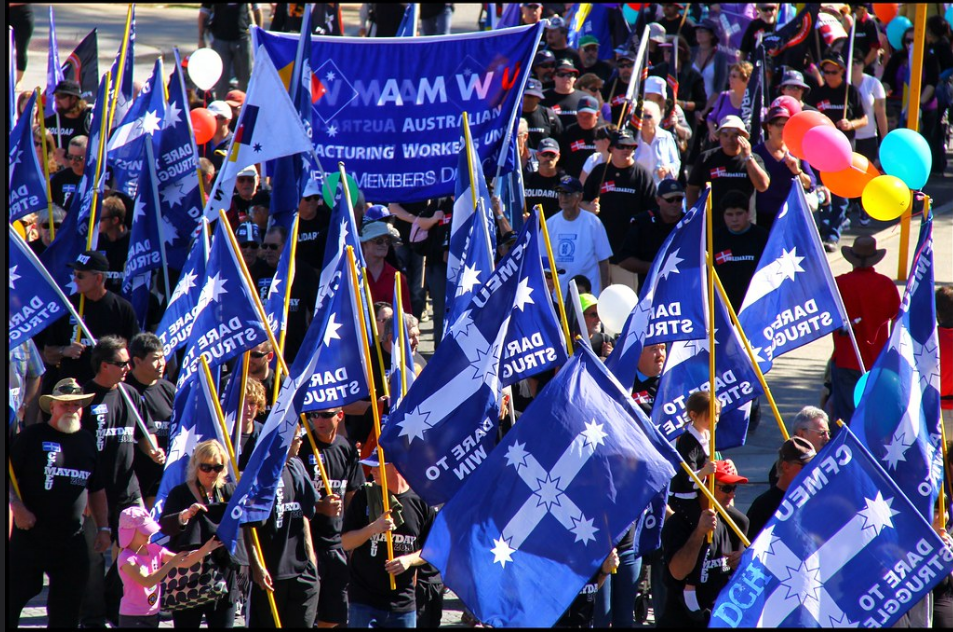 (Above: construction workers' contingent at Fremantle May Day 2010. Photo Diana House on Flickr)
Uncontrolled price rises are early symptoms of full-on economic crisis. Construction is always first to go in a bust. Right now, it's looking shaky.
Older construction workers recognise it. They've lived it, and heard of numerous past collapses from other generations of workmates.
In the three months to February, the number of cranes operating dropped everywhere except the Gold Coast. In Sydney 3% disappeared, as jobs opened didn't match jobs shut down.
The other big marker of crisis – unemployment – isn't widespread. It's still difficult to get workers. Until Covid, immigration reached record after record, since John Howard dramatically upped it for those with money and skills, despite a cruel, deceitful attack on refugees.
Construction is a multicultural industry. But what will 400,000 arrivals mean for jobs and housing affordability? Employers love using an army of unemployed workers to threaten current ones.
Roll call of company collapses
Unless you have big debts, you'll hardly notice price rises when you're bringing in $150,000 plus. You won't understand what it's like to survive under labour hire in non-unionised housing construction, or on $48 per day if you're unemployed. You might even think Australia's longest ever boom will continue forever.
Some construction workers think the high pay, site allowances, travel payments, double time for all overtime and the rest "just happened". They don't understand the collective struggle and sacrifices over decades that won those conditions. They don't realise few other workers have anything like their pay or conditions.
It can't last. Busts follow booms, and cracks are showing everywhere.
Construction was called an essential service during Covid, and government debt kept the Australian system afloat, mostly by subsidising business to employ people (as Rudd's Labor government did in 2007 to stop the global financial crisis crushing Australia). Capitalism can't be controlled forever. It chases immediate profits, bugger the consequences.
Construction company collapses in the last few years are sobering: Probuild; BA Murphy; Privium; Tasmanian Constructions (Hotondo); PBS Building; ConDev; Oracle Building Corporation; WA Housing Group; Individual Developments; Inside Out Construction; Dyldam Developments; Home Innovation Builders; ABG Group; New Sensation Homes; Pivotal Homes; Pindan; ABD Group; Solido Builders; Waterford Homes; Snowdon Developments; Langford Jones Homes and now Porter Davis Homes. Metricon's future isn't assured.
Off the plan sales delivered companies money up front, but fixed prices bashed them as costs climbed. So have shortages, as construction booms worldwide sucked out building products from an Australian economy where manufacturing industries were deliberately shut down and moved offshore over 40 years.
Then war disrupted supplies. War is inevitable under capitalism, especially when one giant imperialist power rises as another falls. Witness Ukraine, with US-dominated NATO using proxies, Russia creating carnage and China on the sidelines. It's a disaster we need to stay clear of.
Already our taxes will pay $389 billion to the US and UK, ripped out of Australia's economy for a few defensively useless submarines. It's not on! Just because economic superpowers fight each other for control doesn't mean we have to join in.
When's the best time to fight?
Do we just sit and wait to be kicked by corporations and their governments when the economy busts? Or do we get ready now before high unemployment is a giant weapon against us? The stronger, more united and more able to fight our unions are before the going gets tough the better.
Smash bosses who won't guarantee safety and health.
Smash the ABCC hiding in Fair Work.
And, if it's not ok for you to be hungry or homeless or sick on $48 per day tomorrow, it's not ok for anyone today. Unions have to take action on wider issues.
When's the best time to fight? Will we wait till desperate unemployed people are lining up at our job's front gate? Or do we act now before the shit hits the fan?
What do you think the answer is?
Print Version - new window Email article
-----
Go back