For our friends who fought for Yes
Written by: Lindy Nolan on 15 October 2023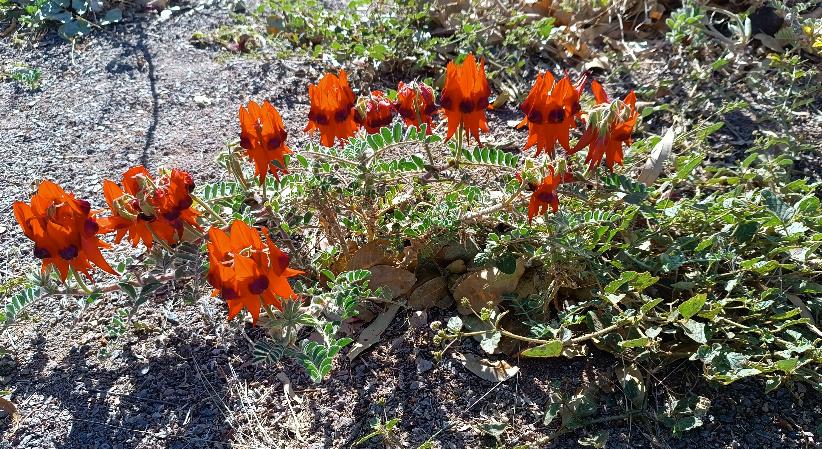 (Above: Symbol of the frontier wars, 'Atnerte Urrpele' in Eastern Arrernte, is also called the desert pea or blood flower. Photo: Lindy Nolan)
"When I think of the battles that lay ahead for our people on the other side of the Voice referendum, I am drawn to the legacy of the late Gladys Tybingoompa, who successfully led her people in the landmark High Court case.
After years of litigation against the state of Queensland, Gladys stood on the footsteps of the High Court of Australia in Canberra and said: 'My name is Gladys. I'm the hot one. The fire. Bushfire is my totem. And I'm a proud woman of Cape York today. It is for me, here today, a historic moment as a Wik woman.'
'I am not afraid of anything!'
"Not being afraid of anything, despite the brutality of Australian history. This is the energy I am taking on the road to the Voice referendum and beyond. To show up with compassion and kindness, propelled by an undying love for our people, exactly as our Ancestors would have done."
Wiradjuri and Wailwan writer and lawyer Teela Reid, 29 September 2023
Kindness, compassion and bravery are strong companions. Yet sometimes fear and grief are part of life. What we do in their face, how we find courage in dark and dangerous times – whether it be for ourselves or for others – determines the future.
How many defeats have First Peoples suffered? Yet collectively they never had the luxury to give up.
The referendum remains a launching pad for the far right to further divide and crush First Peoples. It is stronger and more dangerous than ever.
Gathered around Peter Dutton, Tony Abbott, John Howard, Jacinta Nampijinpa Price and Warren Mundine, it represents one faction of the corporate ruling class. The other faction is organised through the Business Council of Australia. Both capitalist blocs profit from First People's lands, from the labour power of workers and other everyday people. Both use sprinklings of truth to better deceive with half-truths and big lies. They use people and spit them out.
Collectively, First Peoples won't be able to give up after the Voice's defeat or victory, because their lands, their lives, their cultures, their present and their future depend on it. Yet they will assert their voices each time they teach their children in two ways or walk in their own lands or those of other clans, when they work, each time they talk or sing or dance or paint or reclaim language, each time they support each other in heartache or celebration.
But there is no room for romanticism. Ongoing trauma has its terrible cost. Unlike/Alongside unity, division and lateral violence are genocidal inter-generational poisons.
Sleeping people have awoken
First Peoples want and need and deserve control over their own lives. But with the best of intentions and the greatest of hopes, the Yes/No decision was given to non-Indigenous people, and to social media awash with deception.
There will be hard truths for us all, but whatever the final count, truth has to be faced and understood. Because the far right has made a declaration of war on First Peoples and all who support them. This is on top of the bipartisan war that steals lands and jails ten-year-olds.
Clothed in deceit, Mundine and the rest have laid out their strategy and tactics. We need to study them. We need to learn from our own errors.
People across the lands have been awakened to the lives of First Peoples. Despite the lies, the referendum has shaken the sleep from their eyes and ears and hearts. Opportunity lies before us.
But first, a breath. Accept and understand fear and grief or even relief.
Kindness, compassion and bravery are strong companions in life. Another is humility to listen. In the quest for truth and justice, those four will serve the people.
Print Version - new window Email article
-----
Go back