Housing Crisis and Australian Independence
Written by: on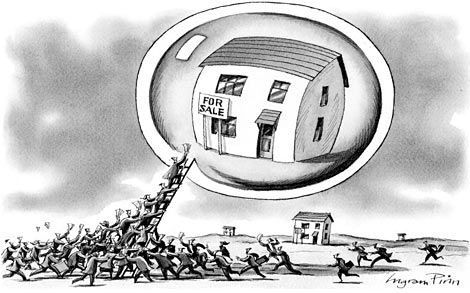 Ned K.
Finding an affordable place to live, either renting or buying, is becoming increasingly difficult for many people.
Household debt including cost of renting or buying is at record levels with small increases in interest rates the tipping point towards homelessness or selling up for many people in Australia.
Part of the problem is that overseas owned financial and property interests are buying houses and apartments for investment and speculative purposes, not because they have nowhere to live. They easily outbid local people who are looking to buy a home, often their first home. Competition forces the cost of housing up and forces more people in to the private rental market as public housing is still on the decline with huge waiting lists. Some overseas housing investors buy whole apartment blocks or huge houses and don't live in them or rent them out. Others rent them out at high rent because they think they will find people desperate enough to pay the high rent.
Real estate industry under capitalism will never provide affordable housing for the people in Australia because it is based on building for profit not for people and there are so many layers of capitalists putting their nose in real estate trough from architects and planners to construction companies and contractors right through to the real estate agents.
However government action and regulation can make a difference, especially against the overseas speculators in the name of "putting hard working families first" (which politicians all love to say that is what they are about) and would ease the crisis for those seeking a place to buy or rent at an affordable amount.
For example in China (by no means a workers' paradise nowadays), the national government has put restrictions on foreign citizens buying apartments "off the plan". They can only buy one apartment and only if that is for self-use. In Shanghai, local buyers of housing property cannot take out second mortgages to purchase second properties in Shanghai until after their first mortgage is paid off. They can only secure a bank loan up to 30% of the value of their second property.
In Australia foreign citizens and corporations can buy off the plan in big cities even where local housing demand is at record high levels. There is no limit to the number of 'off the plan" apartments that a foreign buyer can buy. In the central business districts of big cities in Australia, apartment blocks are being built at a much faster rate than new office towers, with developers (many of them foreign owned corporations as well) hoping to make a quick few million from cashed up overseas speculators buying off the plan. These new apartment blocks and in some cases whole new residential "villages" bought by absentee owners are springing up along transport corridors and being sold or rented at prices way above the actual cost of producing them. This is forcing more and more working people to look for housing further and further away in the fringes of capital cities where support services including public transport are weakest.
So a first step in resolving the housing crisis is for the government to be forced to regulate against speculative, profit-chasing purchasing of housing by people who have no intention of living in the property they purchase.
This will mean governments being forced to take action against the overseas housing speculators in the first instance, thereby forcing governments to strike a small blow towards independence for Australia in the housing sector.
Print Version - new window Email article
-----
Go back