Save Sydney Coalition launched to fight developers
Written by: on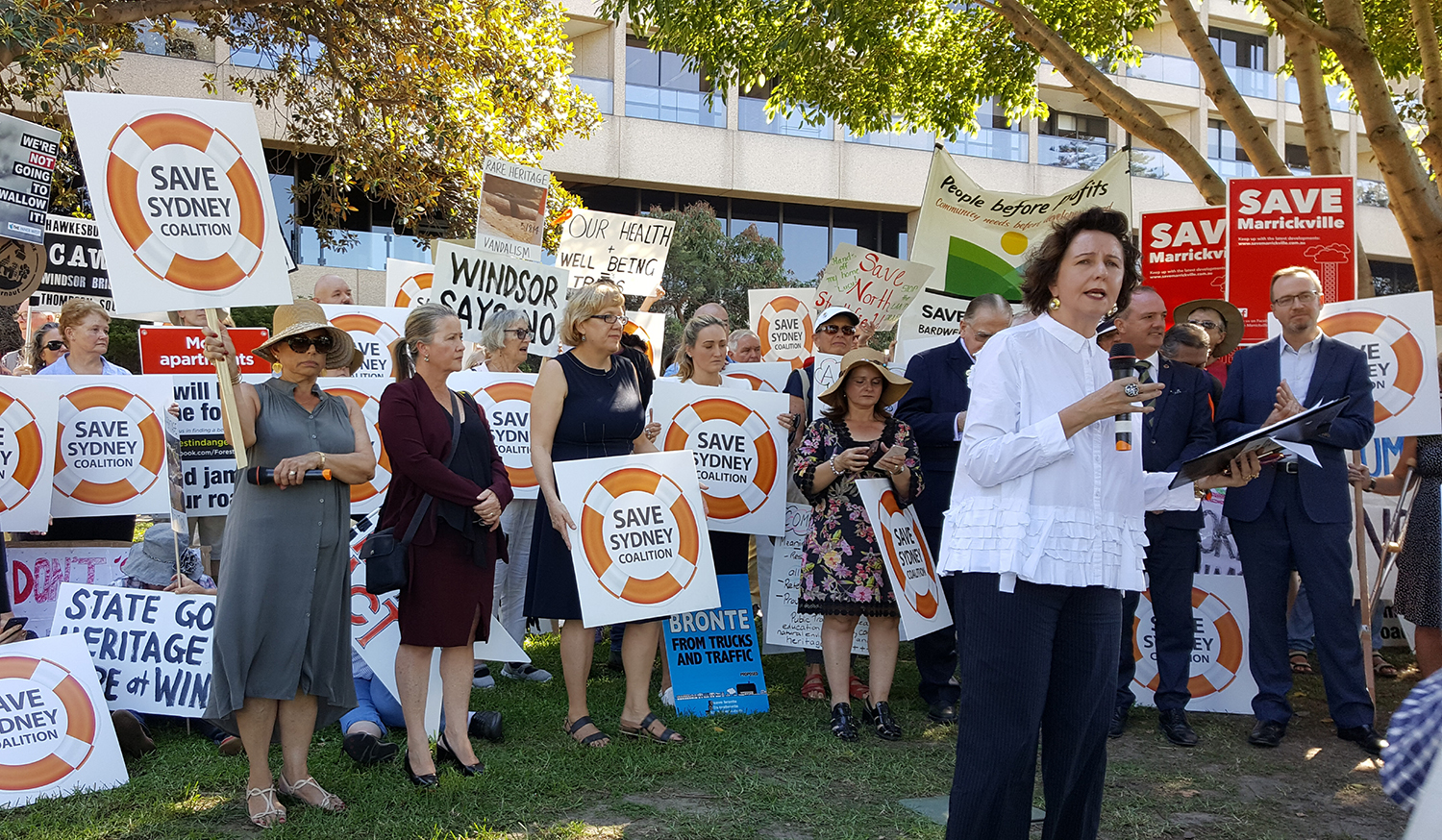 Louisa L.
A coalition of organisations opposing the destruction of Sydney by developers was launched under the Tree of Knowledge, behind NSW Parliament in Sydney's Domain on Thursday, April 12.
Actor Michael Caton, famed for his role as a suburbanite galvanised into action to save his home in the film 'The Castle', began the launch of Save Sydney Coalition with a reference to Barcaldine's Tree of Knowledge.
At Barcaldine in 1891, striking Queensland shearers swore the Eureka Oath, 'to stand truly by each other and defend our rights and liberties'.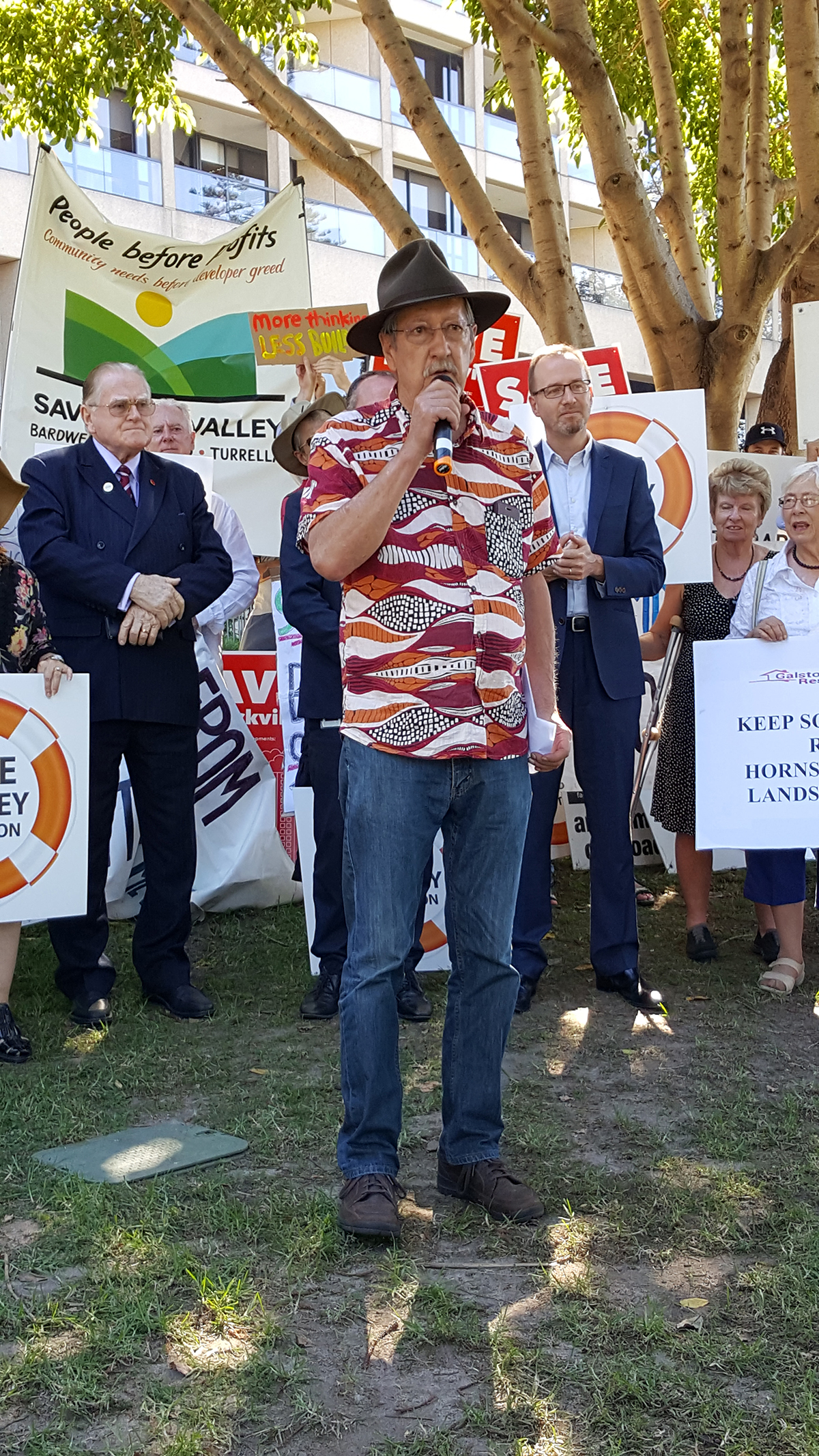 Michael Caton said he saw the Tree when it was gradually dying after being poisoned. He called it a good metaphor for Sydney because, he said, "we're being poisoned by over-development, by people being in bed with developers."
Total disregard
Barbara Coorey, spokesperson for the Save Sydney Coalition, stated, "Our group has been formed because of the frustrations of ordinary Sydney-siders, who are seeing the heart and soul of this city being ripped out by unprecedented development."
She spoke of "a total disregard for heritage, maintenance of character, preservation of community … and infrastructure requirements."
She said, "Whole suburbs, that have been in existence for over one hundred years, with the subdivisions dating back to the 1800s and early 20th century," are being destroyed.
Barbara Coorey said, "Today marks the beginning of the good citizens of this city taking back control of their own city. We, as the peak body, demand a seat at the table with government on these important issues."
"The Save Sydney Coalition seeks to protect local character of the entire Sydney region".
Five year picket
Windsor is part of Greater Sydney but 50 years ago was still country town, 56 kilometres northwest of Sydney centre. Now it's an outer suburb.
The Battle for Thompson Square and Windsor Bridge broke the Guinness Book record with a five-year picket against development.
The square was established in 1795 and named Thompson Square in 1811.
Jan Sparks, from Community Action for Windsor Bridge, told the gathering, "There's four-hour shifts, 24 hours a day, rain hail or shine."
Residents are fighting a proposal that will "replace our historic bridge and cut a path through the oldest public square in Australia. Currently we have approximately 3000 trucks a day." These are B-doubles or bigger, and with numbers predicted to rise to 5000 daily she stated.
"It's like a road going through The Rocks with 5000 trucks a day" bringing sand from sand mines, for all Sydney's developments, Jan Sparks said.
People power
RIPA (Residents Infrastructure and Planning Alliance) is an alliance of 16 community groups on the north and north west fringes of Sydney, including some very affluent areas. RIPA rep, Ray Sloss, said, "We are happy to join Save our Sydney, because we need to be strong and we need to have people power."
He outlined three struggles. In south Dural, a proposal had over 6000 objections.
600 people also joined a community meeting to stop 240 hectares of land being destroyed, with massive houses to be built.
RIPA is now fighting Mirvac's plans for the IBM site next to Cumberland State Forest, with 3,500 objections, he continued.
The forest, where the National Trust and community replanted over 40,000 indigenous plants beginning 30 years ago, is some of the last blue gum forest in Sydney. The development cuts into the forest, including Powerful Owl habitat.
'Be humble and listen'
Save Sydney is aiming to systematically broaden its membership, with affordable housing a key demand.
Attempts have been made to link up with those fighting public housing evictions.
Speakers echoed Michael Caton's words, "It's time for the people to take their power back,"
He had important advice, "You're going to have to think a bit bigger, and you're going to have to be humble and listen and understand the other folks' point of view in terms of what you push and how hard."
Print Version - new window Email article
-----
Go back