The whisper in the wind
Written by: on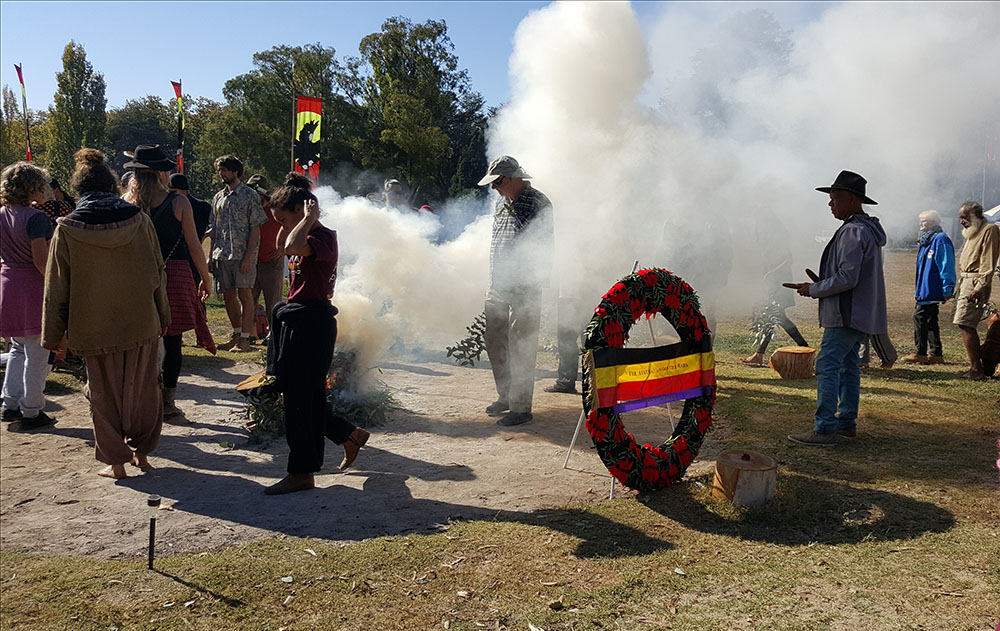 Lindy Nolan
Early last December, there was Sorry Business at the Tent Embassy in Canberra. A Nunukul Elder from Minjerribah (Stradbroke Island), one of four Embassy founders, died here.
Talking, singing in language, stamping feet and clapsticks and didgeridoo remembered him and bid farewell amid huge plumes of smoke.
Now elders continue to carefully encourage young people to step up. This was clear during the Frontier Wars Camp in the lead up to Anzac Day.
Children on school holidays at the Embassy during learned without lecturing, painted up along with the adults on Anzac morning.
Barkandji elder Uncle Marbk Wilson spoke each morning for unity and reconciliation, which can only come from justice, with invasion finally defeated.
Young Wiradjuri man Trent Taylor felt impelled to speak on Sunday morning, and again on following days. The elders saw he was ready to lead the smoking ceremony despite Trent's reticence. His poetry tells of the need to remember and of coming change:
"The whisper in the wind,
that subtle change in the air,
those tell tale signs of the days to come.
For some it may seem too hard to breathe,
An that there is nothing left to believe,
An that all is lost an at what a cost,
Displaced an nearly erased,
Then asked to take a back seat in our own place,
Whilst you destroy our sacred places,
Then turn them into wastelands,
Yet can't even remember our names and faces,
Someone needs to save these sacred places
An record the names of all the lost names and faces..."
'I see the big spirit in him. I want to encourage him to be a future leader,' said Uncle Marbk.
In Australian fields
Walmajarri woman Gabby Baxter's grandmother, a renowned artist, was one of the group who walked from the desert in the1960s, never before having seen whitefellas. Gabby's father told Gabby it was important that she speak and helped her come forward.
"I was proud to represent the Walmajarri nation at the Tent Embassy remembering that Walmajarri people have also been impacted by the frontier wars," she said.
Uncle Marbk's son, Dean Peachey, danced his father's wedgetail eagle story in the War Memorial forecourt on Anzac Eve.
Elders welcomed anyone who listened and was prepared to stand with them.
Hazel Davies is one who has listened, learned and dreamed. A commemorative florist and TAFE teacher, five years ago she saw the same brilliant colours of the Flanders Poppy in the Desert Pea.
Hundreds of Desert Peas were made during the week-long workshops where Hazel Davies created the wreath carried into the War Memorial, after the Anzac Ceremony.
Desert Peas grow, she was told by Uncle Marbk, where blood has been spilled.
Mount Ainsley stands behind the War Memorial. On Anzac Eve, paper lanterns of peace were carried from its summit in a silent walk. In the War Memorial forecourt Hazel Davies read her poem, The Poppies and the Peas. It ends:
"Uncover, uncover with the red
The bloody truth of our dead
In Australian Fields."
Print Version - new window Email article
-----
Go back