Lies, lies, lies and fracking
Written by: on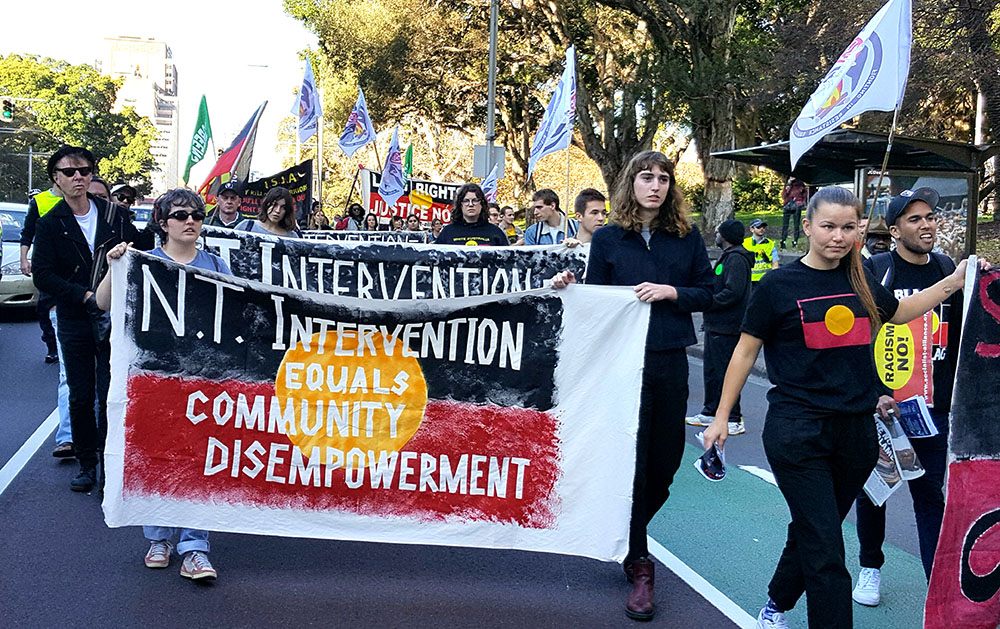 Louisa L
Smoking is good for you! Asbestos is a wonder product! Ah, there's lies, lies and more lies, when corporate profits are at stake.
Corporations have always rustled up 'experts' and 'research' to back their dirty and dangerous practises. These days that behaviour is on steroids. From education to mining, economics to history, corporate millions ensure friendly think tanks, 'researchers' and university institutes get all the funds and publicity they need.
The attacks on First Nations keep coming. Eleventh anniversary of the NT Intervention marked with determined protests in June. And now fracking...
Surprise, surprise they discover projects guaranteeing maximum profits are best for everyone. They combine this dubious research with threats, before divide and conquer slithers from their bag of corporate tricks. Fracking corporations use the lot.
Facts are facts
Gas companies are trying to swallow one region at a time. "In Queensland, producing gasfields already cover more than 30,000 square kilometres of the country region," writes Guardian Australia's Lisa Cox.
Those in the Narrabri CSG field understand that the precious Pilliga forest is the start of further expansion. 850 wells on 425 well pads over 95,000 hectares is just the beginning. Six more fields (collectively the size of Tasmania) are planned, but activists say local opposition is well above 95 per cent, a figure backed by local councils.
Figures from Australian Petroleum Production and Exploration Association-sponsored research from CSIRO in 2014 reckoned only six per cent opposed fracking in Queensland. More recent figures from CSIRO cited 30.5 per cent opposition with 27 per cent 'tolerating' fracking in the Narrabri field region.
Facts remain facts, but industry funded research is hardly arms' length, especially when CSIRO funding and jobs have been savaged in areas which made findings inconvenient to polluting industries.
Unlike conventional mining, coal seam and shale gas mining have short operational periods. Then it's on to the next field. Intense industrialisation of pristine areas happens quickly and spreads over massive areas.
Drew Hutton, former President of Lock the Gate Alliance, recounts the changing moods of visits by fracking representatives. First, they come smiling and smarmy with biscuits to share. If that fails, a new rep arrives with a tougher message. "We can take you to court you know. And we've got fourteen QCs on hand if we do. How many QC's have you got?"
First Nations have experienced this 'negotiating' style for many decades.
Marlene Hodder has worked with the Aboriginal Peoples of Central Australia at Utopia, Yuendumu, the APY lands, as well as with the town camp mob at Tangentyere Council in Alice Springs. It's almost 50 years since she first started working with Kurnai People in East Gippsland.
She says, "First Nations are never given the full picture and information on the risks and potential for damage to land and environment. People are kept in poverty and development of their land, in particular mining, is presented as the only possible avenue for employment or opportunity for a way out of dire circumstances."
It's no surprise some, including First Nations' groups, have been convinced to accept unconventional gas production in both the Pilliga and the NT, causing great distress to others who continue to fight.
Some senior NT Law Women and Men are concerned that the Central Land Council (CLC) is speaking to one clan or family at a time and that others have been locked out of meetings.
Rupert's empire up to no good
Across Australia Murdoch's media empire endlessly attacks and tries to divide First Nations Peoples, and to sever them from their support base elsewhere in the country.
Others, like shock jock Alan Jones, who vigorously opposed fracking on farming land, suggested at one NSW rally that the Northern Territory was desperate for fracking. This was not well received.
Murdoch's empire is overwhelmingly pro-mining, though it steps back very occasionally when opposition is too strong. It provides a huge public platform for First Nations individuals prepared to push its agenda.
In 2014, the Murdoch owned NT News publicised a CLC document aimed at Traditional Custodians which said "…most chemicals used in fracking are 'commonly used in the house' and that a different to the type of fracking would occur in the Northern Territory than NSW and Queensland" (where its destructive results are well documented).
"The CLC document uses a graphic to show 99.5 per cent of the material used in hydraulic fracturing is water and sand, with just 0.5 per cent of additives – including guar gum (used in making ice cream), acetic acid (a concentration in vinegar), sodium chloride (used in table salt) and sodium hypochlorite (used in bleach)," the NT News stated.
Both statements have a germ of truth, but they're capable of causing huge damage if taken at face value. It's not just what's used in the processes, but what's created along with the gas.
Unconventional mining produces many thousands of tonnes of noxious gases, with over 250 toxic chemicals from flares.
The horizontal drilling of shale and oil deposits proposed on NT Aboriginal lands is even more dangerous than coal seam fracking, where massive quantities of salt and waste water left behind are highly toxic.
Salt and vinegar combined, even in tiny quantities, for example, are a highly effective herbicide. But we're talking 100 tonnes of salt waste a day. And try drinking bleach or watering it on your vegies.
Santos poisoned its own plantation crop watered by its waste water in eastern Australia.
None of this appeared in Murdoch's NT News article.
The dirty reality
Australia's production of coal seam and other unconventional gas has risen exponentially since 1995. In fracking zones giant flares, perhaps 200 metres from homes, with 200 heavy vehicles per well, operate day and night with a ceaseless jet engine roar.
Total fire ban day? Shut off the flame? Hell no…though the last Pilliga bushfire burnt 16,000 hectares in three hours.
Add floodlit well sites. Forget dark skies for Australia's leading astronomical observatory near Coonabarabran, just as the PM is touting space exploration.
Those opposed to fracking are standing strong together.
Self-described farmer's wife and co-producer of the brilliant documentary 'Sacrifice Zone', Anne Kennedy says fighting and time will defeat CSG, as pressure on banks to refuse funding gains ground. CSG is high cost and its projects are already in trouble, she states.
First Nations have often been on the receiving end of capitalism's most brutal activities, including mining. Fracking is creating strong and determined allies among those who once saw themselves as having little common ground.
Despite immense wealth, threats, lies and efforts to divide and conquer, multinational corporations are more widely than ever seen as a malign force. First Nations know from bitter experience that corporations never take no for an answer. Laws, including native title, are made to suit them. They come back with demands again and again. Australia is better off without them and their dirty system.
Print Version - new window Email article
-----
Go back