Develop a program of reassurance to win workers from coal
Written by: on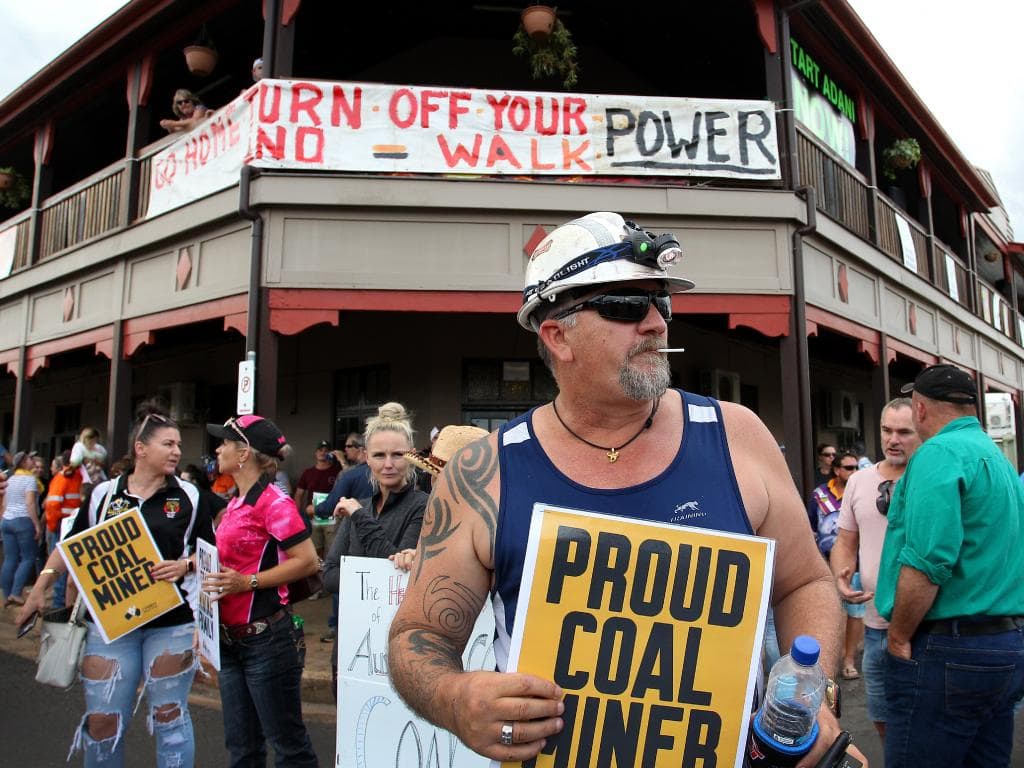 Nick G. 5 June 2019
Many Queensland workers will rightfully feel gutted and betrayed by yesterday's (June 4, 2019) admission in the Australian that the Adani coal mine, should it proceed to full-scale production, will only generate around 800 jobs.
This contrasts sharply with the hubris of Adani CEO Jeyakumar "JJ" Janakaraj who said, back in April 2016, that the mine would create 10,000 local jobs and provide crucial work opportunities for small- and medium-sized businesses.
This was before Adani was forced into a humiliating downsize operation following its failure to attract funding from banks. It said that the $16.5 bn project would now be a much smaller project costing less than $2 bn which it would self-fund. Many doubt its capacity to self-fund.
Yesterday's press report also stated that the company would not use driverless trucks or other autonomous operations. "JJ" Janakaraj had let the cat out of the bag in his 2016 interview in which he stated: "We will be utilizing at least 45, 400-tonne driverless trucks. All the vehicles will be capable of automation. When we ramp up the mine, everything will be autonomous from mine to port. In our eyes, this is the mine of the future."
Yesterday's denial was a sop to the mining section of the CFMEU and to certain politicians still toadying to Adani. It was a totally preposterous statement since capitalists always adopt that technology which enables them to have more surplus value created from fewer workers. Sooner or later, Adani will have to adopt autonomous operations.
Iron ore miner Rio Tinto has adopted autonomous operations in the Pilbara, and the coal industry on the eastern seaboard is doing likewise. Breathing down Adani's neck are the likes of the Stanwell Corporation-run Meandu coal mine in Queensland and the Whitehaven Coal's Maules Creek mine in New South Wales where Hitachi Construction Machinery has been promoting and using its Autonomous Haulage Systems (AHS) driverless trucks.
According to a report on australianmining.com.au "Hitachi believes Australian mining will be almost entirely autonomous by 2030, with integrated operations centres, autonomous vehicles, AHS, drone image analysis, and other analytics-focused technologies dominating the landscape."
Hitachi general manager Eric Green said "discussions about automation in the east coast coal sector have definitely increased over the past 18 months".
Adani without driverless trucks, trains and other operational capacity is as likely as walking down Collins St and hearing the clack-clack-clack of Remingtons, and the shuffling of carbon paper from some left-over typing pool.
In any case, Adani has already placed orders for AHS vehicles from Komatsu's Illinois (USA) plant.
Spanish government re-elected on anti-coal, pro-coal miner policy
Instead of alienating workers conned into thinking that Adani would be a jobs paradise, steps must be taken to develop their confidence in a coal-free future.
In late April's Spanish general election, the social-democratic Socialist Party increased its vote and was able to again form a coalition government with PODEMOS by promoting a so-called Green New Deal. The Green New Deal was popularised in the US by Democratic congresswoman Alexandria Ocasio-Cortez. The Green New Deal committed the Spanish government to slash greenhouse emissions to 90% of 1990 levels by 2050, ban fracking and end subsidies for fossil fuels.
The districts with the largest vote for the Green New Deal were coal mining districts. The previous October, the government agreed with unions and the industry that €220m ($A400m) will be injected into mining regions over the next decade, boosting retirement schemes and retraining. Early retirement will be offered to miners over 48, with environmental restoration work in pit communities and re-skilling schemes for cutting-edge green industries for those ineligible for retirement.
This gave coal miners the assurance that phasing out their industry would not harm their standard of living or alternative job prospects. It didn't divide workers as, for example, happened in Queensland where the Maritime Union opposes Adani while the mining section of the CFMEU supports it.
Of course, it is easier identifying a few thousand miners employed in currently operational coal mines. It is much more difficult offering retraining and other assurances to workers yet to be employed by a miner whose project is still on the drawing board.
A plan for winning over workers and communities in Australian coal mining areas will have to be different from that adopted in Spain.
However, the effort must be made by unions, environmentalists, climate change activists and First Peoples in the affected regions – in concert with miners and their communities - to identify those elements of a package to reassure workers that there can be a transition from coal to sustainable and renewable sources of energy.
A program of struggle must be developed which can unite workers against politicians and the big multinational mining corporations. It must have a sufficiently clear focus of reliance on mass struggle so as not to be diverted into a parliamentary dead-end.
It must complement broader aims of an independent and socialist Australia.
..........................
Further reading: https://uslaboragainstwar.org/Article/82078/an-open-letter-to-a-2019-fossil-fuel-worker-from-a-2019-solar-worker
Print Version - new window Email article
-----
Go back