SA ambulance dispute flares up, sent into mediation
Written by: Nick G. on 12 March 2021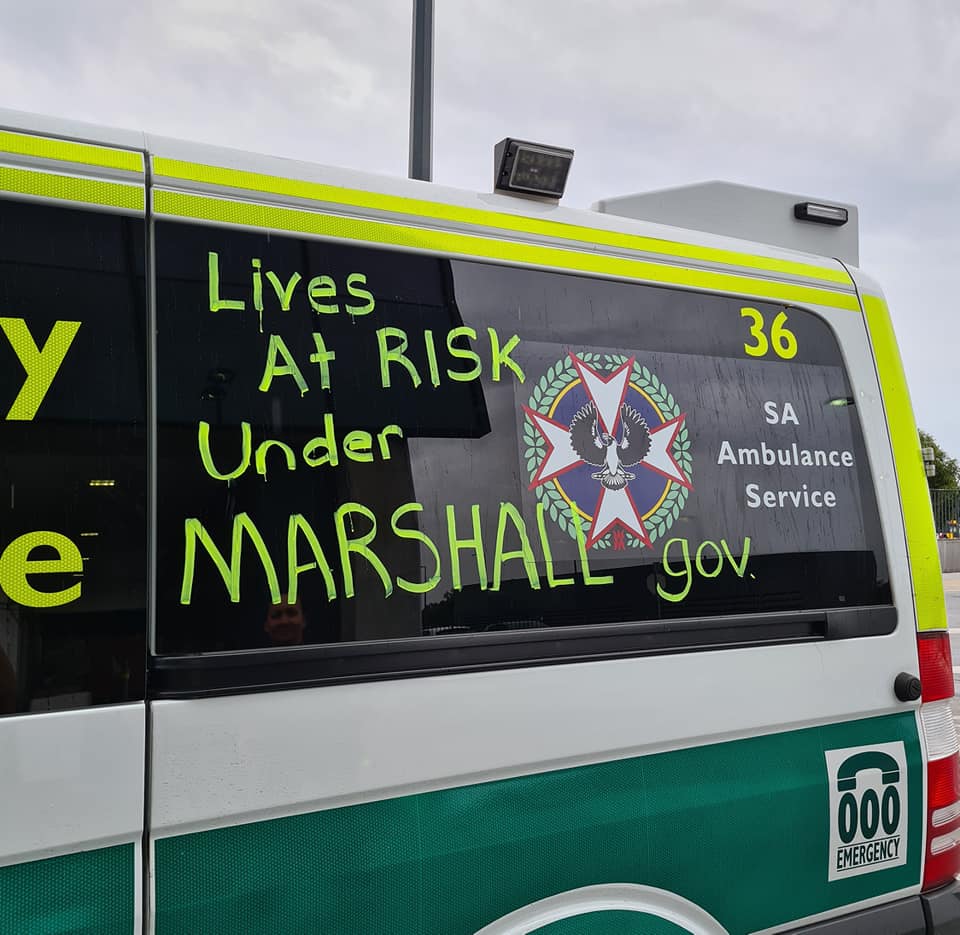 SA ambulances are covered in anti-government slogans. Ambos are refusing to charge patients who have to be ramped outside hospital emergency services. Individual paramedics talk out their grievances on public radio and television news services, despite threats from management.
This is part of an ongoing dispute that began under the previous state Labor government and has only been exacerbated under the Marshall Liberals despite a pre-election pledge to fix ramping.
Ramping occurs when ambulances are forced into a queue at hospital emergency departments (EDs) and have to wait because their patients cannot yet be admitted. This in turn deprives the community of the services of the ramped ambulances and increases call-out times to people in distress.
Not just SA under Libs – look at WA under Labor
Ramping is not unique to South Australia, but the problem has been more acute and over a longer time than elsewhere. And it is a problem of health systems administered by both parties of capitalism. In Western Australia, where everyone expects the McGowan Labor government to have a landslide victory in tomorrow's state election, ramping is a serious and neglected problem.
September 2020 marked a dark month in Western Australia's history – for the first time ever, ambulance ramping exceeded 3,000 hours in a calendar month. "Catastrophic" and "terrible" is how the AMA (WA) characterised 3,000 hours of ambulance ramping, particularly for the elderly, who are the most likely people to be stuck on an ambulance trolley out the front of our emergency departments. The crisis worsened as the year rolled on: October 2020 levels exceeded September 2020 levels by 7 per cent and November 2020 levels exceeded October 2020 levels by 12 per cent.
"Efficiencies" pushed by multinational consultants
More ambulances and trained crew are required, but so are more hospital beds, expanded EDs and nurses and doctors. However, reviews of SA health services conducted by big-end-of-town multinational economists like KPMG and PwC have seen "efficiencies" prioritised over emergencies, with staff cuts, including senior practitioners "let go" (only to be snapped up by private hospitals). Staff cuts at three of the state's largest public hospitals are being driven by slash-and-burn administrators KordaMentha which was appointed by the government to take over financial control of the Central Adelaide Local Health Network (CALHN).
Doctors across the public hospital system are being pressured to send patients home early. Bernadette Mulholland CEO of the SA Salaried Medical Officers Association (SASMOA) says that "winding down of staffing, equipment, resources and consequently services to the women of SA and their babies at the current Women's and Children's Hospital (WCH)" is causing staff burnout and trauma and inconvenience for the public. In one case recently, parents who had driven 460km from Kimba on Eyre Peninsula to the WCH for an operation on their 10-month-old child were told as they sat in the waiting room that the operation had to be cancelled because the WCH could not budget for the staff to attend an intensive care recovery bed. (For full details see here.)
The failure to properly resource public hospitals obviously compounds the problem of ramping. And ramped ambulances cannot get back out to service the community. Two nights ago, a short-of- breath newborn baby waited 55 minutes in the Adelaide CBD for an ambulance on a lights-and-sirens response. The same night, an elderly female with chest pain waited 1hr 27 minutes for an ambulance on a lights-and-sirens response.
The following night, just after 8pm, yet again, the ambulance service has declared an OPSTAT White event. (OPSTAT White: 'Operational capacity, capability and/or resources are insufficient to maintain effective service delivery for high acuity cases' … 'Patient safety is directly affected'.)
There were 7 emergency cases and 26 urgent cases waiting in the community with no ambulance available to send.
Robert Snell who originally wrote the OPSTAT and managed many instances of surge, said: "It's a bit like a fire alarm in a multistorey apartment block going off but the sprinkler system is switched off and fire service doesn't come."
Following a bad night on Monday 22 February when there were 88 patients waiting for a bed and 15 ambulances ramped at the Royal Adelaide Hospital at around 8pm, members of the Ambulance Employees' Union decided they had no choice but to speak out. They told of 12-hour shifts with no meal breaks, of patients being ramped for up to four hours, of patients being placed at risk as they waited for ambulances.
Ambos won't be bullied into silence
This drew an immediate response from SA Ambulance Service Chief Executive David Place. He sent a letter to paramedics on Tuesday, warning employees they "may commit misconduct" if they speak out in violation of the public service code of ethics. He threatened them that speaking out publicly could put them in trouble with ICAC, the state's anti-corruption watchdog.
The union responded that its members would not be bullied into silence, and the ICAC Commissioner Ann Vanstone QC said Place had wrongly construed her role and criticised the health executive for invoking her name. In a rare public statement, she said "…it is unhelpful for senior public officers to invoke the name of ICAC in an attempt to control the behaviour of their staff."
With the situation developing very favourably for the ambos, the Marshall government painfully losing the media war, and the state Treasury losing hundreds of thousands of dollars in revenue every day depending on the number of uncharged ramping cases, the South Australian Employment Tribunal (SAET) has ordered the SA Ambulance Employees Association into mediation with the government.
This is the role of bourgeois institutions under the capitalist state: to defuse struggle, and in particular, to take the conduct of the struggle out of the hands of the rank-and-file. The President of the tribunal Justice Steven Dolphin, once played an honourable role as the lawyer for persecuted construction worker Ark Tribe, but the further up the ladder of a state career one goes, the harder it is to stay on the side of the workers.
……………………
For previous comment see: "Ramping" - a Third World problem in a First World setting
Print Version - new window Email article
-----
Go back