One month after the NSW Election: what's new?
Written by: Ali K. on 26 April 2023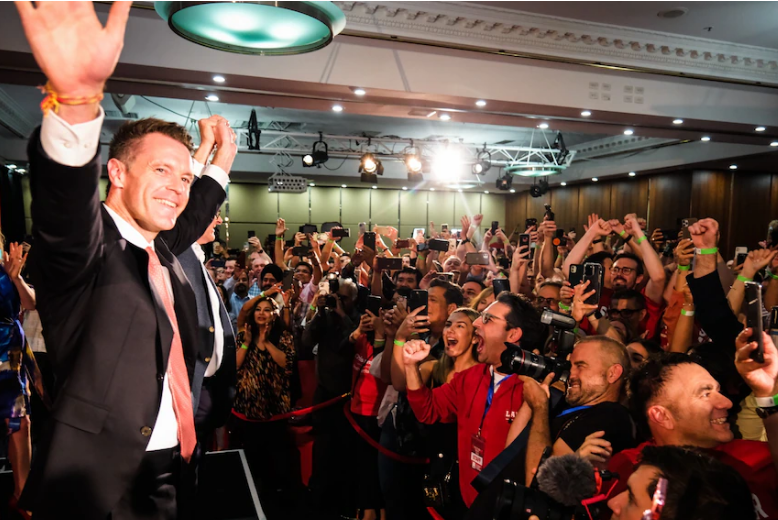 (Above: Minns and Albanese savour the glory, but will rental crisis remain the story? Photo: ABC News by Harriet Tatham)
On the 5th of April 2023, Labor's full ministry was sworn in to the state government following their election victory. Chris Minns was announced as the Premier of New South Wales, ending 12 continuous years of Liberal governance in the most populous state in Australia. For many, this was a clear win in the struggle against privatisation, higher costs of living and scant public housing: housing advocacy organisation Shelter NSW came out to suggest that the new state government represented "a fresh start" as well as "the opportunity for fresh eyes".
The Tenants Union cautiously welcomed the incoming Minns government, suggesting that the Labor government would be willing to address the crisis of rental affordability with a rental commissioner leading the ban on rental bidding. This practice involves real estate agents asking renters to bid higher than how much properties are listed for on the market.
There is a kernel of truth to all of these claims: NSW Labor ran on a platform against the privatisation of Sydney Water, scrapping the public sector wages cap and investing in key sectors including transport, healthcare and education. But really how much does the Labor platform on housing offer renters, youth, pensioners and other groupings affected by the current housing crisis?
Labor on Housing
The NSW Labor website suggests that the Rental Commissioner (a proposed advisory body) would be an "advocate and a voice" for renters by working closely with the government to lead consultation on reasons for eviction, oversee a ban on secret rent bidding and identify barriers to increasing housing supply among other things. Upon closer inspection it appears that only two of the nine proposals are concrete action to help renters: a ban on secret rent bidding and a portable bonds scheme, which allows renters to transfer their existing bond over to a new property. All seven other proposals require the Commissioner to "identify" issues and "gather" data. But a rental commissioner isn't a particularly novel idea: The former premier Dominic Perrottet also outlawed rental auctions prior to his resignation.
Their policies weighed up
Another policy that Labor had listed in their Housing Plan was to introduce a 30% requirement for all homes built on surplus government land to be set aside for social housing as part of their Build-To-Rent program. Again however, this target was proposed long before by the Coalition, for urban renewal projects in Redfern, Central Station and Rozelle Bay. The only difference in this respect would be that Labor are making the target mandatory.
What looks somewhat promising is the elimination of stamp duty for first-home buyers purchasing properties up to $800 000 and a concession rate for properties between $800 000 and $1m for their first property. Not withstanding the fact that the Liberal Government had also called to scrap the stamp duty, a quick look at average house prices in NSW shows a hefty price tag of $1.13m, well above the proposed stamp duty exemption threshold. While this may have been an issue that many young people looking to get into the property market would have voted on, it offers little solace with the prospect of rising inflation and subsequently increased house prices.
What's missing?
Despite some conciliatory measures, there has been no action from Labor to cap rent hikes which is the real issue hitting struggling working-class families. Tenants Union chief Leo Ross noted that one rental increase in the North Shore involved a hike from $1000 to $1700 a week. This isn't just a problem in NSW – a recent Guardian report suggested that Australian tenants were paying $2700 extra on rent on average over the past year with the national median rent averaging to around $570. Why is it that the federal government can spend $368 billion on nuclear submarines while renters are struggling to make ends meet? Why is it that rather than long-term solutions to these issues all we get is more bureaucracy and more integration of our issues with the state? The answer lies squarely in the structural crises that capitalism induces.
Some Historical Context
The struggle over rent is something that Marx noted in his seminal text on political economy, Capital. In his investigation into the source of profit, Marx touches on the existence of landed property and rent. We can conceive of rent in this sense as a social relation between people over land: for the landowner as a means of accumulation and for the tenant as a source of shelter and social reproduction. Marx writes in his 1844 Manuscripts:
The rent of land is established as a result of the struggle between tenant and landlord. We find that the hostile antagonism of interests, the struggle, the war is recognized throughout political economy as the basis of social organization.
Landed property on the other hand, or the existence of private property over land, is therefore a consequence of the existence of property rights and the ability for private owners to have stakes in what should be commonly owned – things like land, natural resources and infrastructure. Just as the worker confronts the capitalist in the sphere of production, so does the tenant confront the landlord in the struggle over housing and land.
We can see these concerns manifest in the struggle over housing in Australia today. A census last year revealed that over 2 million people rent just in NSW, with around 30% of the 9.8 million households were being rented. Even though rent bidding was banned, it has done little to stabilise soaring costs.
The Solution
The struggle to be housed is decisively a class struggle. As always, its solution lies in the very conditions capitalism creates: the independent organisation of renters (who include in their ranks workers, students and the unemployed) against attacks on their common existences into unions and advocacy groups. Now more than ever after Labor's election victory, existing organisations must push Labor to meet their demands and seek independence from the narrow opportunism of parliamentarist politics.
Print Version - new window Email article
-----
Go back